Dairy Free

Gluten Free

Nut Free
Juicy Lula Kebabs Baked in the Oven (Lamb Kebabs)
Lula Kebabs, aka Lamb kebabs, are deliciously juicy. They are made from minced or ground lamb, bacon, and spices. These are meaty goodness on a skewer.
Calling all lamb lovers. I got the perfect easy dinner lamb recipe for you. These Azerbaijan lamb kebabs are packed with robust flavor and could be perfectly paired with a simple yogurt dip and your favorite salad. My husband and I visited Baku, Azerbaijan not too long ago. This delicious lamb dish was one of the tasty meals we enjoyed on our trip. You can read about it here!
The Lula Kebab Meat
Lamb meat by itself is absolutely delicious. But when combined with tiny pieces of bacon? It becomes phenomenal. Quality is important when it comes to lamb meat.
I like to go with humanely raised and ethically sourced lamb meat. Hormone-free lambs that were given a healthy diet. You might not think it makes a difference, but it helps produce succulent and tender meat. When making lamb kebobs make, look for fresh lamb meat. If you cannot find ground lamb meat, a boneless leg of lamb will be a great option. With a good knife, mince it well on a cutting board along with the bacon.
The process of making Lula Kababs
You want to combine your lamb and bacon with thinly chopped onions, cilantro, and spices. Overpowering lamb meat flavors may ruin the taste of the fresh meat. Some salt, pepper, and a pinch of cumin are the traditional middle Eastern spices that you need. Add coriander and sumac to the Lula kebab meat for a more distinct flavor. Both go well with lamb.
Mix well. And I mean it. You must mix your ingredients together for a good five minutes, at least. And after everything is combined, shape your meat mixture into a ball. And throw it down onto a plate/countertop/cutting board multiple times. This is the perfect time to take out any anger you have built up. Throw each kebab meat 5-7 times. This step will help keep your kebab meat together instead of falling off the skewer.
Refrigerate for an hour. This also helps bring the meat together and prevents the kebabs from falling apart.
Put on skewers. Place the lamb meat mixture on skewers, then on an oven-safe baking sheet, and bake for 35 minutes on 350F. These kebabs are so moist and tender.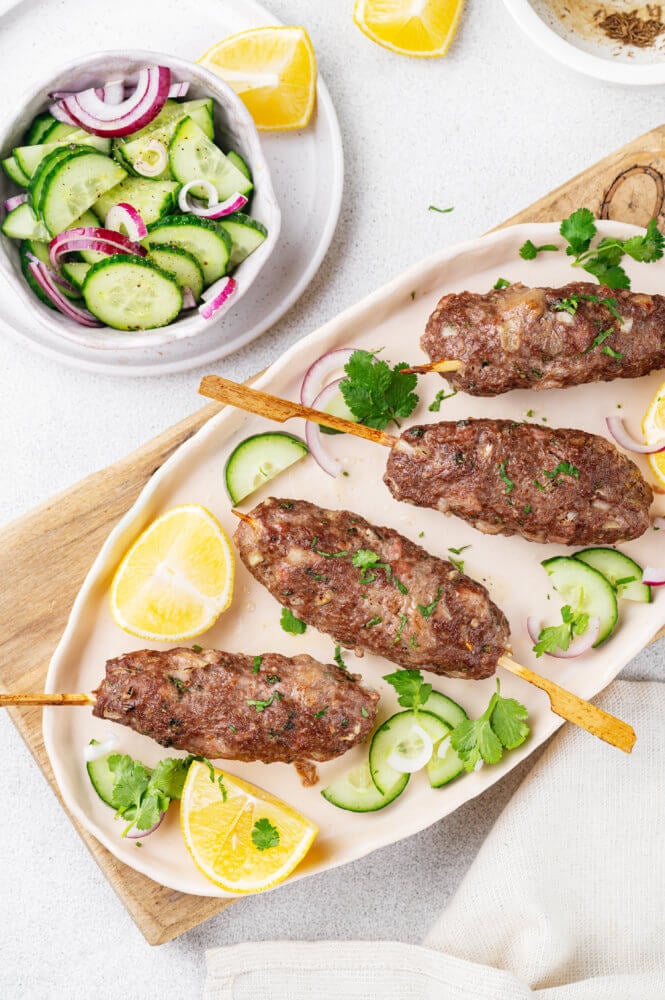 Ingredients for making Oven Lamb Kebabs?
Lamb: There are many kebabs (or kebobs) variants worldwide. I like to keep it simple. All you really need is great quality meat. Good quality meat is an important ingredient for Lula kebobs. You don't need to add too many spices and herbs to make it delicious.
Bacon: I like to use lamb bacon when I can. I get the lamb bacon from the Seven Sons company. Regular pork or beef bacon will work great for Lula Kebab too.
Onion: Mince it as small as you can.
Cilantro: Freshly chopped leaves.
Spices: All you need is salt and pepper with a pinch of ground cumin.
Here are some great sides to these Lula Kebabs:
Simple Homemade Buttery Mashed Potatoes are a great side to have with any meat.
This Easy Roasted Okra with Simple Yogurt Dipping Sauce is a fun and easy side to put together.
Lula Lamb Kebabs Recipe Baked in the Oven
These lamb kebabs are a traditional Armenian dish. I like to enjoy it with rice and a fresh side salad.
Rate
Print
Save
Saved!
Pin
Equipment
Meat grinder

bowl

Skewers

Foil
Ingredients
1

lb

ground lamb

½

onion,

chopped

3

slices

bacon,

chopped, uncooked

½

tsp

salt,

or to taste

½

tsp

black pepper,

or to taste

1

small handful

cilantro,

chopped

1

pinch

cumin,

optional
Instructions
Prepare your ingredients by chopping cilantro, onion, and bacon into very small pieces.

½ onion,,

1 small handful cilantro,,

3 slices bacon,

In a bowl mix together ground lamb and the chopped cilantro, onion, and bacon.

Add sea salt, black pepper, and cumin (optional).

½ tsp salt,,

½ tsp black pepper,,

1 pinch cumin,

This next step is very important. Keep mixing the meat mix for 5 minutes by hand, shape it into a ball, and start throwing it into a dish or cutting board, doing so 5-7 times. This will start a chemical reaction that will keep your kebab attached to skewers and prevent it from falling apart. ( If doubling the recipe, double the amount of times you mix and throw).

Refrigerate meat for 1 hour.

Take meat out of the refrigerator, divide it into four parts, and put on the skewers.

Lay the skewers on a baking sheet and cover with foil for 35 minutes. (You can also grill instead of baking the lulya kebab.)

Take the foil off and broil for another 5 minutes. Enjoy!
Nutrition
Calories:
333
kcal
|
Carbohydrates:
1
g
|
Protein:
19
g
|
Fat:
27
g
|
Saturated Fat:
12
g
|
Polyunsaturated Fat:
2
g
|
Monounsaturated Fat:
11
g
|
Cholesterol:
83
mg
|
Sodium:
360
mg
|
Potassium:
281
mg
|
Fiber:
1
g
|
Sugar:
1
g
|
Vitamin A:
69
IU
|
Vitamin C:
1
mg
|
Calcium:
23
mg
|
Iron:
2
mg