Nut Free
Russian Layered Honey Cake (Medovik)
How long does honey cake last?
Refrigerated, this honey cake lasts for up to four days.
What does honey cake taste like?
This amazing honey cake tastes like a sweet treat! It's rich in notes of dulce de leche and sweet honey.
How to store honey cake?
Store honey cake in the refrigerator loosely covered in plastic wrap. It'll keep for up to 4 days.
A Russian Layered Honey Cake has a Bold honey flavor, moist sponge cake, and perfectly decadent cream. That's what this honey cake is all about.
Bring out the cake pans: if you're looking for a cake different from your run-of-the-mill supermarket cake but delivers on flavor, this is the one. It's delicious, perfectly textured, and not your average buttercream cake. Nope, this one is full of honey flavor and a dulce de leche cream. Here's a fool-proof method to get dulce de leche at home!
I love making this cake around the holiday season. Or when there's a special event. It's also great for fundraisers and charities. I tend to make a few, and they're usually the first cakes. Seriously, guys, this great cake is too good to pass on. The perfect cake layers and fine crumbs make this cake one that I make not just for special occasions but also for regular desserts. It's my husband's favorite.
How much honey does this recipe have?
I like to add two generous tablespoons of honey to this cake. Grab your favorite kind! Clover honey is usually what most people have at home, and it works well in this cake. If you want more citrus notes, in this case, go with orange blossom honey. It tastes divine in this cake! For a floral and sweet taste, wildflower will work! Whichever type of honey you choose, you really can't go wrong. You'll still get that honey taste and the cake's texture that comes from the honey. If it's your first time making it, don't hesitate to add whatever kind of good honey you like. Whichever one you choose, it'll always be the best honey cake ever. Maybe the next time you make it, you'll also explore how your honey choice subtly affects the flavor. The result here is always a well-loved moist cake, of course!
No Cake Batter. Just Dough Layers.
What's also different about this cake is that it's not baked with a cake batter. Instead, it's baked with dough. And not just a dough that's formed in a mixing bowl. You want to cook up the dough in a double boiler. Water, butter, sugar, and honey melt together in a bowl over a double boiler. This dough gets cooked for about 15-20 minutes to bake into a beautiful spongy cake. That little bit of time goes a long way in this original recipe.
And then generously topped with the beaten cream made from dulce de leche. A Russian honey cake isn't complete without some dulce de leche!
Whether you're obsessed with honey or not, this delicious honey cake recipe is something you'll enjoy!
Ingredients for the Layer Cake:
Sugar Fined
Eggs Just 2 large eggs
Honey Whichever one you like
Baking powder (You can substitute with baking soda)
Butter Unsalted butter
Flour Unbleached (all-purpose flour or baking flour)
Cream Ingredients:
2 sticks of butter– place them out on the counter when you start making the cake to make sure the butter gets softened for when you will need to make the cream.
1 can dulce de leche, cooked Here are some instructions on how to cook dulce de leche
In addition: Sometimes I also add 8oz of whipped cream to make it a creamier cream.
Check out some more amazing cakes you can create:
This Poppy Seed Cake with a Cream Cheese Frosting is perfect for beginner bakers.
You can make a Mandarin Orange Mousse Cake with Citrus and Chocolate Ganache for special occasions. There won't be leftovers!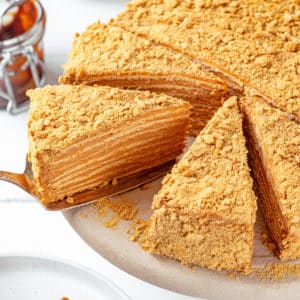 Russian Layered Honey Cake (Medovik)
Bold honey flavor. Moist sponge cake. And a perfectly decadent cream. That's what this honey cake is all about.
Rate
Print
Save
Saved!
Pin
Ingredients
For the cake layers:
1

cup

sugar

2

eggs

2

Tbsp

honey

2

cups

flour

1½

tsp

baking soda

2

Tbsp

butter
For the cream:
2

sticks

butter,

softened to room temperature

1

can

dulce de leche,

cooked
Instructions
Cake Layers:
The dough is made on a double boiler. Pour water into a pot, bring it to a boil and place a non-melting medium bowl on top.

For the next step, place butter in the bowl and let it melt completely. Add sugar and honey and mix well until you have a smooth consistency.

1 cup sugar,

2 Tbsp butter,

2 Tbsp honey

Lightly beat the eggs with baking powder in a separate bowl and slowly add the mixture into the batter. Continue to mix the batter while adding the mixture.

2 eggs,

1½ tsp baking soda

Cook for about 15-20 minutes until the batter becomes fluffy and changes the color to light yellow.

Add 2 cups of flour to the batter and continue mixing for 5 minutes. It will be sticky.

Take it off the double boiler and let it cool for 2 minutes. On the counter, add flour and shape it into a ball.

Heat the oven to 350°F and line a baking sheet with parchment paper.

Divide the dough into 8 equal pieces. Roll each one out with a rolling pin into a circular shape.

If sticky, add more flour. Bake each thin layer for 2-3 minutes or until golden brown.

Remove from the oven and cut out a perfect circle by placing a plate over the top and tracing with a knife. This will make them all equal in size. You can also do this step before you make it.

Save the outside of the circle pieces for decorating the cake later.
Make the cream and put the cake together:
Beat the softened butter at high speed with an electric hand mixer until light and fluffy. Add cooked condensed milk (dulce de leche) and continue mixing on medium speed until well combined.

2 sticks butter,,

1 can dulce de leche,

Spread a generous layer of cream on each layer and place one on top of the other.

For decorating: Shred leftover cake pieces in a food processor and sprinkle them over the top of the cake and on the sides.

For best results, let the cake stand for a few hours before serving.
Nutrition
Calories:
375
kcal
|
Carbohydrates:
43
g
|
Protein:
4
g
|
Fat:
22
g
|
Saturated Fat:
13
g
|
Polyunsaturated Fat:
1
g
|
Monounsaturated Fat:
6
g
|
Trans Fat:
1
g
|
Cholesterol:
87
mg
|
Sodium:
341
mg
|
Potassium:
48
mg
|
Fiber:
1
g
|
Sugar:
24
g
|
Vitamin A:
682
IU
|
Vitamin C:
1
mg
|
Calcium:
15
mg
|
Iron:
1
mg