Dairy Free

Gluten Free

Nut Free

Vegetarian
Simple and Classic Olivier Salad

The flavor-packed, fresh, and ultra-creamy Simple and Classic Olivier Salad popularly referred to as Russian Potato Salad is absolutely unique and delicious. The large bowl of creamy potato salad has the perfect balance of tangy and savory with crunchy and salty flavors making it simply irresistible.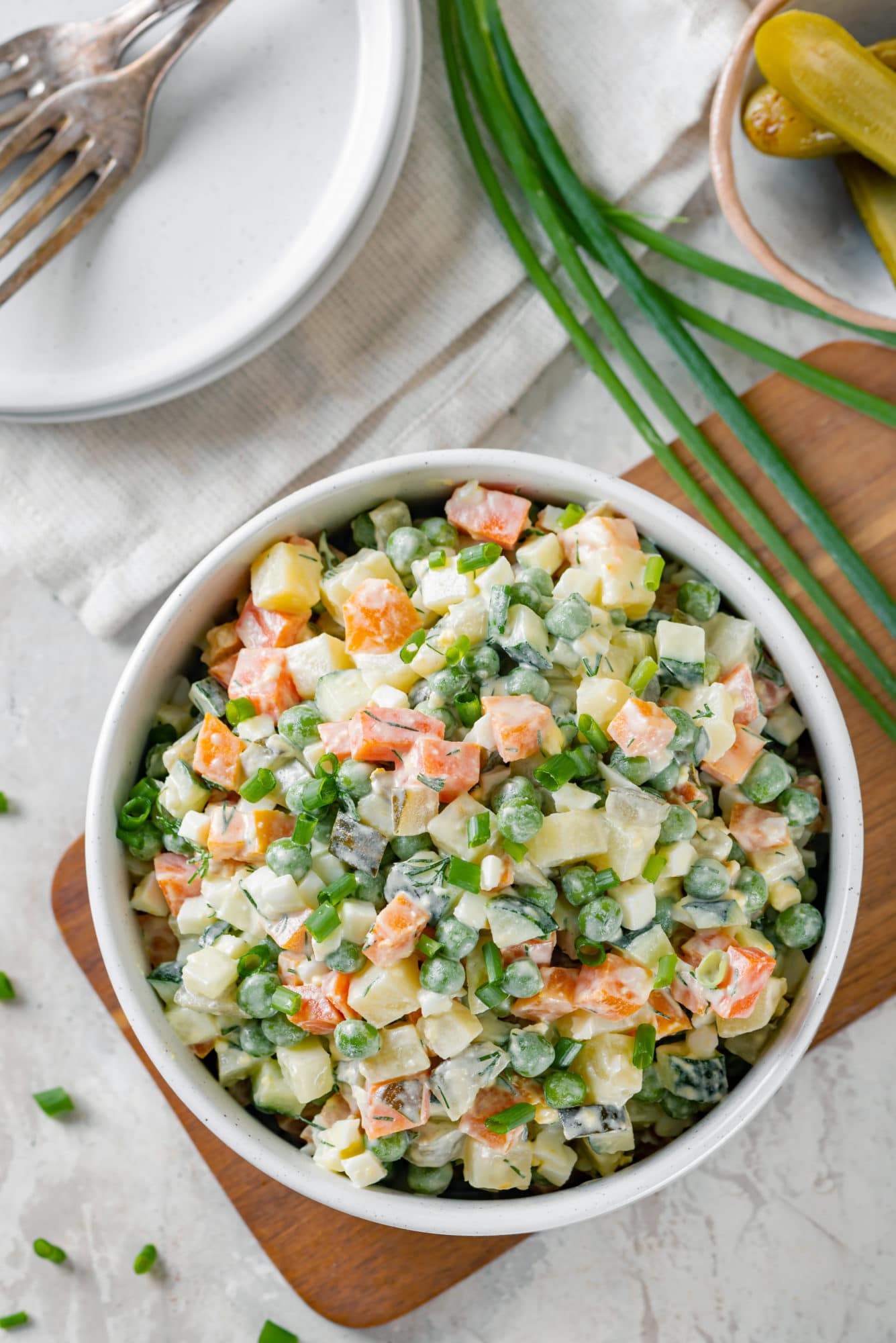 If you've been on my page for a while, you've probably learned that I love salads. They are versatile, nutritious, fulfilling, and a wonderful way to get in your fruits and veggies. I have many favorite salads, but this Olivier Salad takes the cake.
I'll use any excuse to whip up a giant bowl of this scrumptious salad. There are so many combinations of this salad with corn, chives, or meats like bologna, chopped ham, or cooked chicken breast. Mostly, Olivier Salad is made with ingredients on hand, which makes it a very popular and easy-to-make salad!
This traditional salad is known as Olivye, Rus Salatası, Ensalada Rusa, and Salada Russa and they all translate to the common name of Russian Salad. It's a tasty mix of tender ingredients such as boiled potatoes and eggs, with a generous addition of diced meat, pickles, canned or fresh peas, and cooked carrots.
Russian Olivier Salad is popular at special occasions, family gatherings, and holiday celebrations like Easter and Christmas, and New Year's Eve. You can also have it for quick dinners and lunches, at potlucks or BBQs as part of party appetizers. A traditional Russian cuisine, this popular salad is the perfect dish to take out on a picnic or make for company!
This salad is often referred to as "Russian Potato Salad" and is gaining lots of popularity in the West. Although there are different versions, almost every Olivier Salad will have similar ingredients. Today, we're going for a vegetarian Olivier salad.
Everything is cut into bite-sized small pieces, for a uniform look. This Olivier Salad is oh-so-wonderful! The easy potato salad recipe is perfectly textured, full of flavors, and has a creamy dressing and fresh herbs combined for a yummy side dish!
What are the origins of the Olivier salad recipe?
The popular salad was invented in Moscow Russia in the 19th century by Chef Lucien Olivier. He came up with his namesake salad where he worked at Hermitage restaurant where it became a signature dish.
The original recipe had luxurious ingredients like crayfish tails, veal tongue, smoked duck, caviar, and grouse and was a closely guarded secret so the exact original version of the recipe remains unknown.
Over time another chef Ivan Ivanov who worked with Olivier saw him preparing it and tried to serve its copycat version named Stolichny at another restaurant but it was "missing something."
Later, he sold it to the media, cookbooks and it was adapted all over Eastern European countries, Turkey, Pakistan, Israel, Iran, and Latin America.
The Classic Russian salad has now evolved and been modernized to become popular by using everyday ingredients which we can easily get from the grocery store.
Key Ingredients for the What do I need to make this recipe?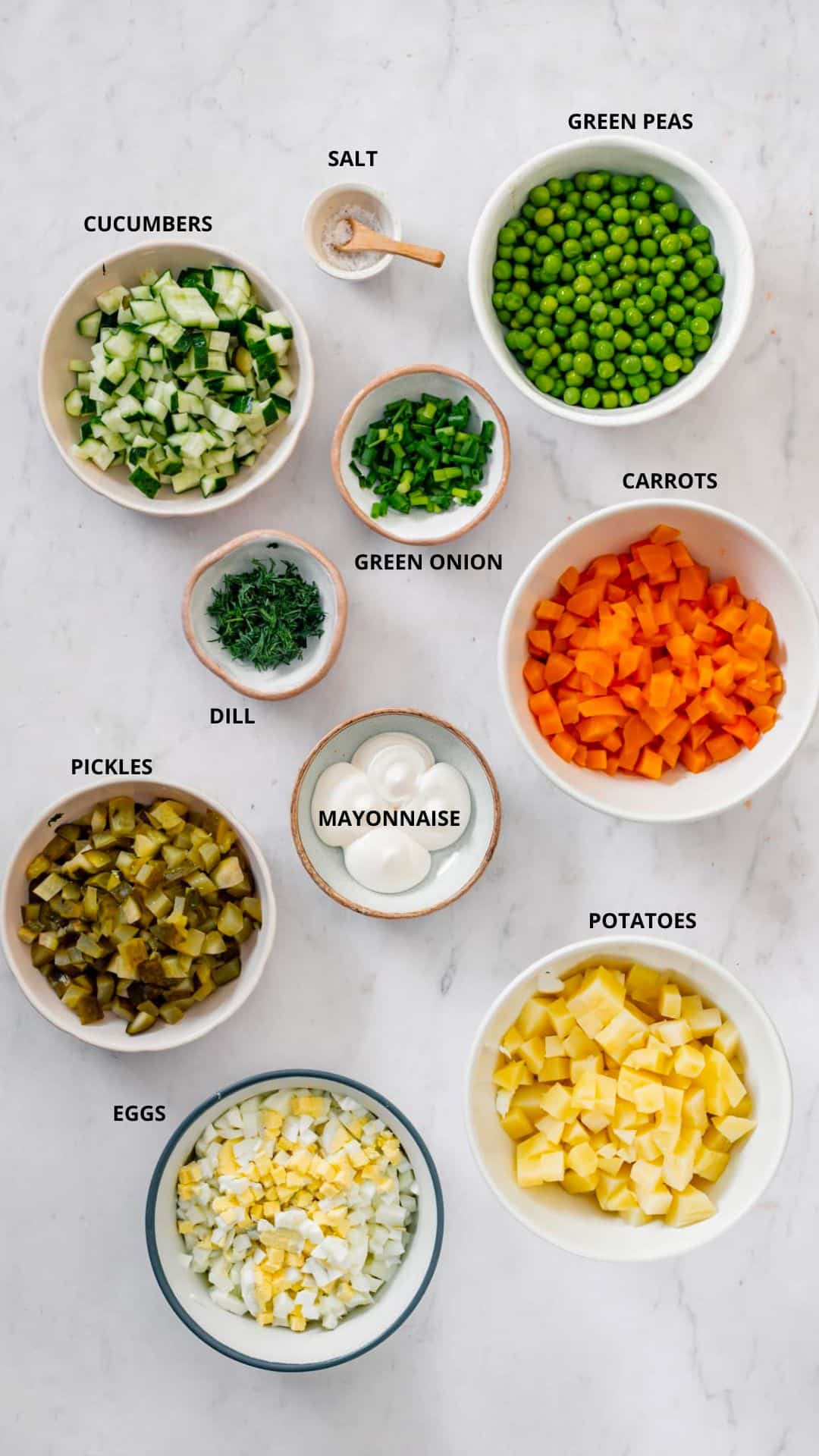 Potatoes: Waxy potatoes are low in starch and are considered the best for potato salad but any potatoes you have on hand will work.
Green peas: Fresh peas or thawed frozen peas will work best but I also use sweet canned peas as well.
Medium carrots: Adds a sweet and delicious twist to the salad.
Eggs: Perfect hard-boiled eggs are a must in any delicious potato salad.
Fresh cucumbers: The crunchiness of the cucumbers adds texture and freshness.
Green onion: For a fresh taste and flavor.
Along with those ingredients, you'll need pickles, mayonnaise, salt, and fresh dill!
Find the full printable recipe with specific measurements below.
How to make Olivier Potato Salad
1: Cook the vegetables
Fill a large pot with cold water and boil potatoes and carrots on medium-high heat with skin on just until soft and fork tender but not overcooked. Let them cool down completely at room temperature.
2: Boil the eggs
In a medium pot, boil the eggs for five minutes. Let them cool down completely.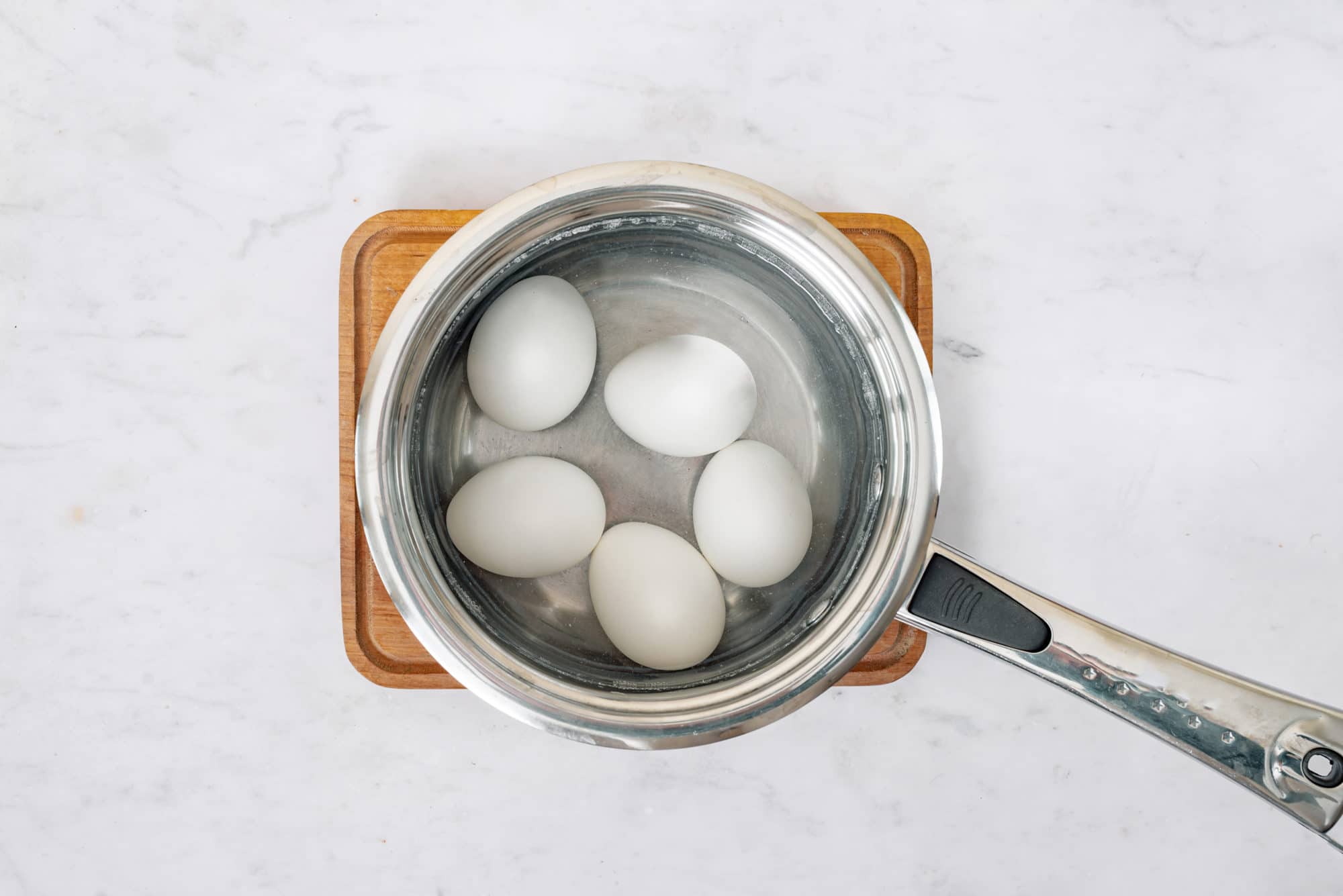 3: Peel and Cube vegetables
Use a knife to scrape the skins from the potatoes. For the carrots, cut a slit along the length of the carrots and scrape the skins removing all peels then dice potatoes, carrots, and eggs into small cubes and place in a large salad bowl.
4: Add onion and dill
Chop green onion and fresh dill; add to the rest of the diced ingredients.
5: Add pickles and cucumbers
Chop kosher pickles and cucumber then combine all of the ingredients in a large salad bowl.
6: Gently add peas
Drain organic sweet peas or pour in fresh peas and carefully fold in the peas without crushing them.
7: Add​ creamy mayonnaise, season, serve and enjoy
When ready to serve, stir in mayonnaise (to your taste) and add salt to taste. Serve cold and not at room temperature.
How to Store Leftover Traditional Russian Potato Salad
Olivier salad tastes even better the next day and you can keep it for a couple of days in the refrigerator. Salad can be stored in an airtight container or covered in a large bowl with cling wrap. It can last for 3-5 days. It will not go bad, but the taste of the salad won't be the freshest.
You can't freeze this potato salad.
Expert Tips
Don't overcook your vegetables! Boiling potatoes and carrots – together if you'd like. But keep a close eye on your potatoes. If you cook them for too long, they'll turn into mush. And "mush" is not a great texture. This salad is wonderful when the carrots and potatoes hold their shape. The texture is really important in this salad.
Swap white onions for green onions. I know many people use white onions in their Olivier salads. But I love the taste of green onions here. It tastes so fresh and doesn't give you that onion breath afterward.
Use half sour cream and half mayonnaise to lower fat content. You can also replace the mayo with Greek yogurt or a creamy salad dressing like this homemade poppy seed dressing.
For best results, don't skip the dill.
Find a Russian Mayo for the real authentic taste of this traditional salad.
Use an Onion Chopper or vegetable chopper to speed the dicing process of the veggies, and eggs and ensure you get evenly sized cubes.
Always use Dill Pickles (Vlasic is best), never Bread and Butter or Sweet Pickles.
Make sure the cold water covers the veggies completely because those sticking out in the air won't get cooked.
Don't let the potato salad sit out at room temperature for longer than 2 hours as it can go bad.
Recipe FAQs
Can I make the Olivier Russian potato salad in advance?
Pre-cook root vegetables (potatoes and carrots) and eggs the night before to allow enough time to cool then just refrigerate with the skin on. Prepare the rest of the ingredients the next day.
How can l prevent a soggy salad?
There are two things to can do to prevent your salad from becoming soggy. The first step is to remove the juices from the pickles. Chop up the pickles and let the juices run out a bit, strain, and add to the bowl. You can also add the pickles to a few paper towels and squeeze out the juice.
The second step is to only toss the creamy mayonnaise in right before you plan to serve the salad.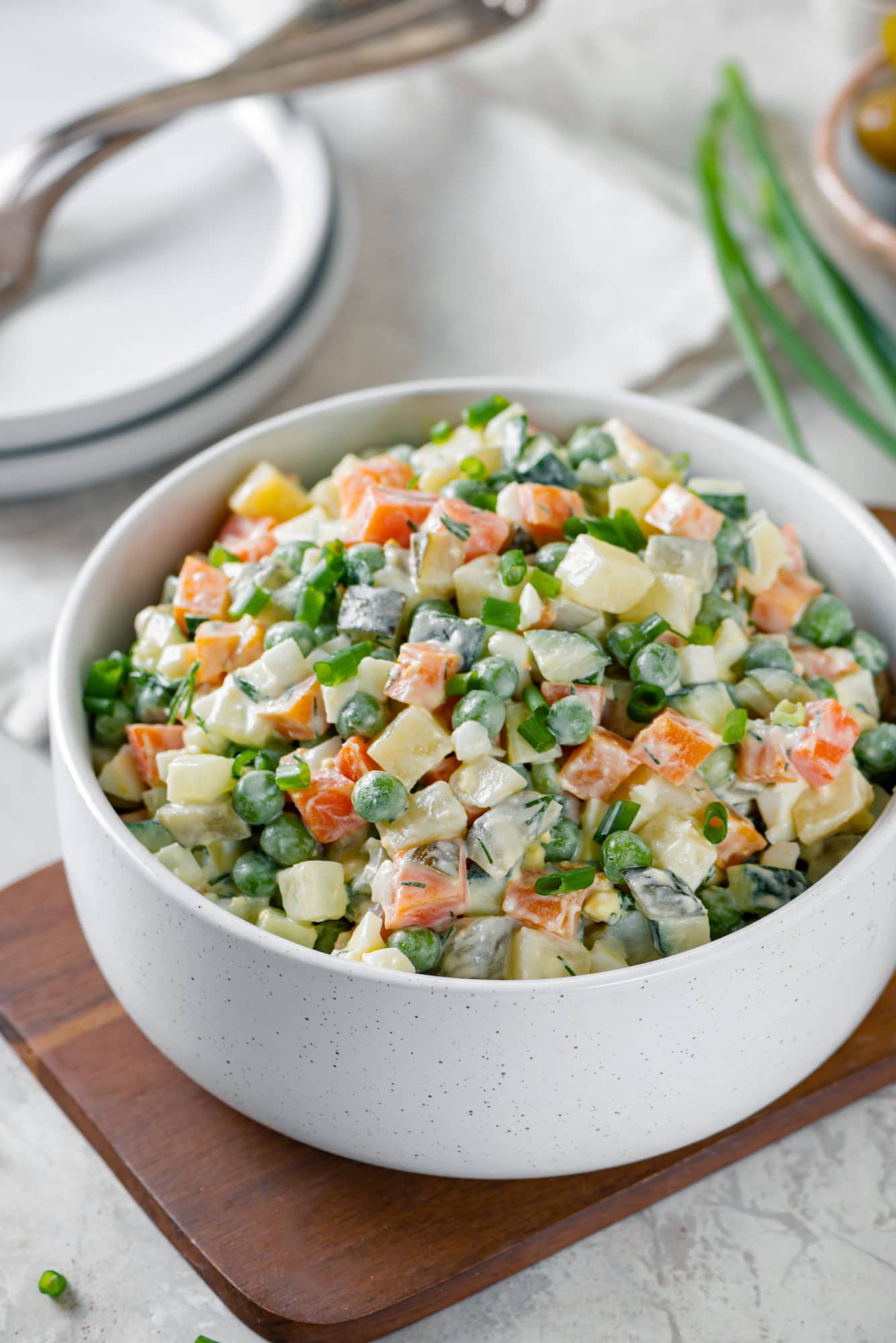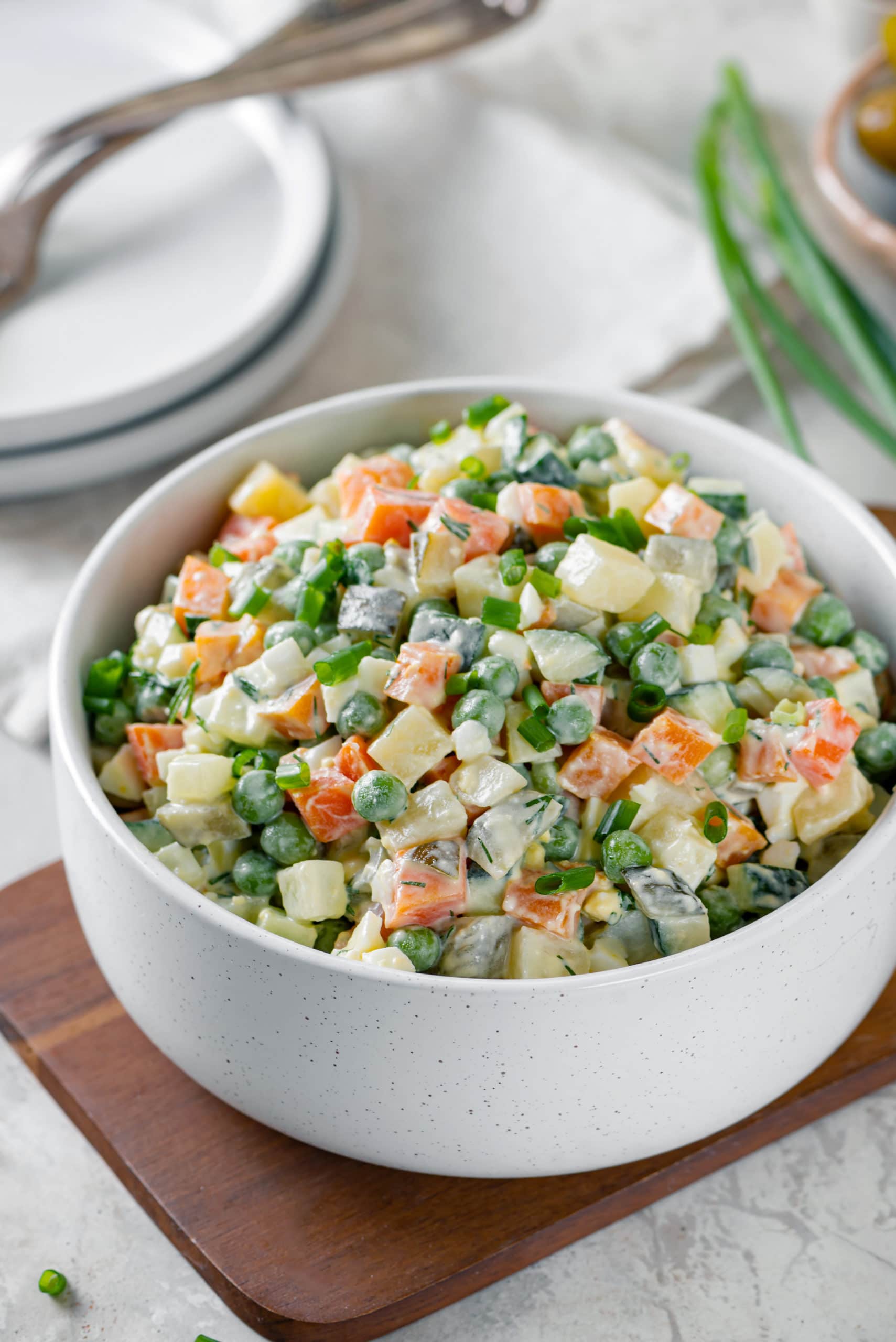 What can l serve with classic Russian Potato Salad?
This salad is very filling and can be served as a delicious side dish or main dish. It's a twist of the Traditional American potato salad so anything you serve with that salad will do. This could be steaks, baked chicken, ribs, burgers, lamb kebabs, potlucks, or BBQ, or as part of your party appetizers.
Here are some more Russian delicious salad recipes to make at home:
The Simple Traditional Herring Salad with Layered Vegetables is a filling, vibrant, and beautifully layered salad.
This flavor-filled Classic Russian Carrot Salad with Spices and Garlic is a great way to add carrots to your diet.
The colorful Russian Vinaigrette Recipe with Sauerkraut and Beets makes the perfect salad for your holiday parties.
More Tasty Mayonnaise Recipes
If you tried this Simple and Classic Olivier Salad or any other recipe on my website, please leave a 🌟 star rating and let me know how you enjoyed it in the📝 comments below. I love hearing from you!
Simple and Classic Olivier Salad
Olivier Salad is a Russian version of potato salad. Most Olivier recipes call for a Russian Bologna but this recipe has enough protein and vegetables in it, that skipping bologna won't make a big difference in taste.
Rate
Print
Save
Saved!
Pin
Equipment
Pot

salad bowl

mixing spoon
Ingredients
2

medium

carrots,

boiled & dliced

2

medium

potatoes,

boiled & diced

5

large

eggs,

hard boiled & diced

1

stem

green onion,

chopped

1

stem

fresh dill,

chopped

1

can

organic sweet peas,

15oz

4

kosher pickles,

diced

1

cucumber,

diced

4

Tbsp

mayonnaise

salt,

to taste
Instructions
Boil carrots and potatoes; just until soft. Let cool down completely.

2 medium carrots,,

2 medium potatoes,

Boil the eggs for five minutes. Let cool down completely.

Peel and dice the potatoes, carrots, and eggs.

Chop green onion and fresh dill; add to the rest of diced ingredients.

1 stem green onion,,

1 stem fresh dill,

Drain organic sweet peas, add to salad.

1 can organic sweet peas,

Chop kosher pickles and cucumber then combine all of the ingredients together.

4 kosher pickles,,

1 cucumber,

When ready to serve, stir in mayonnaise (or to your taste) and add salt to taste.
Notes
Add salt to taste. Mayonnaise brands vary in saltness.
For more protein add in diced Bologne.
Nutrition
Calories:
297
kcal
|
Carbohydrates:
32
g
|
Protein:
13
g
|
Fat:
13
g
|
Saturated Fat:
3
g
|
Polyunsaturated Fat:
6
g
|
Monounsaturated Fat:
4
g
|
Trans Fat:
1
g
|
Cholesterol:
168
mg
|
Sodium:
581
mg
|
Potassium:
849
mg
|
Fiber:
8
g
|
Sugar:
8
g
|
Vitamin A:
5129
IU
|
Vitamin C:
55
mg
|
Calcium:
102
mg
|
Iron:
3
mg