Dairy Free

Gluten Free

Nut Free

Sugar Free
Easy Marinated Montreal Baked Chicken Recipe in The Oven
Juicy, tender, and perfectly spiced. This chicken is marinated and baked for a delicious addition to your table. No forks necessary.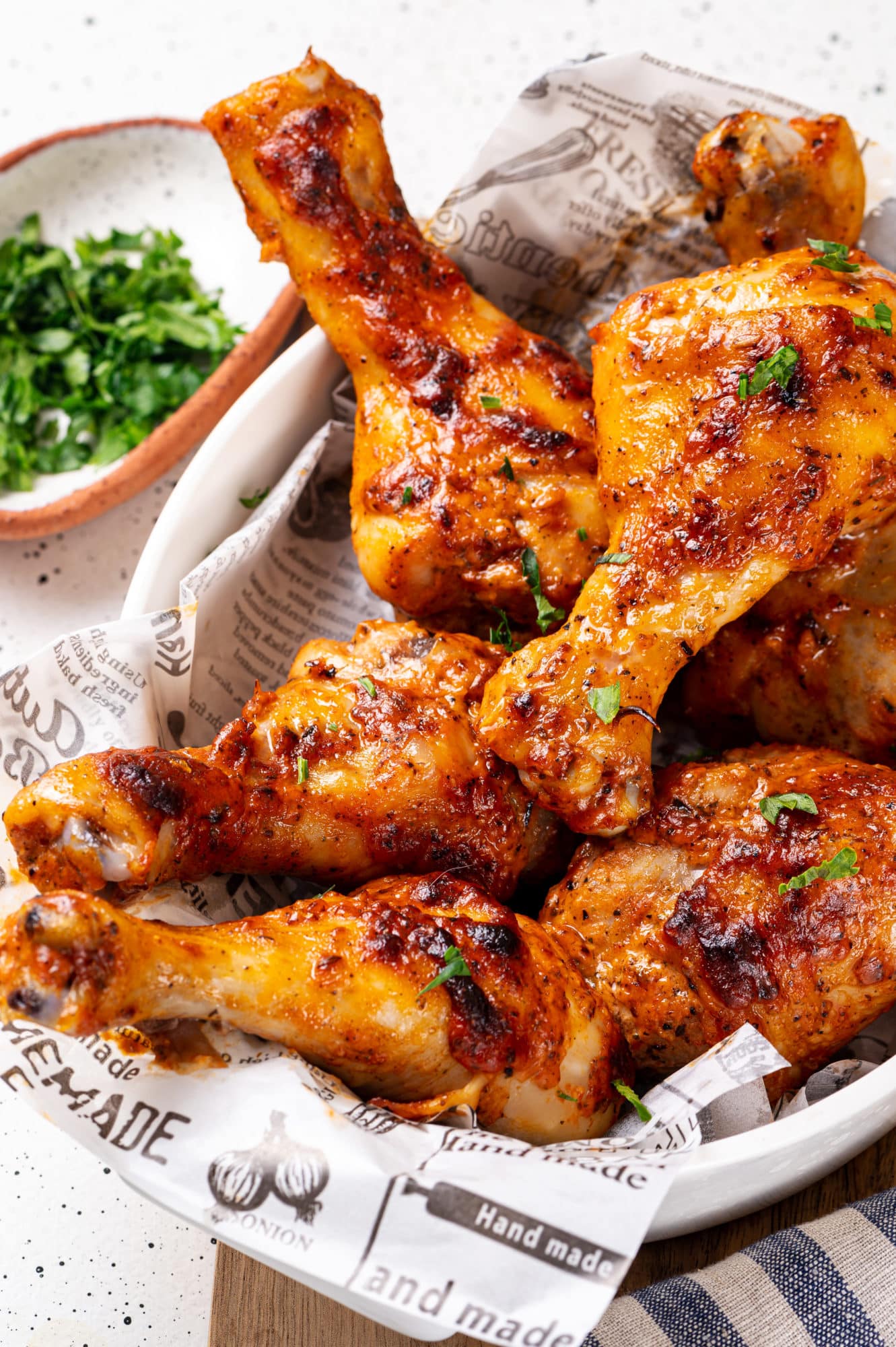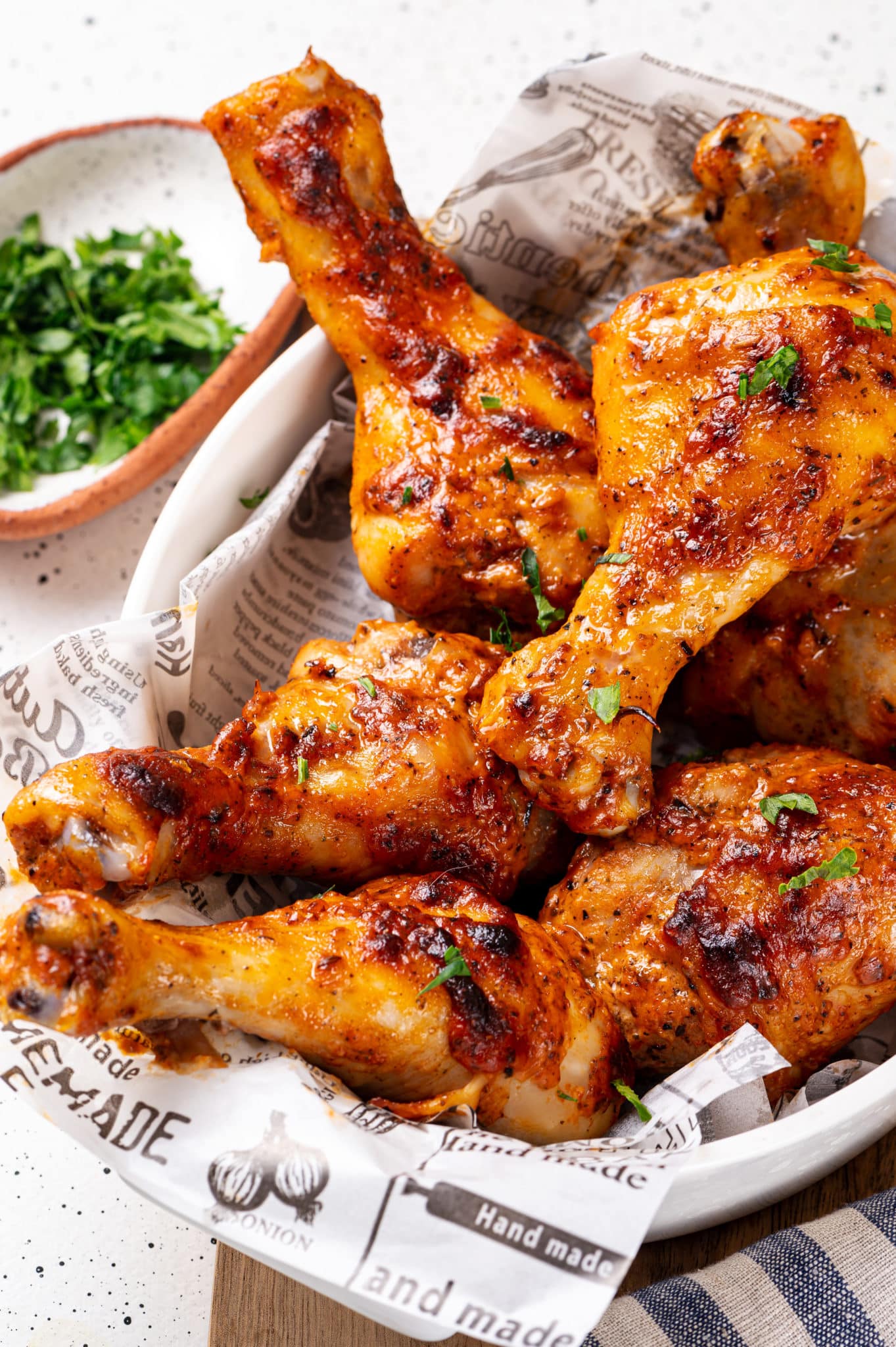 This Montreal chicken is easy to make!
I've got an easy recipe for you that everyone in the house will love devour. It's simple but also very It's flavorful. Will have you licking your fingers. It's perfectly crispy on the outside yet juicy and tender on the inside. It's Montreal baked chicken.
And you're only three steps away from having some on your table. Gasp!
I'm being 100% serious.
All you have to do is:
Mix the ingredients for your marinade. That's tomato paste, mayonnaise, ground black pepper, extra virgin olive oil, sea salt, and Montreal chicken spice.
Marinate your chicken. At least 30 minutes.
Bake. 350 degrees. 40 minutes. Covered with foil. I can smell it already.
See how easy that is? So easy. And I'm all over easy recipes. They're my saving grace amidst the chaos and clutter that comes with, well, life. Am I right? Montreal baked chicken might as well cook itself because there really isn't much for you to do, but the hardest part is probably waiting 40 minutes to chow down on this.
Baked Montreal Chicken can be served as a hearty starter to wow your guests and the whole family, or increase the quantity and make it the star of the show. With BBQ sauce on the side, you can serve it as an entree with couscous and a side salad. Doesn't that sound delicious?
Run, don't walk to make this delicious Montreal baked chicken. Enjoy the flavors of that perfect seasoning. Oh, the beautifully charred skin. It pairs with any side dish. Seriously, what's not to love?
Here is what you'll need to make this easy Montreal Chicken Recipe:
Chicken legs for protein. I prefer to use bone-in chicken, but if you'd like to use chicken wings or chicken thighs, either one of them works as well (but may need more or less time to cook).
Montreal chicken spice for all of the tasty flavor! If you have Montreal steak seasoning, that works as well.
Sea salt and ground black pepper for extra flavor.
Olive oil and mayonnaise for the marinade. Olive oil is better to use than any other vegetable oil in this chicken recipe.
Tomato paste adds a great flavor to the marinade and the chicken meat.
FAQs
What spices are in Montreal chicken seasoning?
Montreal chicken seasoning spice mixture has garlic powder, dried onion, salt, black pepper, parsley, red pepper flakes, orange peel, and green bell pepper. This spice blend can be found at any grocery store, labeled McCormick Grill Mates Montreal Chicken Seasoning. It's one of the best spice rubs to use for baked chicken recipes.
When to add Montreal chicken seasoning?
Montreal chicken seasoning is perfect to add right in the beginning to the simple marinade. It can sit with the chicken and the flavors will get infused into the baked chicken.
How long should you cook Montreal chicken in the oven?
Montreal chicken is cooked in the oven for 40 minutes at 350F. For the last few minutes of cooking, you can broil it.
Here are some more easy recipes from the food blog:
This 30 Minute Chicken and Avocado Wrap Recipe is quick and easy, using boneless chicken breasts and creamy avocado.
A recipe for Simple Asian Cucumber Salad with Cilantro and Honey is the perfect side with the natural flavors it has.
Easy Marinated Montreal Baked Chicken Recipe
I like to serve this chicken with some couscous or mashed potatoes and a side salad.
Rate
Print
Save
Saved!
Pin
Ingredients
2

lb

chicken

1

Tbsp

Montreal chicken spice

1½

Tbsp

sea salt

1

Tbsp

extra virgin olive oil

1

Tbsp

ground black pepper

2

Tbsp

mayonnaise

1

Tbsp

tomato paste
Instructions
First mix together the marinade ingredients. Combine tomato paste, mayonnaise, ground black pepper, extra virgin olive oil, sea salt and Montreal chicken spice.

1½ Tbsp sea salt,

1 Tbsp extra virgin olive oil,

1 Tbsp ground black pepper,

2 Tbsp mayonnaise,

1 Tbsp tomato paste,

1 Tbsp Montreal chicken spice

Mix the marinate with the chicken very well. Let it stand for at least 30 minutes.

Bake at 350F covered with foil, for 40 minutes. Broil or just uncover for another 5-10 minutes.
Nutrition
Calories:
217
kcal
|
Carbohydrates:
2
g
|
Protein:
14
g
|
Fat:
17
g
|
Saturated Fat:
4
g
|
Polyunsaturated Fat:
5
g
|
Monounsaturated Fat:
7
g
|
Trans Fat:
1
g
|
Cholesterol:
56
mg
|
Sodium:
1846
mg
|
Potassium:
185
mg
|
Fiber:
1
g
|
Sugar:
1
g
|
Vitamin A:
153
IU
|
Vitamin C:
2
mg
|
Calcium:
22
mg
|
Iron:
1
mg