Gluten Free

Nut Free
Simple Traditional Herring Salad with Layered Vegetables
This Traditional Herring Salad with Layered Vegetables is a scrumptious, filling, and vibrant dish. The beautifully layered salad brings together fresh, earthy vegetables and humble herring fish for an exquisitely beautiful dish.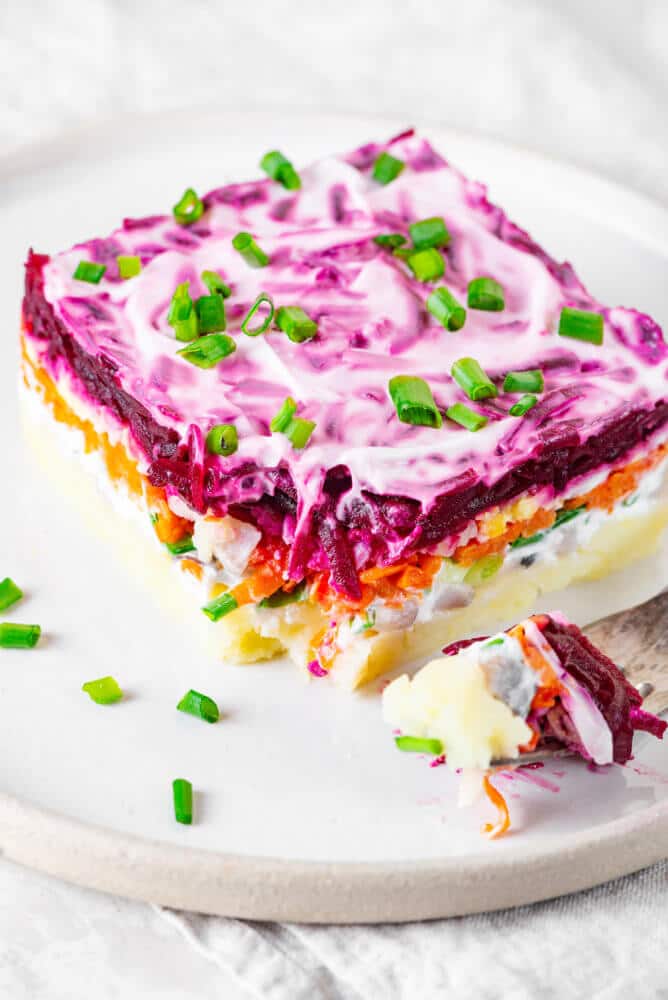 Herring Fish and Vegetable Salad is traditionally known as Slavic Herring Shuba (seledka pod shuboĭ).
What is the layered herring salad?
Shuba = fur coat salad.
The name of this salad comes from the texture of a fur coat or fur-lined coats worn during the harsh winter months by Eastern Europeans. When this dish comes together, it looks like fish wearing a fur coat, hence the name!
Some people like to place beets last on the top layer to create a reddish-purple "fur coat", while others like to layer mayonnaise last for a "white coat". It has vibrant colors in layers that make it look as good as it tastes.
It's a classic Russian dish that consists of beautiful layers of root vegetables and humble herring fillets. It's one of the most traditional dishes enjoyed among Eastern Europeans.
Though it is featured on many Russian tables during major holidays like New Year's Eve, Christmas celebrations, and Easter, it is a great recipe all year round. The entire salad comes together with unique flavors and a colorful presentation.
And I know what you're probably thinking. This recipe looks way too intimidating. I get that. The layers give off a vibe that screams "professionals only." But I promise, at the end of this post, you'll realize that you too can nail this shuba salad recipe.
The first secret is in the layers
It's really what this traditional salad is all about. You can't just layer your ingredients in any random way. I mean, technically you could – but it won't give you the perfect flavor and it certainly won't produce a sturdy shuba that stays intact after serving.
I'll make it easy for you:
Potatoes – Herring – Mayonnaise – Green Onions – Carrots – Eggs – Beets – Mayonnaise
For best results in this Russian classic, the heavy potatoes are best at the bottom because they'll help produce the sturdiest shuba. The additional thin layer of mayonnaise on top helps seal the beets.
The 2nd secret is to let it set
It's tempting to dig right in, and perhaps you could. But. And there's a big but. If you let your Russian layered salad set in the refrigerator for about 3-4 hours, it'll be worth the wait and you'll get the best results. Your layers will come together beautifully and your salad is much less likely to just droop and fall when you cut into it.
This is such a fun recipe to create and devour. No need to wait for a big event or those special occasions either. It's just as delicious to eat on a random Wednesday.
Not a fan of herring fish? That's okay! Though herring is what goes in the classic dish, you can swap it out for smoked salmon. It's equally delicious.
This helps all the layers get together while ensuring each layer stands out.
Key Ingredients
Red beets: Has a sweet, earthy flavor The juice of the beets will bleed into the mayonnaise, giving it a nice bright purple color.
Eggs: Their savory and salty taste, and rich, creamy texture add great flavor to the shuba salad. The yellow yolks also add a pop of color.
Whole potatoes: Add flavor, texture, and volume to the salad. Putting the heavy layer of potatoes at the bottom helps keep the salad sturdy.
Medium carrots: Their crunchy texture will balance the other tastes in the salad.
Mayonnaise: Providing a rich and creamy texture that ties all the ingredients together.
Herring fish: They are the main ingredient in this salad. This oily fish has a rich, savory flavor and meaty texture.
Green onions: Help balance the sweetness of the beets and carrots. They provide that required tangy flavor in this dish.
Find the full printable recipe with specific measurements below.
How to make traditional Herring Salad with Layered Vegetables
1: Clean vegetables
Rinse all your vegetables thoroughly because any dirt can affect the taste of your dish.
2: Boil vegetables
Boil potatoes and carrots in one large pot for about 15-20 minutes until soft and fork tender. Boil beets in a separate pot for 40-60 minutes.
3: Hard Boil eggs
In a small pot, boil eggs for 5-7 minutes.
4: Chop the other ingredients
Chop green onion into small pieces. Chop up the herring fish into very small cubes.
5: Cool and peel vegetables
After the vegetables have boiled, drain water then cool them down in the refrigerator or on the countertop. Peel the skin once they're cool enough to handle.
6: Start assembling the salad layers
Prepare a shallow dish or casserole dish for the salad. Use a cheese grater or box grater to grate the potatoes onto the bottom of the dish to make the first layer.
7: Make the next layer
On top of the potatoes, add chopped boneless diced herring fish and gently press down with a fork. Then spread a thin layer of mayonnaise and sprinkle green onion on top.
8: Add the rest of the layers
Grate the peeled carrots on top of the mayonnaise and onion. On top of the carrots grate hard-boiled eggs.
9: Add the final layers
Grate the red beets and add them on top of the eggs. The layer of beet makes the final layer of the salad. Spread a thin layer of mayonnaise to seal the beets.
10: Set the layered herring salad
Refrigerate for at least 1-2 hours (or overnight) for the salad to chill and firm up. (You can also serve it right away if you like).
11: Garnish and serve
Garnish with fresh dill or parsley on top of the salad, and it's ready to serve!
How to store leftover herring beet salad
Leftover dressed herring salad can be stored in the refrigerator in an airtight container for up to a week.
Freezing is not recommended for this recipe as the texture of the ingredients will change and it's quite a delicate dish.
If you have a big event or major holiday coming up, you can make this ahead of time by preparing vegetables and storing them in an airtight container in the fridge for 1-2 days.
Expert Tips
You can refrigerate the vegetable and eggs for at least 2 hours. This makes them firmer and easier to grate.
Use gloves to handle beets as they will stain your hands.
Lightly press each layer with a spoon to bind everything together. Don't pack too hard or it will become too compressed.
Pat herring fish with a paper towel to remove excess oil.
Peel the vegetables when they're cool to the touch.
The addition of salt on each layer is an option but keep it to a minimum.
Recipe FAQ
What is Shuba?
-"Shuba" is a Ukrainian word that translates as "fur coat". Russian Herring Under a Fur Coat Salad (Shuba Salad) is a traditional layered salad made with herring, vegetables, eggs, and mayonnaise. You can place beets on top of this salad, egg yolk, or egg whites which resemble a white fur coat
-The dish has symbolic importance in Slavic households. It symbolizes the winter coats many use to keep warm and it's enjoyed during holidays like Christmas and the New Year celebration.
Where can l find herring?
Herring can be found in most Eastern European supermarkets or Russian, Polish or Ukrainian stores.
What can l use to layer the Russian layered salad?
You can use a casserole dish or springform pan without the bottom to work as a mold and layer the salad directly on a serving plate. Remove the springform pan ring before serving, and garnish.
You can also use a cake mold, ring mold and large plate, trifle dish, or just a glass bowl to assemble and serve the salad
Here are some more salads easy to make at home:
This Low Carb Quick and Easy Veggie Salad is great to make when you don't have a lot of time.
A Korean Style Cabbage Salad with Easy Dressing is a family favorite in our home!
Other Mayonnaise Salads To Try Anytime of the Year
If you tried this Traditional Herring Salad with Layered Vegetables or any other recipe on my website, please leave a 🌟 star rating and leave your 📝 comments below. I love hearing from you!
Simple Traditional Herring Salad with Layered Vegetables
This salad is a traditional Russian salad that has fish, and all kinds of boiled vegetables. Its presentation makes it almost too pretty to eat!
Rate
Print
Save
Saved!
Pin
Equipment
Large pot

Vegetable peeler

grater

Serving plate
Ingredients
3

red beets,

boiled, peeled, & grated

4

eggs,

hard boiled, peeled, & grated

4

potatoes,

boiled, peeled, & grated

2

carrots,

boiled, peeled, & grated

1

cup

mayonnaise,

½

lb

herring fish,

boneless, chopped

1

Tbsp

green onion,

chopped
Instructions
Boil beets, potatoes and carrots in one pot until soft.

3 red beets,,

4 potatoes,,

2 carrots,

Boil eggs for 5-7 minutes.

Chop up the herring fish into very small pieces.

After the vegetables have boiled, cool them down in the refrigerator or on the counter top for 2 hours, or when completely cooled down.

Prepare a shallow dish for the salad.

Peel and grate the potatoes onto the bottom of the dish.

On top of the potato, add chopped boneless herring fish.

Spread 1-2 Tablespoons of mayonnaise on the fish, then sprinkle green onion on top.

1 cup mayonnaise,,

1 Tbsp green onion,

Grate the peeled carrots on top of the mayonnaise and onion.

On top of the carrots grate hard boiled eggs.

Peel and grate red beets and add on top of the eggs.

Spread mayonnaise over the the beets

Sprinkle with chopped green onion on top (optional)
Notes
This herring under fur salad can also be made without the herring, just with vegetables.
Use avocado mayonnaise for a dairy free version.
Nutrition
Calories:
491
kcal
|
Carbohydrates:
31
g
|
Protein:
15
g
|
Fat:
34
g
|
Saturated Fat:
6
g
|
Polyunsaturated Fat:
18
g
|
Monounsaturated Fat:
9
g
|
Trans Fat:
0.1
g
|
Cholesterol:
147
mg
|
Sodium:
367
mg
|
Potassium:
970
mg
|
Fiber:
5
g
|
Sugar:
5
g
|
Vitamin A:
3641
IU
|
Vitamin C:
32
mg
|
Calcium:
72
mg
|
Iron:
3
mg