Nut Free
Easter Bread Machine Paska Recipe with Icing
This classic Easter recipe is shared and loved by many Russians and Ukrainians. Paska is a delicious, aromatic, soft, and sweet bread that tastes amazing as is or acts as the perfect base for other recipes like French Toast.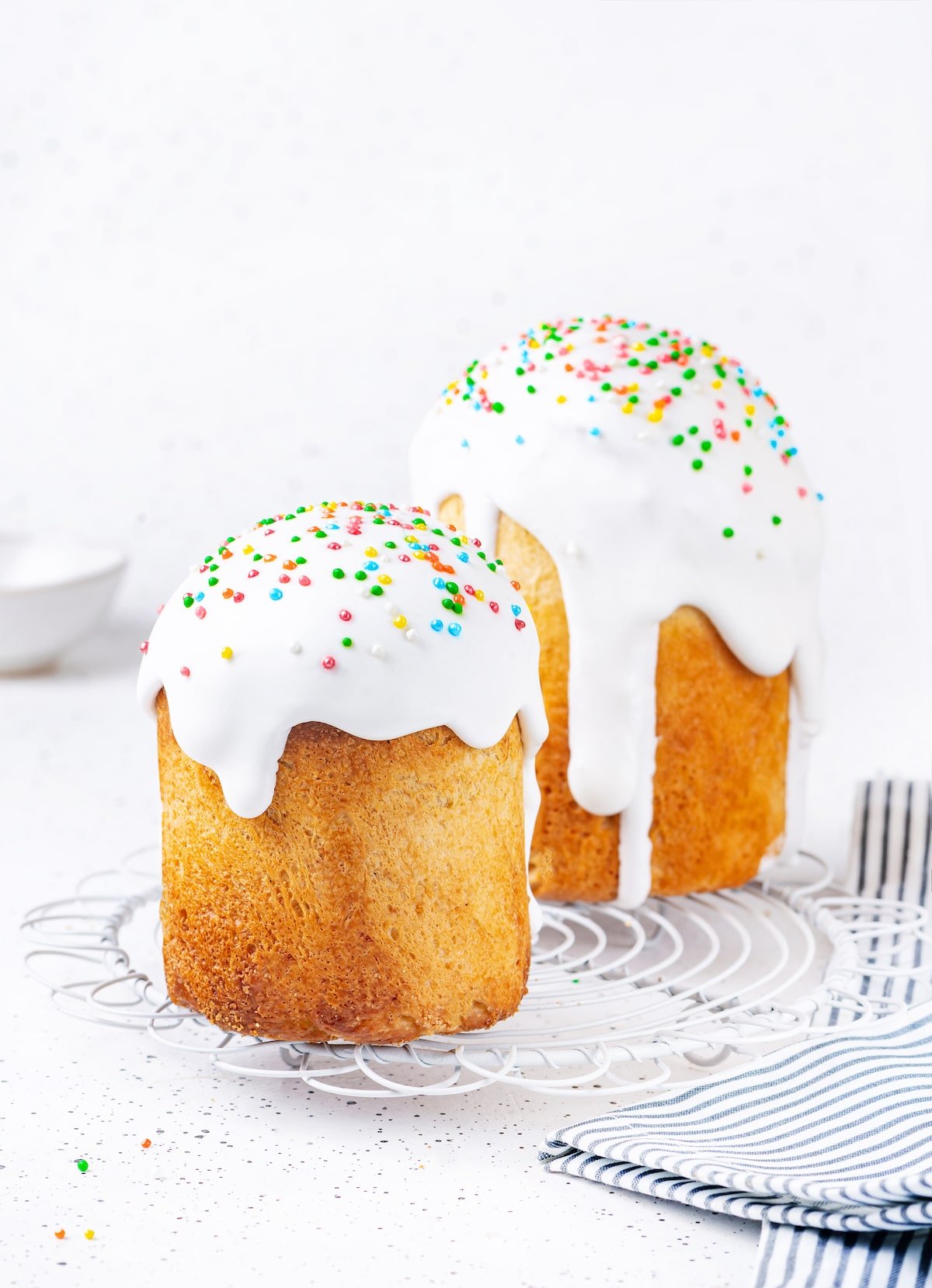 Holiday food is special. It tastes divine. Every dish on the table is tempting. As l have a strong Eastern European heritage, l make sure l pull out all the stops when it comes to Easter food.
Our Easter dinner table is always full of delicious foods, but it is never complete without Paska bread. After all, this is our celebration bread. While this bread is sweet, it still has a taste and texture closer to bread than a cake since it requires yeast and time to rise.
Sweet, egg bread is part of nearly every European country's celebratory menu, especially around Easter. The loaves are typically served at a light supper on Easter Sunday.
Paski is the perfect bread to serve during the holidays. This traditional easter bread pairs well with everything. It is delicious all by itself. And it comes into existence with some effort.
Don't let that steer you away though, because this Easter bread is well worth the time, I promise. This round-shaped, raisin-filled sweet bread is melt-in-your-mouth yummy. Using the bread machine makes this a fairly easy recipe.
Many traditional recipes for Paska, and Ukrainians usually use coffee cans or other smaller-sized cans for baking Paskas.
When this dessert bread is made properly, it will be buttery and soft, light and fluffy, but still somewhat moist.
Best Ingredients for the bread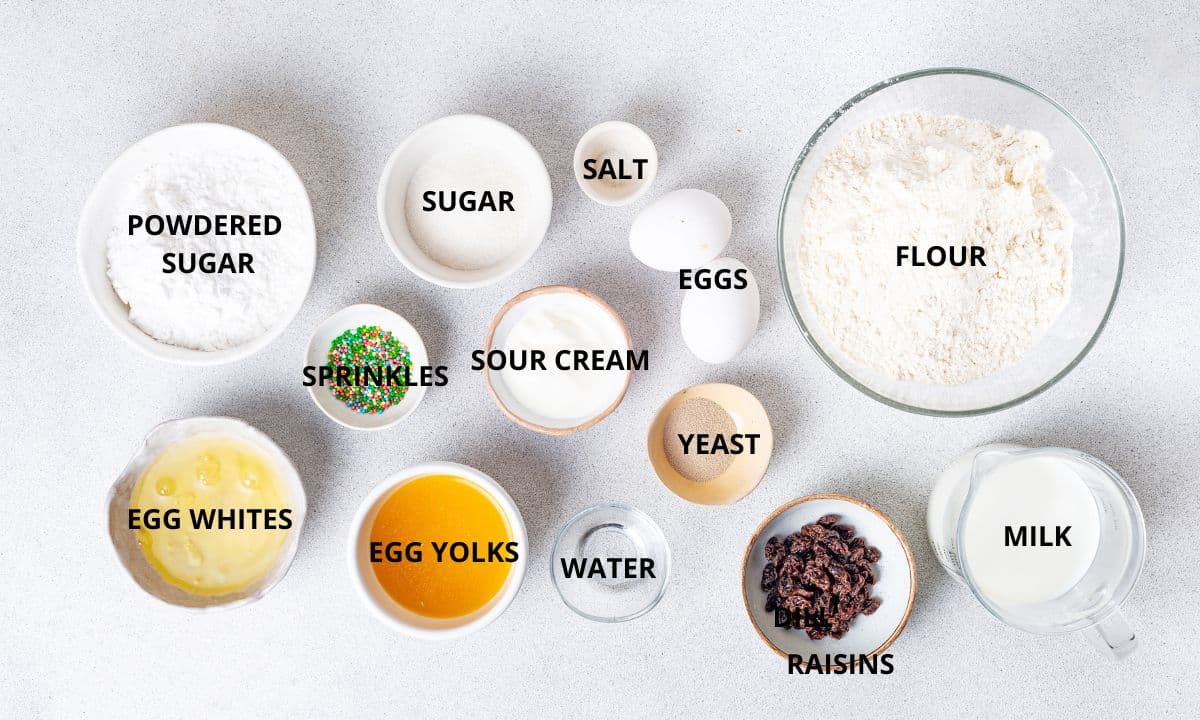 1 1/4 cups milk: The milk gives the Easter bread a soft crust and a rich texture.
2 Tbsp sour cream: This adds moisture to the bread
2 large eggs: Free range is best. The eggs bind the ingredients together and give a little color to the bread. That's why Paska is also called egg bread.
100g unsalted butter, melted (1 stick): If you can, use European butter. It has higher butterfat content which increases the butter flavor in the bread. This sweet bread is made with lots of butter, which keeps the bread from going hard and stale for more than a week
1/4 cup sugar: Use white sugar or berry sugar. Sweetens the bread and feeds the yeast to help the dough grow.
1/2 Tbsp oil: You can use any oil other than olive oil
1 Tbsp active dry yeast: Starting with yeast that is old or inactive will not produce the needed rise for light and fluffy Paska.
1 pinch of vanilla: Use real vanilla if possible for flavor
4 cups of flour: Try using Canadian all-purpose flour. Canadian flour is my go-to for so many recipes. When it comes to bread specifically, Canadian flour rises and produces a larger and more expansive dough. It's also very high in gluten. A handful of golden raisins: These add a little sweetness to the bread. The raisins are optional though. If your family are not big fans, don't include them, you can also use the black raisins instead of golden raisins.
Key ingredients for the frosting
3 egg whites
1 1/2 cups of icing sugar
Sprinkles
Find the full printable recipe with specific measurements below in the recipe card.
How To Make Easter bread
This is a simple step-by-step easy recipe for making the Paska sweet bread using a bread maker. It truly is a labor of love.
Step 1: Combine bread ingredients
Put all the bread dry ingredients and wet ingredients in the bottom of the bread machine bucket. Don't add raisins at this stage though.
Step 2: Set the dough in the bread machine
Turn your bread machine on "dough" and let it work for about 90 minutes. The bread machine is not used to bake the bread. We are using it for the dough setting.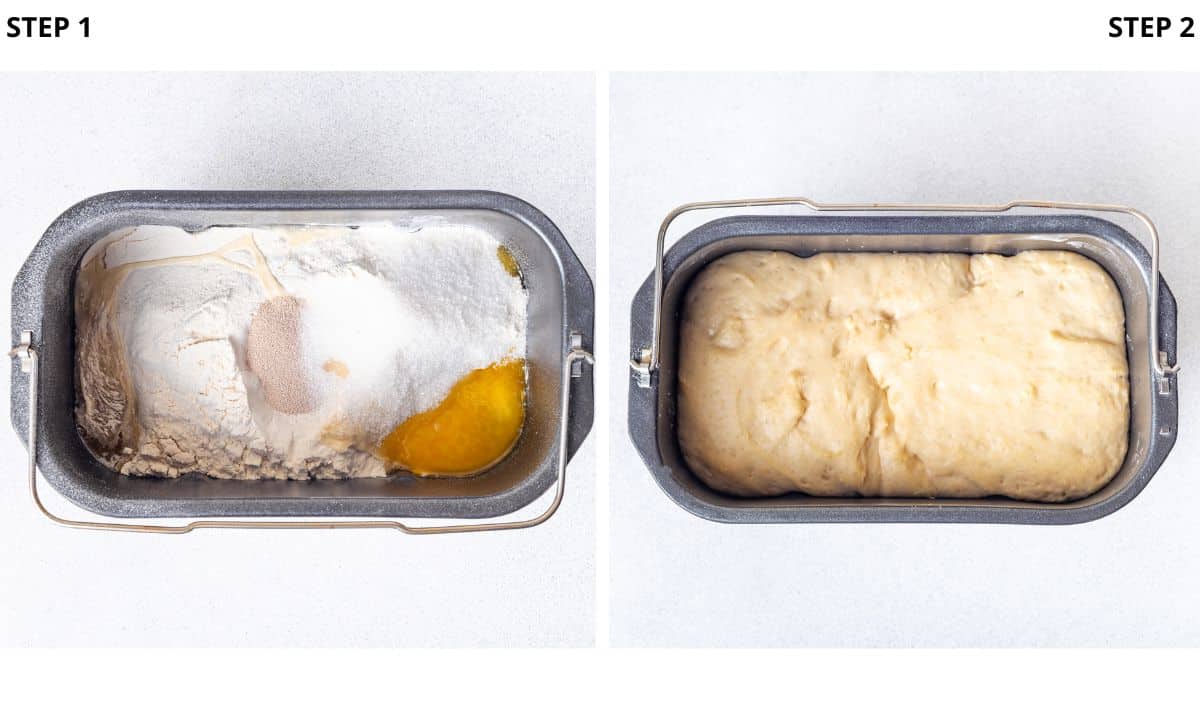 Step 3: Line your pots or pans and take the dough out of the bread machine
As you're waiting for the dough, start preparing your pots and pans by lining them with parchment paper. Your bread machine should beep when the dough is finished.
Step 4: Add black or golden raisins and add dough to containers
Remove the raisins from the water and pat them dry with paper towels. Add the raisins by hand into the baking containers.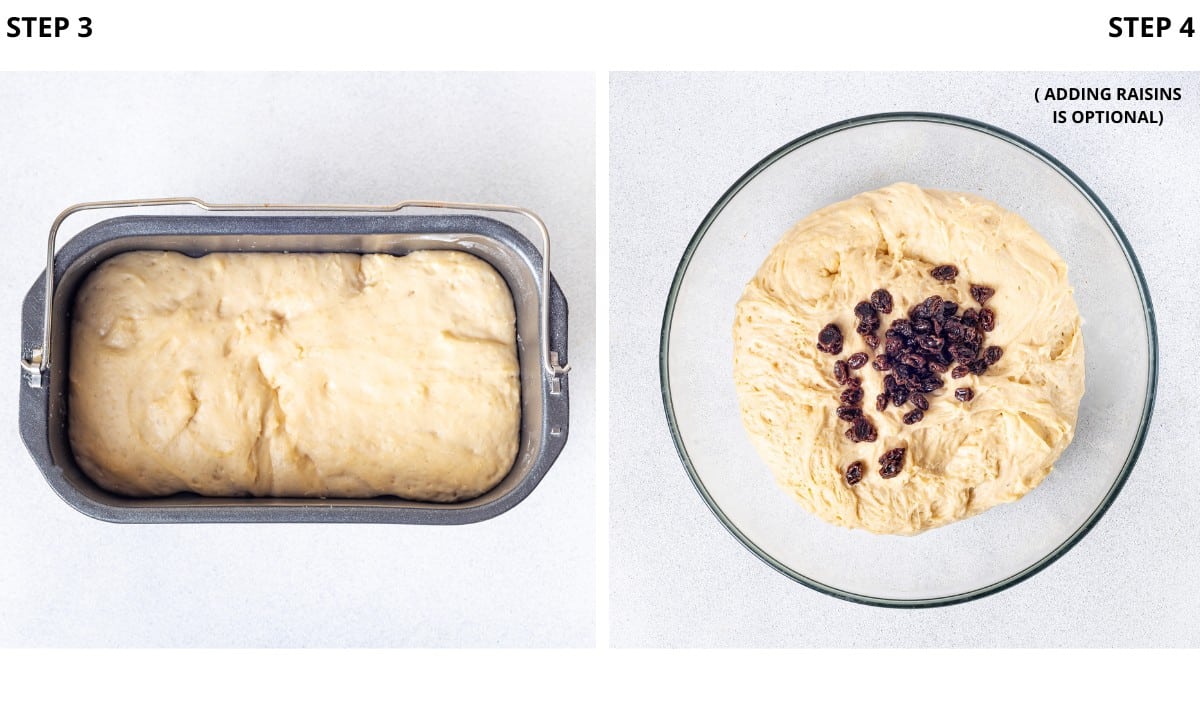 Steps 5 and 6: Bake your bread
Then divide the dough in two and place it in the two pots. Let it sit in a warm place for about 10 minutes to allow it to rise more. Put your two containers in the oven.
Bake in a preheated 350°F degree oven for about 40 minutes or until golden brown. You can cover the pan with aluminum foil if it is browning too quickly.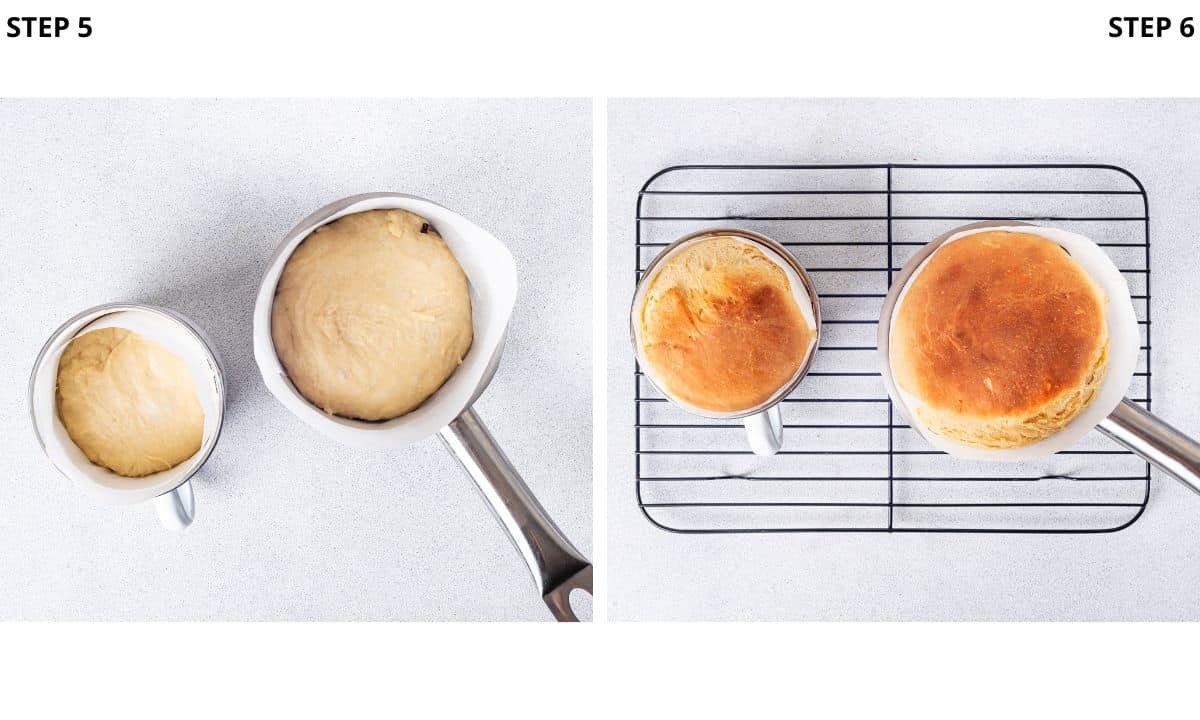 Step 7: Prepare your simple icing
As the bread is baking beat 2 egg whites for 2 minutes until it's soft and airy. Then add 1 cup of icing sugar and combine them
Step 8: Pour the sweet icing
Once the bread is done take it out of the oven and let it cool first remove it from the pan immediately and allow it to cool on a wire rack. Then pour the frosting on the cooled bread and quickly add sprinkles. Coffee cans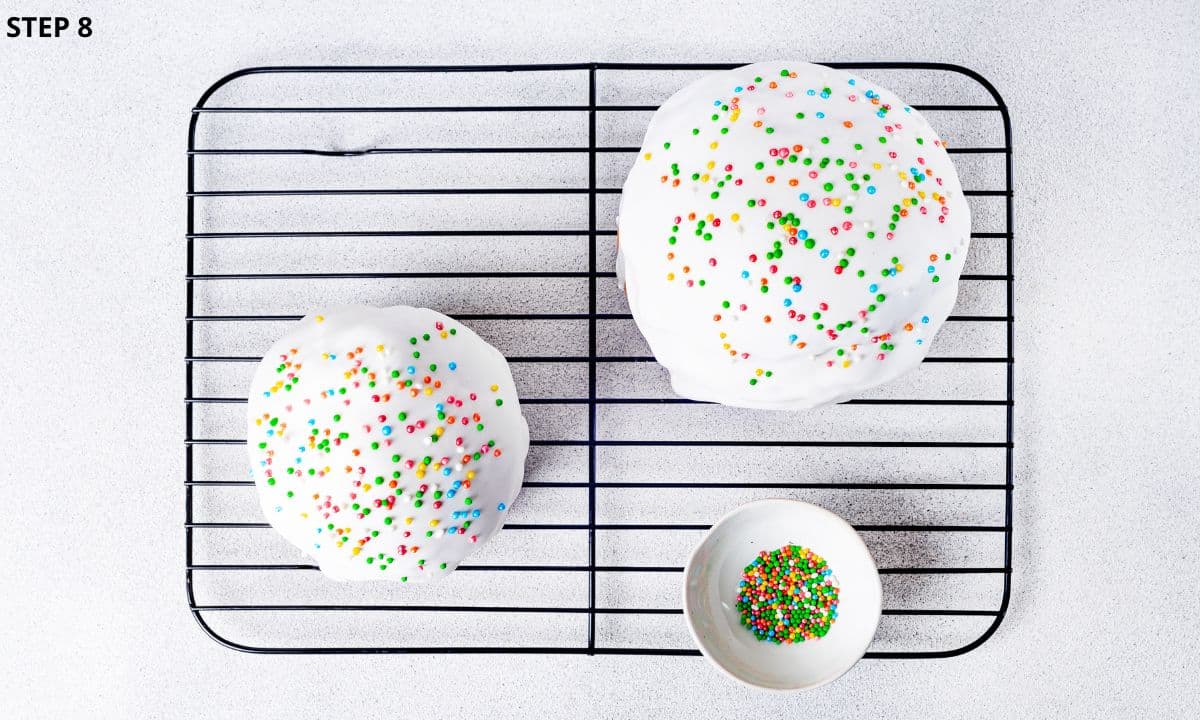 Expert Tips
Use a bread machine, if you have one. It'll help cut the time and form the perfect dough.
Soak your raisins a week or more in advance if possible since this gives them a softer, fluffier texture.
If you don't have an Easter bread mold (I didn't), you can line oven-safe pots with parchment paper as I did.
For best result, add your raisins after the dough is formed.
When your dough is ready to be placed into the pans, spray your hands with oil. The sticky dough doesn't stick to your hands, making it easy to handle.
Keep an eye on the top of the Paska so it doesn't burn. If it starts to burn, you can cover it with foil to protect it. Use a wooden skewer to test that the Paska is cooked on the inside.
Wait until your bread is completely cool to pour on your icing. Otherwise, the icing will melt off and be quite transparent. You won't get that pretty finish.
Equipment
Bread machine: Use a bread machine that has the "dough" feature. (most of the machines have it)
Easter bread molds: Bread molds can be bought online or at local kitchen stores. If you don't have some, use parchment paper or just small 3qt pans.
How To Store Leftover Paska Bread
Keep paska bread in an air-tight container at room temperature for up to 3 days. You can also use a tight zip-lock bag.
You can use the leftover bread in French toast or a bread pudding.
Can you freeze Paska? Yes! To keep it for longer, wrap the cooled paska bread in a tight coat of plastic wrap followed by a layer of foil. Then store in a freezer-safe bag for up to 1 month. Thaw in the fridge overnight.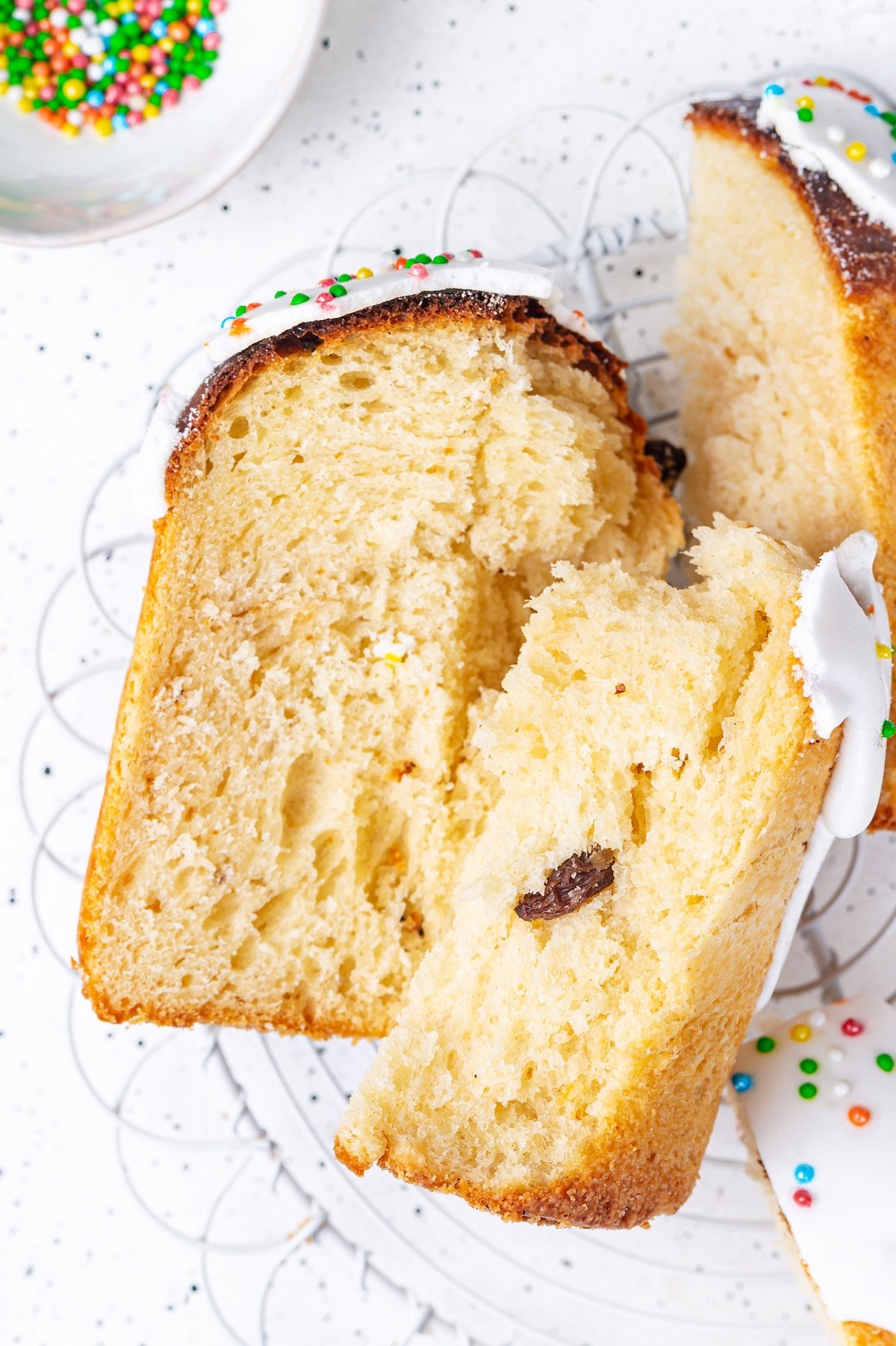 Other Delicious Easter recipes you'll love:
As another spring dessert I like to make the Bird's Milk Cake, which is well worth day time. Lamb chops Stew is also a hit during this time at the dinner table along with classic deviled eggs combined with mayonnaise and garlic.
Other Tasty Bread Recipes
If you tried this Easter Bread Machine Paska Recipe with Icing or any other recipe on my website, please leave a 🌟 star rating and let me know how you enjoyed it in the📝 comments below. I love hearing from you!
Easter Bread Machine Paska Recipe with Icing
Easter bread, also known as Paski is traditional bread my family does each Easter holiday. Take a day with your loved ones to make this yummy, soft breads.
Rate
Print
Save
Saved!
Pin
Equipment
Bread machine

Pots

Pans

parchment paper

hand mixer

Cake spatula
Ingredients
For the bread
1¼

cups

milk,

warm

2

Tbsp

sour cream

2

large

eggs

100

g

unsalted butter,

melted

¼

cup

sugar

½

Tbsp

oil,

light oil

1

Tbsp

dry active yeast

1

pinch

vanilla

4

cups

flour

1

cup

raisins
For the icing
2

egg whites

1

cup

powdered sugar

sprinkles
Instructions
In a bread machine bucket, combine all of the bread ingredients except for the raisins.

1¼ cups milk,,

2 Tbsp sour cream,

2 large eggs,

100 g unsalted butter,,

¼ cup sugar,

½ Tbsp oil,,

1 Tbsp dry active yeast,

1 pinch vanilla,

4 cups flour

Turn your bread machine on "dough". This will work the dough for about 1 hour and 30 minutes.

Meanwhile, prepare your bread molds or pots by lining with parchment paper. If you choose to add raisins, do so by hand, before placing the dough in baking containers.

Divide the dough between the two pots and let it sit on the counter for 10 minutes, it will rise just a bit more.

Preheat the oven to 350F. Place the two pots of dough into the oven for 40 minutes.

Beat 2 egg whites in a medium bowl for 2 minutes or until it becomes white and fluffy.

Add in 1 cup of powdered sugar and combine.

Pour the frosting over the cooled easter bread and top with rainbow sprinkles. Happy Easter!
Notes
I used whole milk or 2% for this sweet bread recipe.
If you don't have easter bread molds, use pans like I did.
Raisins are optional to use.
Nutrition
Calories:
411
kcal
|
Carbohydrates:
68
g
|
Protein:
9
g
|
Fat:
12
g
|
Saturated Fat:
6
g
|
Polyunsaturated Fat:
1
g
|
Monounsaturated Fat:
3
g
|
Trans Fat:
1
g
|
Cholesterol:
64
mg
|
Sodium:
43
mg
|
Potassium:
252
mg
|
Fiber:
2
g
|
Sugar:
19
g
|
Vitamin A:
368
IU
|
Vitamin C:
1
mg
|
Calcium:
60
mg
|
Iron:
3
mg