15 Traditional Russian and Ukrainian Recipes
Growing up in a Slavic household, I was exposed to recipes from many European cultures, primarily Russian and Ukrainian. In cuisine, the dishes and desserts made are often very similar, with only minor differences & recipe changes. I've compiled a collection of some of my favorite Russian-Ukrainian recipes to share with you from my childhood!
This Classic Red Borscht has always been a staple in my life, so it would be hard to start off this menu selection without it! It fills you up and beets are chock-full of benefits, too.
Beautifully layered, this Traditional Herring Salad combines fresh veggies and herring fish to make this colorful salad super easy!
this Hearty Turkey and Barley Soup is so easy to put together and combines ingredients that fill you with lean protein and fiber.
If you ever visit a true Slavic grandma, she sure will have some Classic Piroshki filled with potato, meat, or maybe another filling. They're a fried treat that are easy to fill up on!
This traditional Olivier Salad has so many varieties, whether you like to add more of one ingredient or another, but what stays true is the general collection of ingredients: from fresh to cooked, this salad is always a hit.
This traditional One Pot Chicken and Rice Recipe (aka Pilaf or Plov) is an amazing and savory one-pot meal with rice, chicken, onions and carrots.This chicken recipe has been passed down from relatives. I used to eat this a lot as a child, and it's just a great easy dinner meal all in one pot.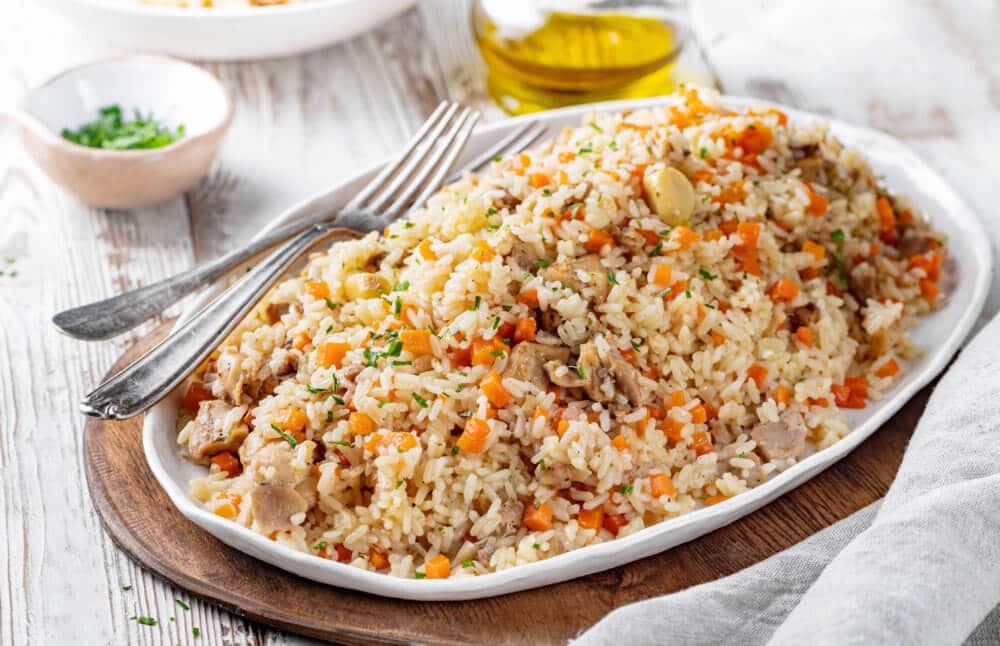 A simple Russian Vinaigrette sometimes is complicated by tons of different recipes: but this Dairy-Free & Vegan recipe is simple and easy!
This perfect European Biskvit Cake is one of the easiest cakes I've ever made. It always pleases and can be paired with almost any sweet flavors!
Nothing completes a traditional holiday spread quite like a walnut roll. This roll goes by many names, but for Russian-Ukrainians, it's simply our Sweet Walnut Roll.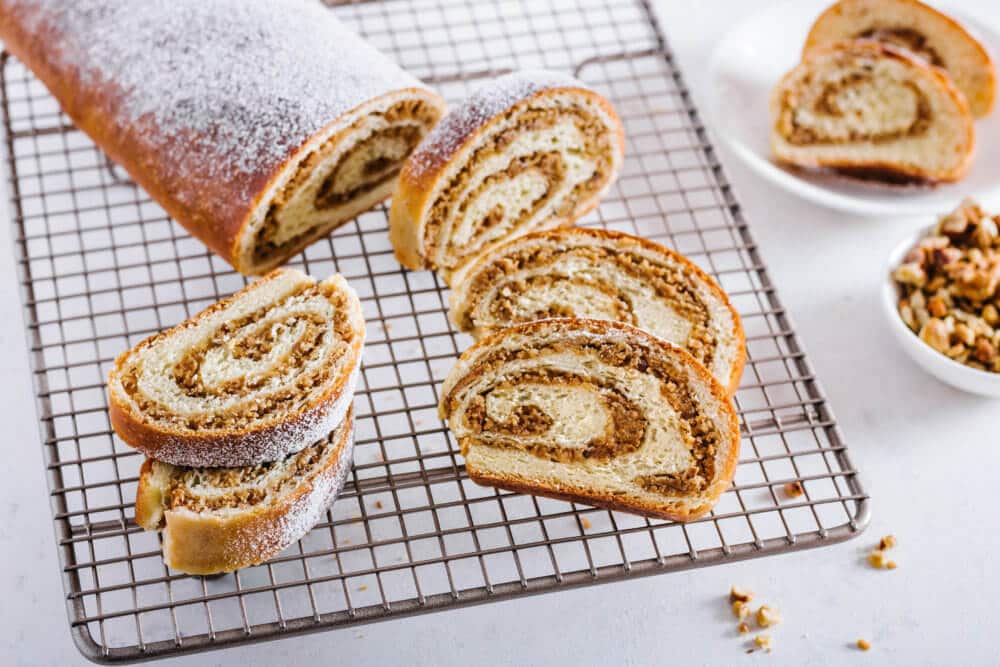 These Simple Cream Horns are pleasantly soft and airy with a velvety delicious cream filling. With only four ingredients, these are one of the easiest Slavic desserts to make, and they always disappear quickly.
When I have fresh berries in the house, this Breakfast Blueberry Cheese Cake recipe comes out. It is fluffy, moist, and absolutely delicious and so easy to make.
A warm cup of tea and a table of friends are the perfect companion to this Sweet Chocolate Salami recipe! Slices of this dessert is the perfect combination of crunchy and soft. They're a Russian-Ukrainian staple during the holidays.
Sweet Cheese Vatrushka Buns are somewhat similar to a cheese danish or a brioche bun. They are great for on-the-go, breakfast, camping or road trips, and pair well with coffee or tea.
Loved by both Russians and Ukrainians, this Easter Bread (Paski) recipe is a special Easter holiday recipe! It's a soft bread with a sweet glaze on top.
Easy to make and easy to eat, Sugarless Dough Rogaliki can be filled with so many options, but whatever you choose, you know that this Russian treat will be well-loved at the dessert table.
This tasty menu moves from soups, salads, appetizers, and then to the tasty desserts, ranging from cakes, quick tea bites, holiday favorites, and tasty breakfast options. All of these are the flavors of my childhood and ones that I like to pass on to my kids, too. I believe it's important to retain your culture & family traditions to share them with others.