Nut Free

Vegetarian
Blueberry Breakfast Casserole Recipe
This delicious and easy Blueberry Breakfast Casserole is perfect for any occasion, whether it's a laid-back weekend brunch or a Christmas morning breakfast.
If you're looking for a delicious and crowd-pleasing breakfast dish, this blueberry breakfast casserole is a must-try. The combination of the creamy cheese mixture and the sweet blueberries is simply divine. Plus, the addition of cream of wheat gives the casserole a unique texture.
One of the best things about this recipe is that it can easily be adapted to suit your taste preferences. If you prefer a sweeter casserole, you can add more sugar. You can also play around with different fruit combinations to create a unique twist on this classic recipe. And if you have any leftovers, this casserole can be reheated in the oven for an easy and delicious breakfast the next day.
Key Ingredients
Farmer's cheese not ricotta cheese: This creamy cheese adds richness and depth to the casserole, while also providing a good source of protein.
Eggs: These are an essential component of the casserole, providing structure and richness. Use the large size.
Sour cream: This ingredient lends a tangy flavor and creaminess to the casserole, helping to balance out the sweetness of the other ingredients.
Sugar: Used in moderation, sugar adds sweetness to the casserole and helps to bring out the natural sweetness of the blueberries, use fine sugar.
Cream of wheat: This ingredient gives this healthy breakfast a slightly grainy texture, providing a nice contrast to the creamy cheese and sweet blueberries. It holds the blueberry cheesecake together. Also, you can use semolina instead of cream of wheat.
Vanilla extract: Just a hint of vanilla adds warmth to this sweet breakfast, making it all the more delicious. You can use the liquid form or vanilla powder.
Fresh blueberries: Bursting with juicy sweetness and loaded with antioxidants, these vibrant berries add both flavor and nutrition to the fruity casserole. Make sure to use fresh blueberries and not frozen.
Find the full printable recipe with specific measurements below.
How to make a Sweet Blueberry Breakfast Casserole
Step 1: Preheat the oven to 350 F.
Step 2: Add all ingredients together, except for blueberries. Sour cream, cream of wheat, vanilla extract, eggs, sugar, and farmer's cheese.
Step 3: Beat together with a mixer until well blended (about 3 minutes).
Step 4: Fold in the fresh blueberries.
Step 5: Butter an oven-safe tart or pie dish and add the mix to the dish.
Step 6: Bake for 35 minutes.
Step 7: Let it cool down for 10 minutes.
Step 8: You're ready to have a delicious and healthy blueberry breakfast casserole!
Expert Tips:
Let the casserole cool before serving: While it may be tempting to dive right in, letting the casserole cool for 10-15 minutes after removing it from the oven can help the flavors meld together and make for a more enjoyable eating experience.
Farmer's cheese can now be found any most grocery stores, if you absolutely can't find it, Ricatto cheese will work in this blueberry cheesecake too.
Use room temperature ingredients: Using room temperature ingredients such as eggs and cheese can help create a smooth and consistent texture in your sweet breakfast casserole. Letting them sit out for 30 minutes before using them can make a big difference.
Recipe FAQs
Can I use frozen blueberries?
No, you shouldn't use frozen blueberries in this recipe.
Can I make this ahead of time?
Absolutely! You can prepare the casserole the night before and store it in the fridge overnight. Just pop it in the oven in the morning and you'll have a delicious and easy breakfast ready to go.
Can I substitute blueberries for another berry?
Yes! Make sure to use fresh berries. You can use raspberries, chopped strawberries, blackberries.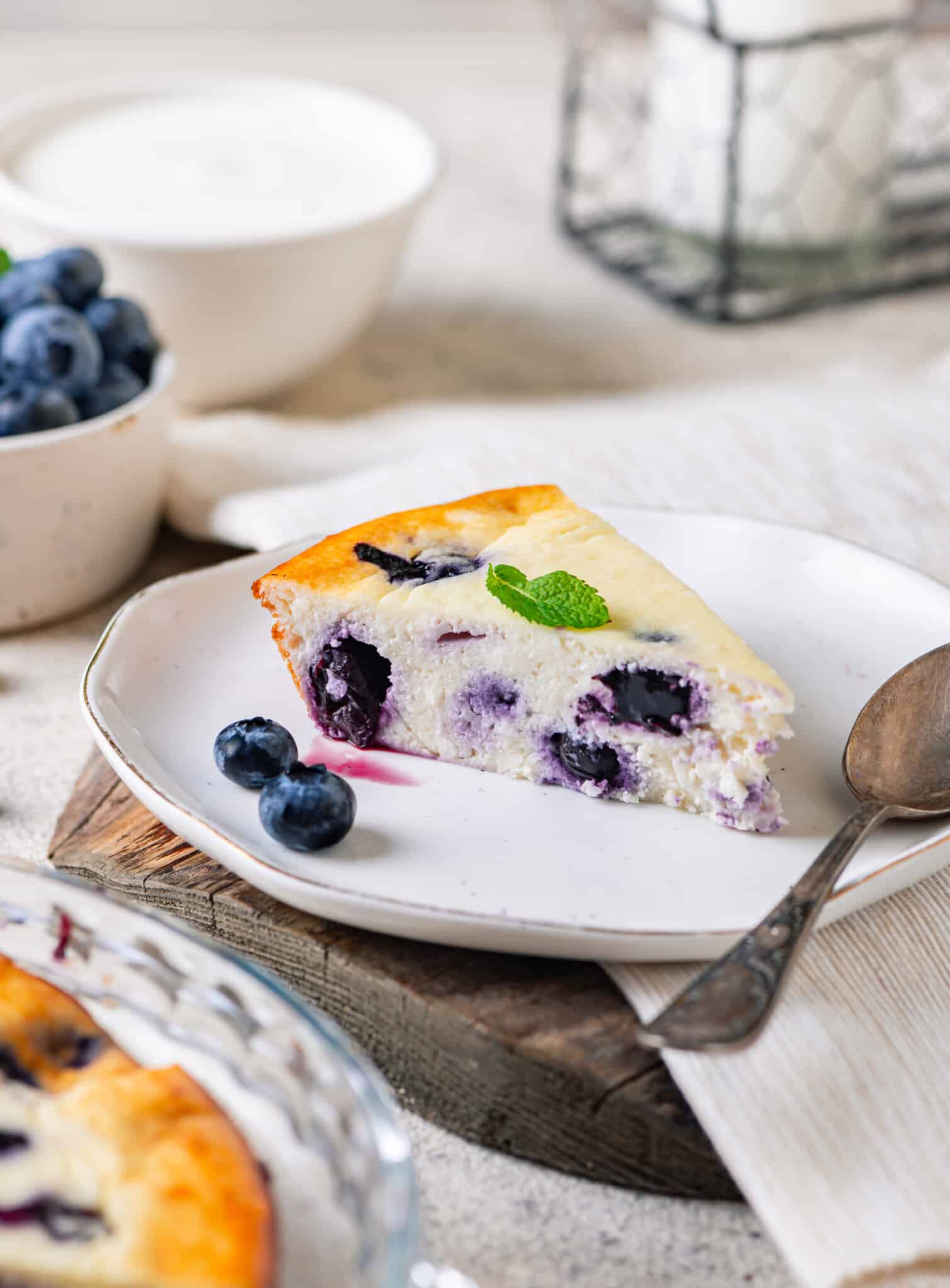 Fruit is always a great breakfast option! Here are some more fruit breakfast recipes:
Easy and Sweet Protein Breakfast Cottage Cheese and Fruit Bowl is the ideal breakfast bowl for full nutritional benefits.
Granola Breakfast Yogurt Parfait with Fresh Fruit is super easy to put together and is great on the go!
Other Tasty Brunch Recipes to Try
If you tried this Chili Garlic Shrimp Stir Fry or any other recipe on my website, please leave a 🌟 star rating and leave your 📝 comments below. I love hearing from you!
Blueberry Breakfast Casserole Recipe
Fluffy, moist, and absolutely delicious, this blueberry breakfast casserole will become a fast family favorite.
Rate
Print
Save
Saved!
Pin
Equipment
bowl

hand mixer

Spatula set
Ingredients
1

lb

farmer's cheese

or ricotta cheese

2

large

eggs

2

Tbsp

sour cream

½

tsp

vanilla extract

2

Tbsp

cream of wheat,

semolina

1

cup

blueberry

fresh

3

Tbsp

sugar
Instructions
Add all ingredients together, except for blueberries. (2 Tablespoons of sour cream, 2 Tablespoons of cream of wheat, 1/2 teaspoon of vanilla extract, 2 large eggs, 3 Tablespoons of sugar, and 1 pound of farmers' cheese).

2 large eggs,

2 Tbsp sour cream,

½ tsp vanilla extract,

2 Tbsp cream of wheat,,

3 Tbsp sugar,

1 lb farmer's cheese

Beat together with a mixer until well blended (about 3 minutes).

Fold in 1 cup of fresh blueberries.

Butter an oven-safe tart or pie dish and put the mix in the dish.

Let it cool down 10 minutes.

You're ready to have a delicious and healthy blueberry breakfast casserole!
Nutrition
Calories:
97
kcal
|
Carbohydrates:
5
g
|
Protein:
8
g
|
Fat:
5
g
|
Saturated Fat:
3
g
|
Polyunsaturated Fat:
0.1
g
|
Monounsaturated Fat:
0.03
g
|
Cholesterol:
20
mg
|
Sodium:
231
mg
|
Potassium:
19
mg
|
Fiber:
1
g
|
Sugar:
2
g
|
Vitamin A:
13
IU
|
Vitamin C:
2
mg
|
Calcium:
19
mg
|
Iron:
1
mg