Nut Free

Sugar Free
Simple One Pot Cauliflower Soup with Cheese

One pot recipes are my favorite: that's why I love sharing so many of them with you, like this Cauliflower Soup with Cheese!
No dishes and simple ingredients always make the easiest and best recipes. That's why I have so many one-pot and simple recipes! You can't go wrong when there's so much going on, and simple recipes are always best.
Pressure cooker and instant pot recipes may be popular and very widespread, but personally I enjoy a soup simmering on my stovetop, making the whole house smell of tasty, cheesy goodness. This creamy soup is definitely a cozy companion on those chillier days. With cauliflower florets combined with carrots and celery, there's no replacing a tasty homemade soup.
The best cauliflower soup is one that you make at home that is immediately devoured! The end result of this recipe is a low-carb soup that has a rich flavor and makes up an easy dinner!

Here are some good reasons to make this soup tonight:
It can be put together very quickly, just in one hour!
If you have dietary restrictions like the keto diet or are trying to stay off of dairy products, the milk can be replaced with an alternative milk and vegan cheese works well in this soup.
This great recipe can be mixed up in the blender in batches or with an immersion blender. It's great to eat with smaller kids and toddlers.
This recipe is a delicious and cheesy cauliflower soup. It combines carrot, celery, onion, and cauliflower to make the perfect blast of benefits all together in one dish! Along with that, there's milk to make it nice and creamy. While some people may use heavy cream in a soup to make it creamy, I think this soup is just right with milk. Top with some chopped green onions and you're good to go!
Cauliflower is rich in antioxidants and fiber. Carrots are filled with beta-carotene and onions are anti-inflammatory. Along with that, the celery supports your digestive system and garlic boosts your immune system. It also helps to keep this soup low carb. Enjoy this healthy and filling soup!
What do I need to make this recipe?
Cauliflower makes up the main flavors of this hot bowl of soup. It's low carb and adds lots of flavor.
Carrot is rich in vitamin A and supports eye health.
Celery has vitamin C and vitamin K. These vitamins have antioxidants and support bone health.
Onion helps to fight inflammation and lowers the risk of heart disease.
Garlic is antimicrobial and helps to reduce the risk of infections.
Chicken broth is the base to the creamy texture of this soup and adds loads of flavor.
Milk makes this soup the creamy goodness that you'll love. You'll need just one cup of milk.
Shredded cheese makes this blended soup a well loved one. Who can resist some tasty cheese?
Along with those ingredients, you'll need olive oil, salt, and black pepper. You can also add some chopped green onions on top for the favor of fresh herbs!
Enjoy more soup recipes for the winter season:
Easy Homemade Classic Chicken Noodle Soup with Potatoes is a cold-weather staple, especially when you're sick.
You can make Green Herb Soup with Sorrel (Shchavel Borscht) super easily at home. It's a Slavic family favorite.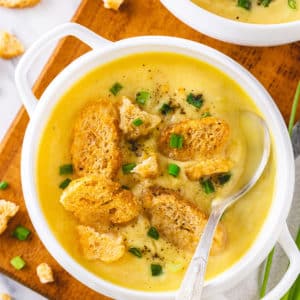 Simple One Pot Cauliflower Soup with Cheese
Healthy and nutritious with flavors of garlic, onion and cheese.
Rate
Print
Save
Saved!
Pin
Ingredients
1

head

cauliflower,

chopped

1

large

carrot,

chopped

2

stalks

celery,

chopped

1

small

onion,

chopped

2

cloves

garlic,

minced

32

oz

chicken broth

1

cup

milk

1

cup

cheese,

grated, mozzarella or parmesan

2

Tbsp

olive oil

salt,

to taste

black pepper,

to taste
Instructions
In a large soup pot, heat the olive oil on medium heat. Add the onion and garlic and cook for about 5 minutes until softened.

1 small onion,,

2 Tbsp olive oil,

2 cloves garlic,

While the onion is cooking, wash and roughly chop the cauliflower, celery and the carrot.

1 head cauliflower,,

2 stalks celery,,

1 large carrot,

When onion is soft and ready, add the vegetables into the pot then add the broth and bring it to boil.

1 head cauliflower,,

1 large carrot,,

2 stalks celery,,

32 oz chicken broth

Reduce the heat, cover the lid, and cook on low for 20 minutes until your vegetables are soft.

Add milk and cook for 5 more minutes. Remove from the heat and puree the soup in a blender (in small batches) and return it to the pot.

Season with salt and pepper. Add the cheese and mix until it's melted.

salt,,

black pepper,,

1 cup cheese,

Before serving, garnish each plate with croutons and green onion.
Nutrition
Calories:
143
kcal
|
Carbohydrates:
8
g
|
Protein:
7
g
|
Fat:
10
g
|
Saturated Fat:
4
g
|
Polyunsaturated Fat:
1
g
|
Monounsaturated Fat:
4
g
|
Cholesterol:
20
mg
|
Sodium:
560
mg
|
Potassium:
365
mg
|
Fiber:
2
g
|
Sugar:
4
g
|
Vitamin A:
1512
IU
|
Vitamin C:
37
mg
|
Calcium:
169
mg
|
Iron:
1
mg