Here are some of my favor carrot recipes to include into your meals. This healthy, sweet, and vibrate vegetable can be used all year long, but the fall time is when I use it the most. I always keep carrots in my fridge, it would be surprising if you come to my house and see no carrots in my fridge. I love carrots. From morning drinks, to appetizers, to soups, side dishes these carrot recipes are some of my favorites, and here is why.
Roast them, roast them very good.
One of my new carrot recipes on the blog, is this super easy and simple side dish. Made with a little bit of sweetness, fresh sage, and salt and pepper for the flavors to come out.
Why sage? It has a hint taste of mint, lemon and feels so right to add sage to roasted carrots for it's earthly flavor.
Quick and Sweet Carrots salad recipe is my all time carrot recipe when unexpected guests come or when I need an easy side dish for dinner. It's my go-to salad. It's surprising easy to make. All you really need is a grater and 3 ingredients. Seriously good.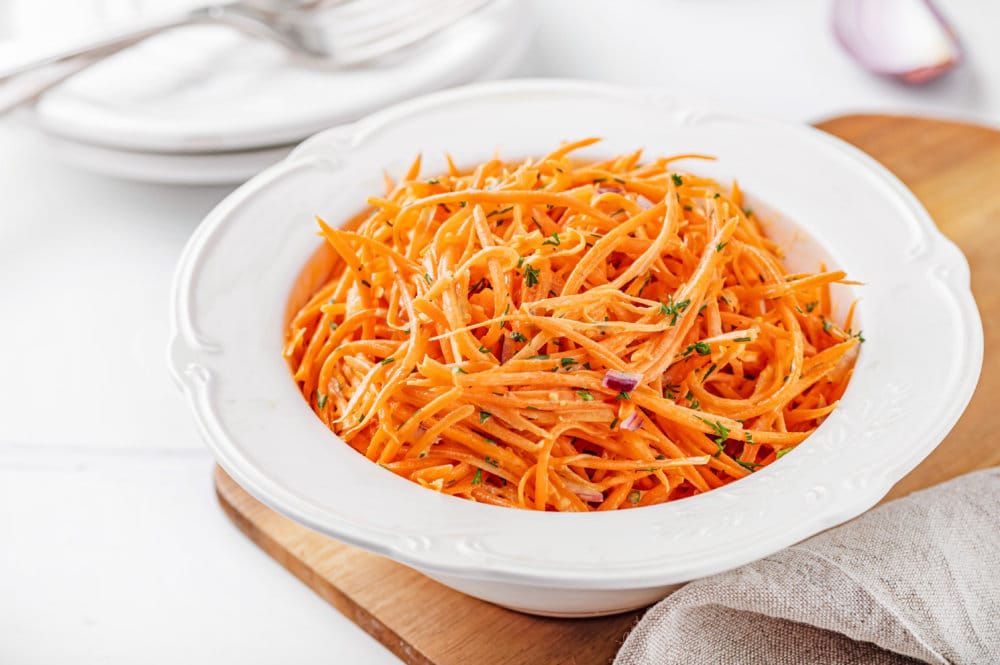 Looking for a carrot snack recipe? Look no further. These bright orange, healthy veggies can easily be made into a cheesy baked appetizer. Yum! This one is always a guest favorite. From zero to a whole dish, carrot and cheese crostini appetizer melt can be prepared ahead of time, all you will need to do before the hungry friends come is to put it in the oven to bake for just 10 minutes. How easy is that?
Surprisingly, this sweet orange root vegetable is also delicious to drink. It adds the perfect tang to sweet fruits. Combining these fresh fruits and veggies makes it the ultimate 5-ingredient carrot-nectarine-ginger smoothie for some morning energy!
Oh, soup of course! You are going to love this carrot soup recipe. It's creamy, dairy free, and full of particularly delicious ingredients.
A blog favorite, this chicken with rice recipe is a rice pilaf with meat, carrots, onions and spices, chicken, rice and a lot of aroma. A big hit with the kids. Plov is traditionally made with lamb, in a fancy vessel over open fire, but can easily be done with chicken on a stove top for a delicious weeknight dinner all in one pot.
Carrots protect your eye health and vision; they don't improve it. And it's not hard to add in carrots to your everyday meals. Marinated carrot salad like this one with garlic and spices, can be made ahead of time, and lasts for days in the fridge. Pairs so well with simple homemade mashed potatoes, and chicken breast with mushroom sauce.