Gluten Free

Nut Free

Sugar Free
How to make Green Herb Soup with Sorrel (Shchavel Borscht)
There is nothing better than a fresh bowl of soup on a sunny, but chilly, mid-March afternoon. This light, sour, nutritious green herb soup with sorrel uses very few ingredients, is easy to make, and is a very popular dish among Ukrainian families.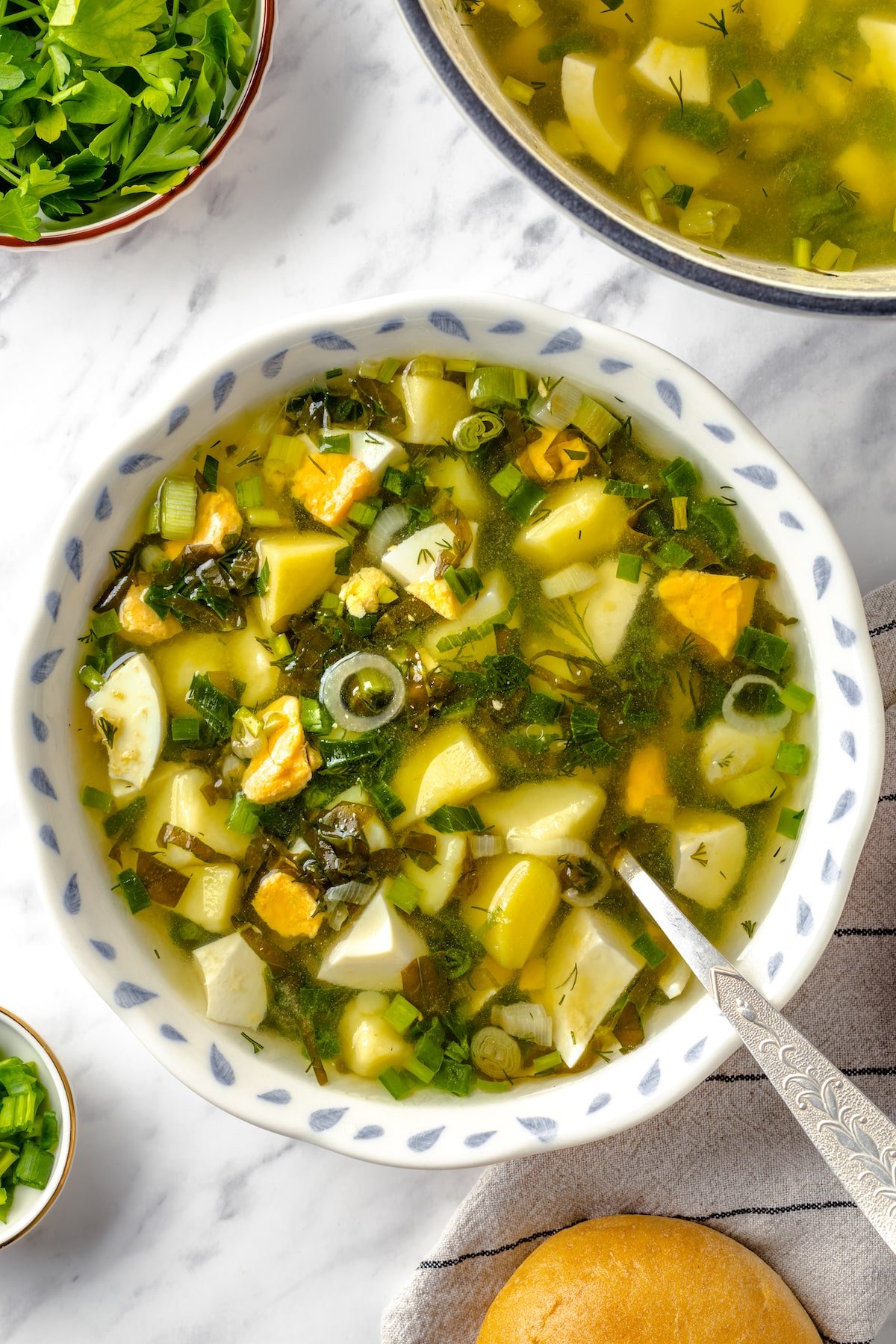 My mom used to make this delicious soup when I was a child, and now I serve it to my kids and they love it. This is one of my springtime favorite recipes which can also be enjoyed as a summer soup. I love the fresh leaves and their bright green color and the fact that the taste is not overwhelming like others. When I can't find sorrel, spinach is a good substitute.
What is Sorrel?
Sorrel which is also known as spinach dock is a vibrant, leafy green vegetable that is complex and delicious. These fresh greens can be used as a herb or vegetables and are known for their sour, tart taste and lemony flavor. Sorrel is high in vitamin C, fiber, magnesium, and antioxidants which are all essential for strengthening your immune system.
This perennial herb can be found at Whole Foods stores and the Farmer's market. It can be used in salads, stir-fries, marinades, soups, and casseroles. Intensely tangy some people describe its taste as similar to a sour green apple but I personally think it tastes like lemon.
There are different types of sorrel such as:
Common sorrel (Botanical name: Rumex acetosa):This is the most readily available variant and has a sharp flavor. It's called Garden Sorrel or English Sorrel. They have arrow-shaped leave and it re-grows every year. Once it's cut, it grows back again.
French sorrel (Botanical name: Rumex scutatus): These broad, leafy greens are somewhat heart-shaped leaves. They have a milder flavor than common sorrel, with smaller and more rounded leaves.
Red-veined sorrel (Botanical name: Rumex sanguineus): This has a brilliant green hue and deep red veins running through its leaves. The young leaves taste a little like lettuce and can be eaten raw in salads.
Sheep's sorrel (Botanical name: Rumex acetosella): This fresh herb grows wild in much of the United States. It is about as sour as common sorrel but with smaller leaves.
What is Sorrel Soup?
Sorrel soup is a traditional green borscht made mostly with broth, sorrel leaves, and salt. Sorrel soup can also be referred to as a "sour soup", as the sorrel leaves are extremely tangy and have an acidic taste. In Ukraine and the south of Russia, this soup is called "green borshch" because it includes fresh sorrel.
Borscht originated in Eastern European countries namely Russia, Ukraine, and Poland. This green soup can be enjoyed all year round. Typically, beet-based borscht is eaten during the winter piping hot. Green borscht (like sorrel soup) is eaten during the springtime when sorrel leaves are perfect for picking or widely available at farmers' markets. During the summer months, vegetarian borscht is eaten cold and serves as a refreshing pick-me-up.
The sorrel soup recipe is one of my favorite recipes to enjoy during springtime.
This light and meat-free sorrel sour soup is loaded with vibrant and nutritious greens. Serve it with an egg on top for a delicious lunch!
Key Ingredients
Chicken: The bone-in chicken is preferable to make chicken stock. The bones provide deep flavor to this vegetarian soup.
Fresh sorrel leaves: This has a lemony taste making it a springtime (well, anytime for me) herb favorite, with a mild flavor, and exquisite tang.
Large hard-boiled eggs: A great topping that balances out the acidity of the sorrel and enhances the flavor of the soup.
Yellow potatoes: The starch in the potatoes adds thickness to the soup and makes it more filling.
Fresh dill: This fresh herb adds that delicious, fresh, grassy, slightly citrusy taste to the sorrel soup recipe.
Parsley: Adds a savory, earthy taste and infuses a vibrant and herbal flavor into the soup.
Green onion: They're mild with a crunchy texture and add a subtle onion flavor without overpowering your soup.
Along with these ingredients, you'll also need olive oil, a little bit of salt, and water.
Find the full printable recipe with specific measurements below.
How to make Green Herb Soup with Sorrel
1: Prepare the chicken stock
Fill up a large saucepan with 6 cups water. Add in chicken and salt and boil for 30 minutes on medium-high heat. Once done, strain chicken water into a bowl, and transfer the water back into the pot.
2: Boil the eggs separately
Boil 3 large eggs for five minutes. Let them cool before peeling and chopping.
3: Add potatoes
Dice potatoes and add them to the chicken water. Boil until soft.
4: Saute the onions
In a medium pan or skillet, heat olive oil on medium heat then add the white part of the green onions. Sauté for about 2 minutes until just when it begins to color.
4: Add the rest of the ingredients to the soup pot
Add parsley, fresh dill, sorrel, hard-boiled eggs, and green onion to the soup pot. Then add in white sauteed onions and bring everything to a boil.
5: Season with salt then serve
Add a little bit of salt to taste then serve in a soup bowl.
How to store leftover green borscht
The best way to store it for later is to refrigerate it. It will stay fresh for up to a week. The great thing is the flavor gets better as it marinates in itself, making for some delicious leftovers.
It's not a good idea to freeze this soup as it begins to darken and deteriorate.
Expert Tips
I don't use the actual chicken in the soup, just the chicken water but you can use the meat as well.
Make this soup with the egg in it or serve the hard-boiled eggs separately and add them into individual portions.
The best way to serve the green soup is with a dollop of sour cream on the side. You can also serve it with heavy cream (to offset the sourness).
You can find canned sorrel at local grocery stores, and Ukrainian or Russian stores but the fresh sorrel leaves are the best for this soup.
Recipe FAQ
What do you serve with green soup?
Serve this Russian soup hot with a dollop of sour cream, a clove of garlic, mayonnaise, or a slice of freshly baked bread like rye bread.
What is Borshch?
Borscht, which is sometimes also spelled borsch and borshch, is a vegetable soup that makes a delicious lunch or light dinner for your family. It's almost always made with beets and the dish is a vibrant red color. There are some versions made without beets though. There is an orange version, which is made with tomatoes, and a green version like this one, which has a sorrel base. It's popular in Eastern European countries, especially Russia, Poland, and Ukraine. Borscht is a sour soup, made with meat chicken stock, vegetables, and seasonings.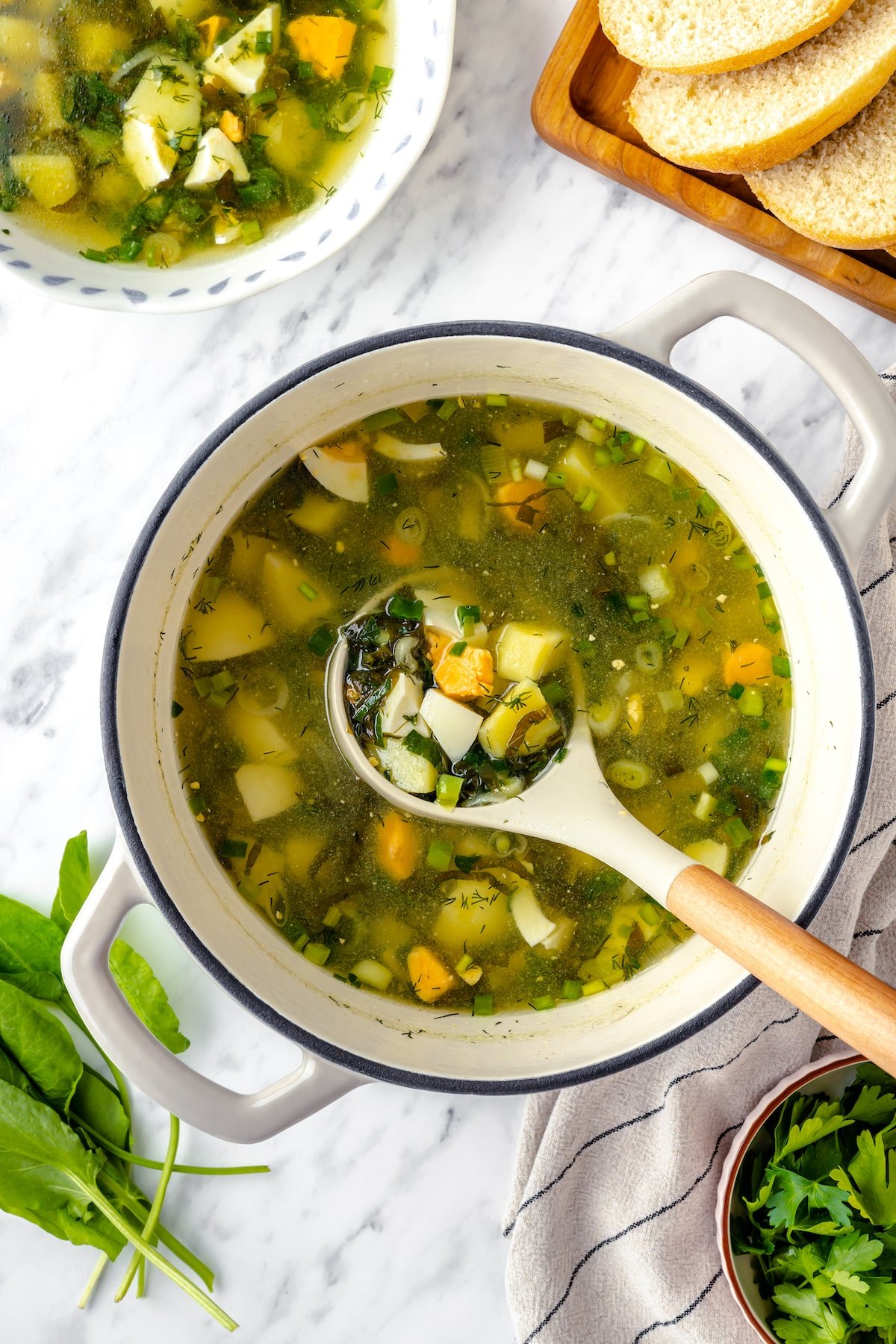 Here are some more great recipes with herbs:
This recipe of Easy Roasted Asparagus with Cheese and Herbs is the perfect side dish to any meal.
You can make these Easy Stuffed Mushrooms with Herbs as a great appetizer.
More Tasty Soups to Try
If you tried this How to make Green Herb Soup with Sorrel (Shchavel Borscht) or any other recipe on my website, please leave a 🌟 star rating and leave your 📝 comments below. I love hearing from you!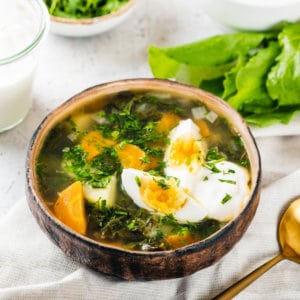 Green Sorrel Soup
A tart sorrel soup but with a mild tasting broth come together to make this Green Herb Soup.
Rate
Print
Save
Saved!
Pin
Equipment
Soup pot

spatula

Vegetable peeler
Ingredients
6

cups

water

1

lb

chicken thighs

boneless/ skinless

salt

3

large

eggs,

boiled & chopped

4

yellow potatoes,

peeled & cubed

1

Tbsp

olive oil

⅓

cup

green onion,

chopped and separated, white from green

3

Tbsp

dill,

chopped

⅓

cup

parsley,

chopped

⅓

cup

sorrel,

chopped
Instructions
Wash sorrel leaves, cut off the stems, and cut into 1-inch stripes. Mince onions, wash and cut the carrot in half, and slice it. Wash and cube potatoes into small bite-sized pieces.

1 lb chicken thighs,

6 cups water,

salt

Melt 1 tbsp butter in a pan over medium heat. Add chopped sorrel and saute for 2 minutes.

In a large pot, melt the remaining 1 tablespoon of butter. Add minced onion and sauté over medium heat for 3 minutes.

Add vegetable or chicken broth, sliced carrots, cubed potatoes, salt, black pepper, bay leaves, and parsley leaves.

Bring to a simmer and cook for 15 minutes until potatoes can be pierced with a fork.

1 Tbsp olive oil,

⅓ cup green onion,

Remove bay leaves, taste the soup for salt, and adjust to taste if needed.

⅓ cup parsley,,

⅓ cup sorrel,,

⅓ cup green onion,,

3 Tbsp dill,

Add sautéed sorrel, simmer on low heat, and cook for 3 more minutes.

Bring everything to a boil, then salt to taste.
Notes
you can also use frozen sorrel.
sorrel is hard to find, but I have seen it at Whole Foods, or European stores.
Using vegetable or chicken broth may differ in flavor.
Nutrition
Calories:
376
kcal
|
Carbohydrates:
25
g
|
Protein:
22
g
|
Fat:
21
g
|
Saturated Fat:
5
g
|
Polyunsaturated Fat:
4
g
|
Monounsaturated Fat:
9
g
|
Trans Fat:
0.1
g
|
Cholesterol:
201
mg
|
Sodium:
138
mg
|
Potassium:
842
mg
|
Fiber:
3
g
|
Sugar:
1
g
|
Vitamin A:
737
IU
|
Vitamin C:
35
mg
|
Calcium:
60
mg
|
Iron:
3
mg