Gluten Free

Nut Free

Vegetarian
The Best Roasted Asparagus Appetizer with Parmesan
The perfect classy side dish takes less than 30 minutes to make and is made up of roasted veggies and has the perfect blend of spices and toppings. Doesn't that sound delicious? I'm talking about this roasted asparagus with parmesan cheese appetizer dish!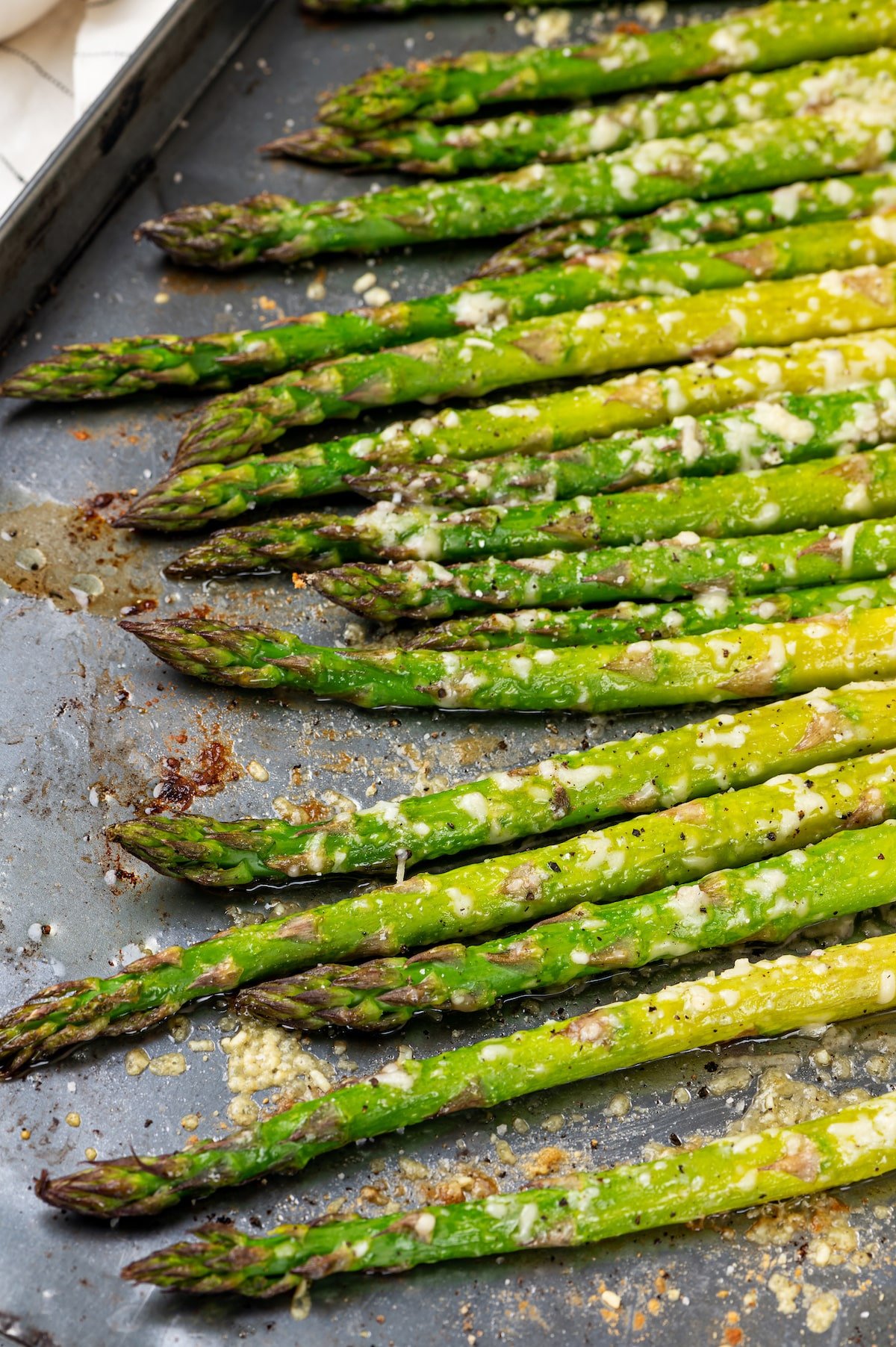 Why this Recipe Works
It's so easy to make; messing it up is impossible.
Roasted asparagus appetizer with parmesan is my go-to side dish when hungry guests come knocking on the door or as part of the main course like when you're having baked chicken for dinner or a tasty and easy oven-baked salmon with tomatoes.
Done in less than 30 minutes.
Healthy and flavorful.
Ingredients
You need a few simple ingredients which are easy and you probably have them on
hand already in your kitchen. If not, these can be easily found in the grocery store.
Asparagus: Get the green asparagus. Look for fresh asparagus with tips tightly closed and stalks are plump and firm.
Parmesan Cheese: Always go for the fresh parmesan block and grate it yourself at home.
Other ingredients you will need are a pantry staple extra virgin olive oil, garlic powder, and salt and pepper.
Find the full printable recipe with specific measurements below.
How to Roast Asparagus Appetizer with Parmesan
Step 1: Preheat the oven.
Don't forget to preheat your oven to 425F right about now! It's the best way to get
crispy asparagus spears.
Step 2: Prep the asparagus
First off, you must prepare your fresh asparagus. You do this by washing the
asparagus and drying them with paper towels. Then trim the stems of the asparagus or
snap them off.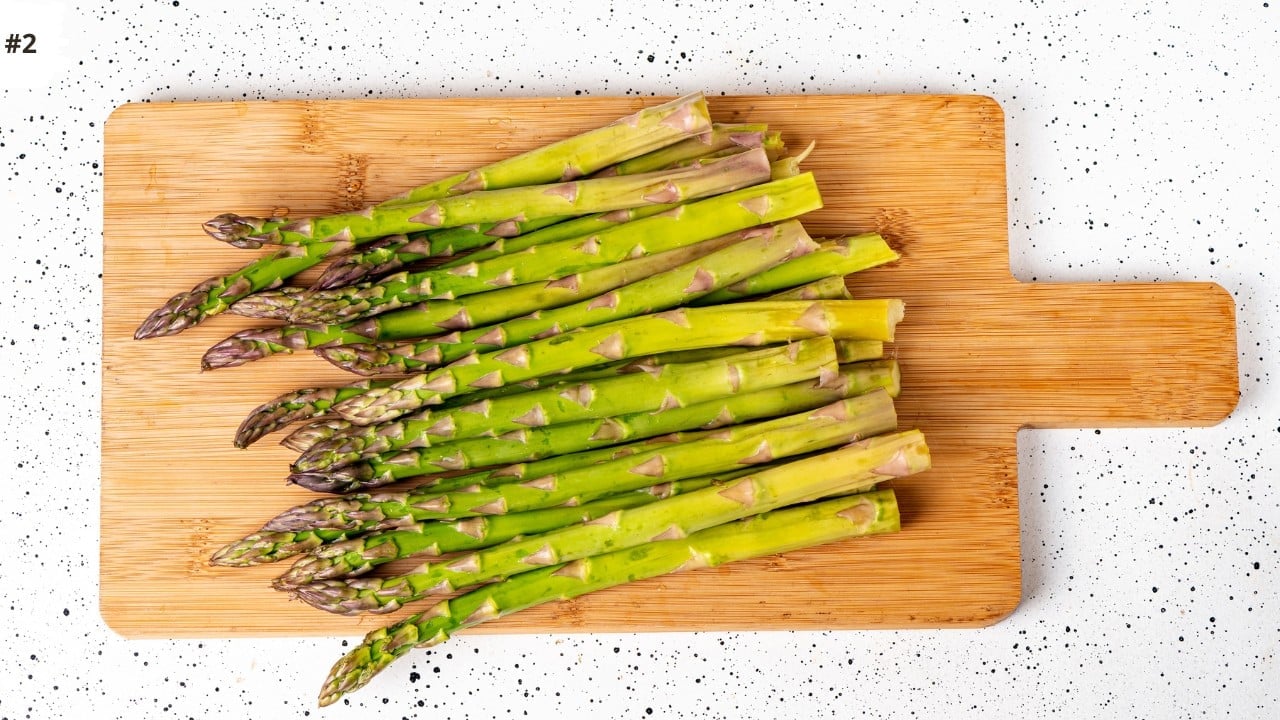 Step 3: Coat the asparagus
Spread out the asparagus on a baking sheet in a single layer and toss with 2
Tablespoons of olive oil until every asparagus is coated in oil.
Step 4: Sprinkle the garlic powder
Then sprinkle with 1 teaspoon garlic powder, a pinch of salt and pepper, and 1 Tablespoon parmesan cheese on top of the asparagus.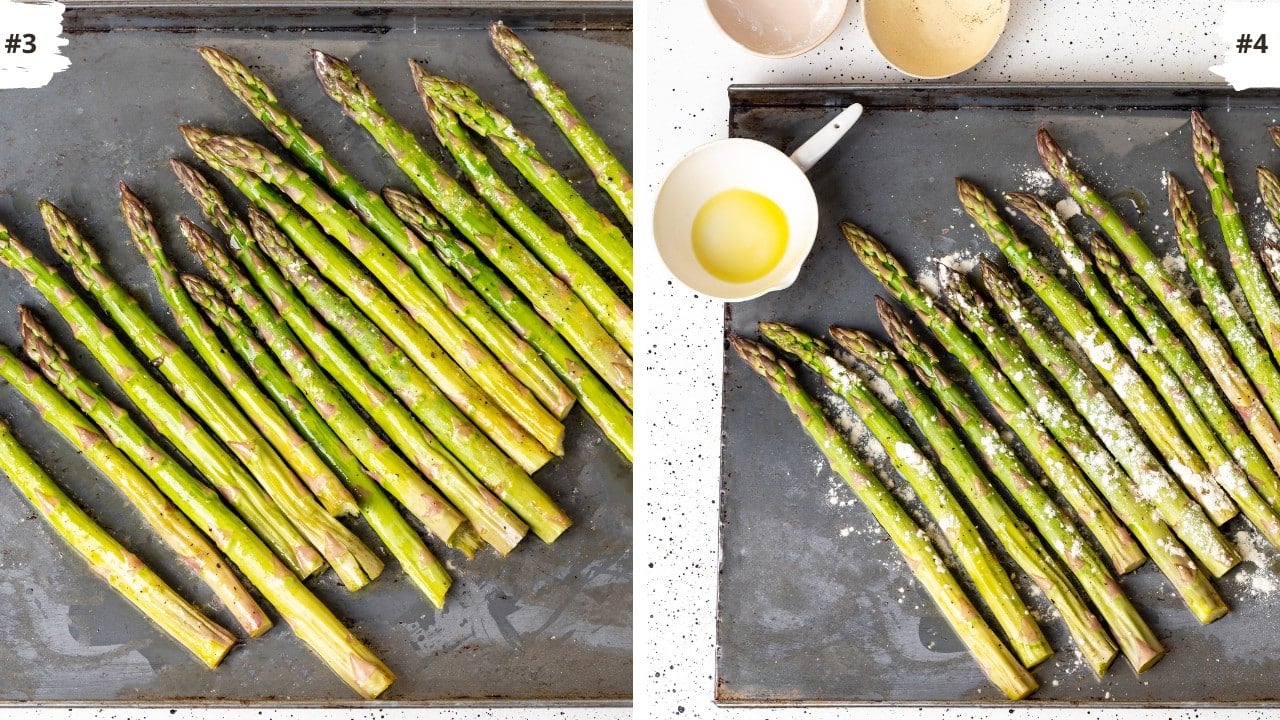 Step 5: Add the cheese
Sprinkle with grated parmesan and bake for 10 minutes, uncovered.
Step 6: More cheese
Grate 1 Tablespoon of parmesan cheese onto the baked asparagus and serve them
on a beautiful serving platter as a finger food, appetizer, or side dish. The cheese is a great
addition to the taste of this recipe and might be the best part.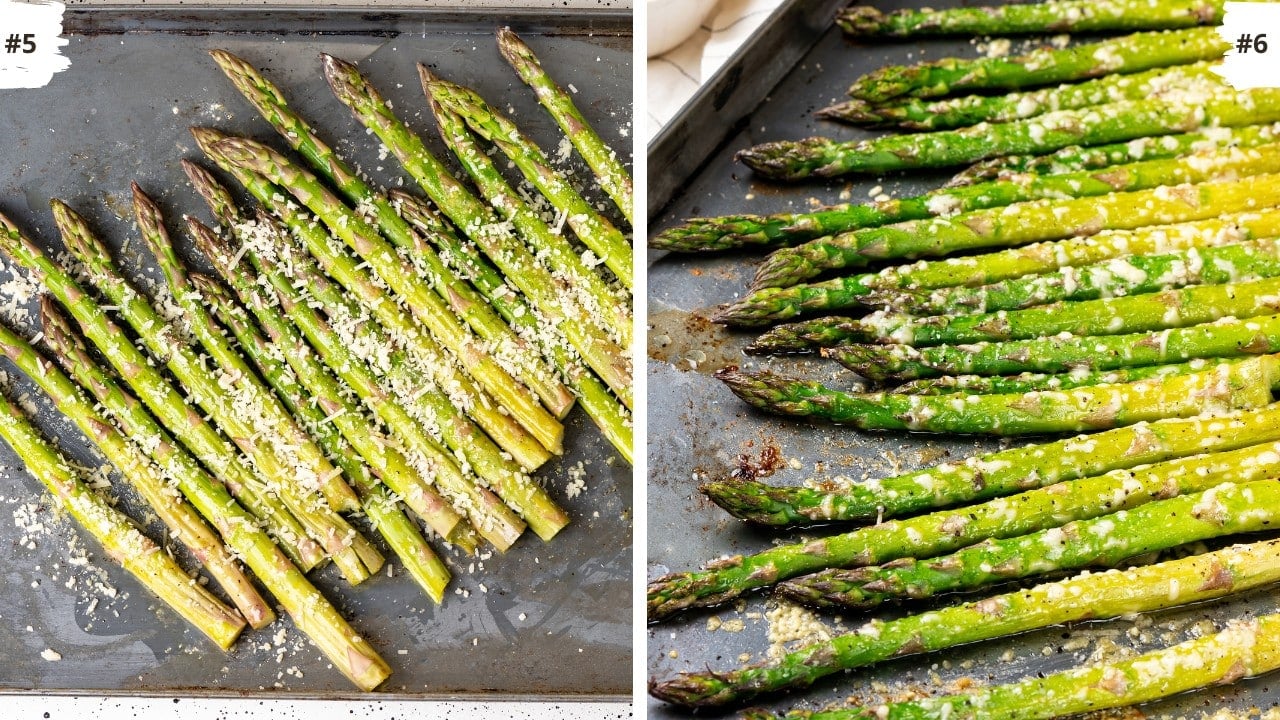 Expert Tips
Don't overcook your asparagus. Ten minutes is best. Otherwise, the asparagus will start getting mushy.
Garnish with fresh chopped cilantro or parsley.
If you don't have garlic powder on hand, use fresh minced garlic clove.
Grate your own parmesan by buying a small block from the gourmet cheese department.
When making this roasted asparagus appetizer.
You can keep your asparagus fresh in the refrigerator by placing it in an airtight
container.
you should be extra careful since it's extra addictive. You might want to make more since it'll disappear quickly!
That's all the steps you need to take to make your delicious roasted asparagus
appetizer. It's an easy side dish to make and a great addition to your dietary fiber as
well.
Variations
No asparagus on hand? The same recipe can be used for Brussels sprouts or broccoli.
Recipe FAQs
How long to bake asparagus at 425F
Ideally for thin asparagus, you'd want to bake them for a maximum of 10 minutes. The
425F allows the asparagus to come out crispy and not burnt. For thicker asparagus at
this temperature, you can bake them for 15-20 minutes.
How to cook asparagus
There are different ways to cook asparagus. Most of them are basic recipes.
You could stir-fry them in a wok with butter or olive oil. Another option is to steam them
or boil them on your stove or in your microwave for 3-5 minutes.
If you have an air fryer you can also make asparagus in the air fryer basket.
You can also season the asparagus with sea salt and grill it. My favorite method is to
roast them as it removes the bitterness and makes them more delicious. Nothing beats
the taste of crisp asparagus.
How do you cut asparagus for roasting
There are two ways to cut your asparagus for roasting- snipping and cutting. You can
combine them to make the task easier.
You start by taking one asparagus and bending it until it's about to break. Then you
break or snap it where the tender part ends and the tough part begins.
The tender part is usually green and the tough part is white. That one asparagus is the
standard you'll use for the rest of the asparagus.
You can then place the bunch of asparagus on a chopping board, all facing the same
direction, and using the first one as an example, cut off the rest of the asparagus at the
same place using a chef's knife.
And that's it, your asparagus spears are ready to use for roasting.
How do you tell if roasted asparagus is done?
The asparagus must be firm and fork-tender not mushy and overcooked to show that it's
done. Crispy parmesan roasted asparagus in the oven is my absolute favorite.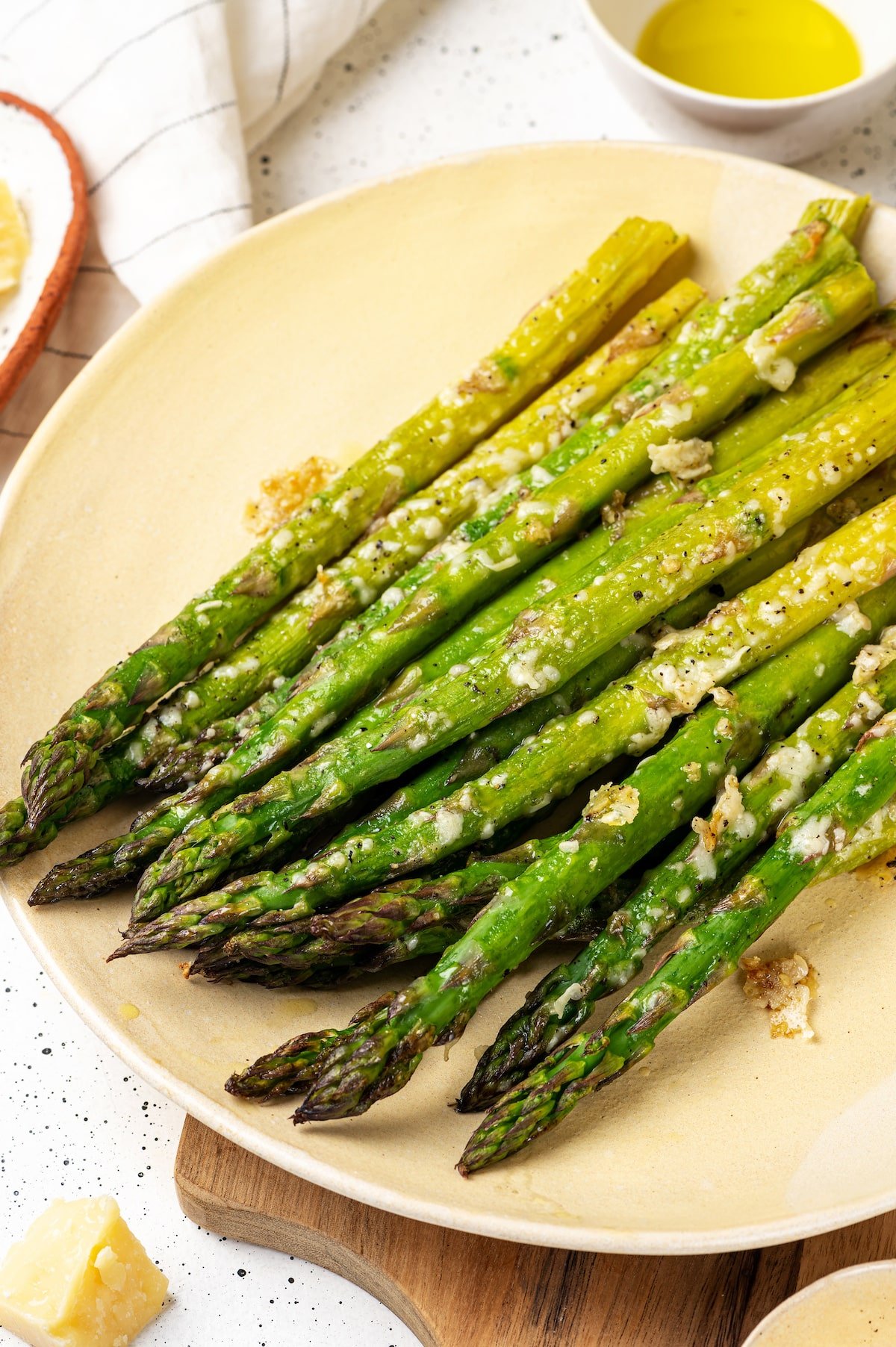 More Ways to Use Asparagus
Asparagus can be enjoyed on its own or as part of other ingredients to make a meal.
Soup lovers will enjoy this vegetarian asparagus soup. During spring your family will
appreciate this asparagus salad as well.
More Oven Roasted Vegetable Recipes
If you tried this The Best Roasted Asparagus Appetizer with Parmesan or any other recipe on my website, please leave a 🌟 star rating and let me know how you enjoyed it in the📝 comments below. I love hearing from you!
Easy Roasted Asparagus Appetizer with Parmesan
Under 30 minutes you can have an appetizer or side to complimant protein of choice.
Rate
Print
Save
Saved!
Pin
Ingredients
1

bunch

asparagus,

washed

1-2

Tbsp

olive oil

1

tsp

garlic powder,

1

Tbsp

parmesan cheese,

grated

pinch

salt

pinch

black pepper
Instructions
Preheat the oven to 425F.

Wash the asparagus and dry it with a paper towel.

Trim asparagus ends by holding the end of the asparagus and snapping it wherever it snaps.

Lay out asparagus on a baking sheet, drizzle it with 2 tablespoons of olive oil, and rub them until every asparagus is well coated in oil. Then sprinkle with garlic powder, salt and pepper, and parmesan cheese on top of the asparagus.

1-2 Tbsp olive oil,

1 tsp garlic powder,,

pinch salt,

pinch black pepper,

1 Tbsp parmesan cheese,

Bake asparagus at 425 degrees F for 10 minutes until tender.

In ten minutes, take it out of the oven, transfer the prepared asparagus to a serving plate, grate another tablespoon of fresh parmesan and serve.
Notes
Do not exceed ten minutes unless your asparagus is really thick, in that case you can add couple more minutes. You don't want your asparagus mushy; it should be soft but still a little crunchy.

Garnish with chopped fresh dill or parsley.

Best to grate the parmesan cheese yourself than to buy pre-grated.
Nutrition
Calories:
47
kcal
|
Carbohydrates:
4
g
|
Protein:
2
g
|
Fat:
3
g
|
Saturated Fat:
1
g
|
Polyunsaturated Fat:
1
g
|
Monounsaturated Fat:
2
g
|
Cholesterol:
1
mg
|
Sodium:
483
mg
|
Potassium:
183
mg
|
Fiber:
2
g
|
Sugar:
2
g
|
Vitamin A:
688
IU
|
Vitamin C:
5
mg
|
Calcium:
34
mg
|
Iron:
2
mg