8 Low Carb Recipes That Fit Any Lifestyle!
Sometimes, a low-carb lifestyle feels like you're restricting yourself from so many delicious treats, flavor options, and entire dishes that others enjoy with ease. At the grocery store, you might see labels like "keto" or "low carb" just to find a large list of ingredients on the back that you don't understand, with fake flavorings & chemicals packed into these foods.
The struggle is real, but this collection of recipes is here to help: with real, accessible ingredients and simple, easy-to-make recipes that not only fill you up, but keep away unnatural ingredients and flavors! These 9 recipes range from soups, salads, to even dessert in bringing you a myriad of options to support a low-carb lifestyle.
From the top, this Easy and Classic Tomato Soup packs in onion, garlic, broth, and of course, the shining glory of ingredients: tomatoes! With only 7g carbohydrates, this easy tomato soup is light on your stomach. Croutons are optional, of course.
If you try to stay away from dairy, this soup is perfect for you! It has no added dairy ingredients (besides the optional parmesan) and packs in nutrients & vitamins A & K. This classic tomato soup will satisfy both you and your family.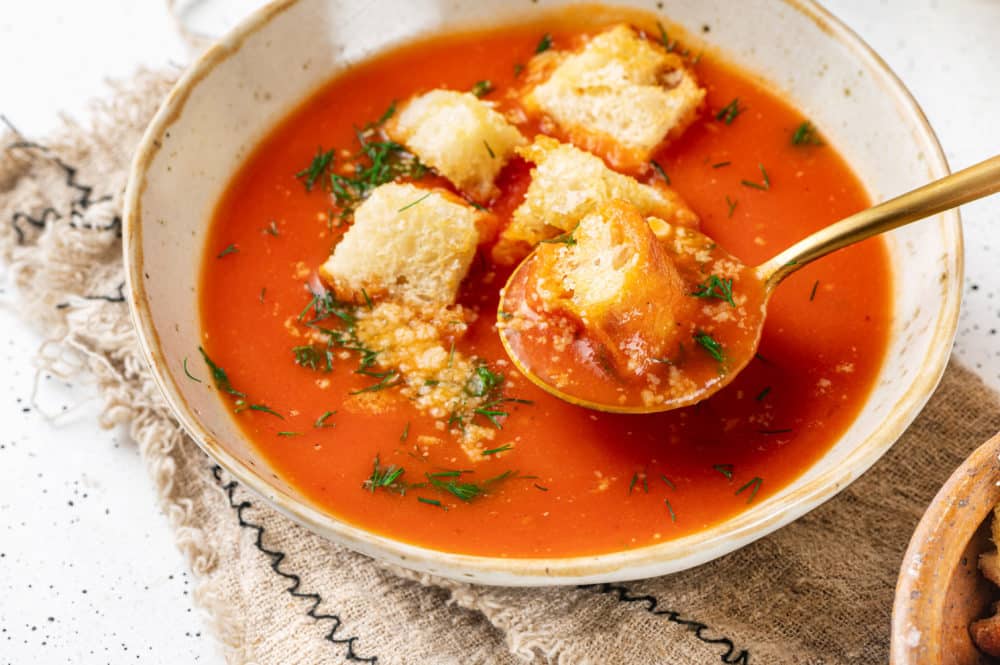 Zucchini boats filled with beef make the perfect protein-filled recipe for a dinner meal.
Whether you enjoy it with the family or on your own, this lunch and dinner dish is ideal for meal planning. It pairs well with any side salad and fills you up!
A simple Veggie Salad is always the best way to go when you're looking for a quick low-carb recipe.
This crunchy, colorful veggie salad comes is made with bell peppers, cucumber, tomato, onion, carrot and dill. Then, tossed together with a simple, light vinaigrette. It's the perfect clean eating salad!
It's impossible to pass up a salad with only 3g carbohydrates, especially when it has all of the fresh, amazing, and seasonal ingredients! This Easy Avocado and Chicken Salad with Mango is my favorite one of this selection of low-carb recipes, and for good reason: the low carb amount and the extremely delicious flavor combination!
Chicken packs in the protein while the red onion adds a crunch. High in healthy fats, avocado positively adds to your daily macros while mango sweetly makes the salad come together. There really isn't a more perfect low-carb, keto-friendly salad.
A simple One Pot Cauliflower Soup with Cheese is a delicious comfort soup recipe! Cut back on carbs with only 8g per serving!
Incredibly flavorful, this healthy soup is so fulfilling and is creamy, too. Optional croutons add some crunch on top and garlic makes it very tasty. Comfort food always gets a yes from me!
You don't say! A fruity dessert salad, in the low-carb collection of recipes? That's right. This Simple Baked Nectarine Salad with Greens has 9g carbohydrates and even less ingredients: 6!
The smooth sister of fuzzy peaches, nectarines are the perfect low-carb fruit. Pecans, spinach, and goat cheese all combine together, packing your body with protein, calcium, and fiber. The drizzle of balsamic vinegar and olive oil complement this salad and make it one worthy of making over and over again!
Make a low-carb vegetable steak recipe with this Roasted Cauliflower Steak with Pesto Sauce!
Pesto makes everything better: and I love to make my own homemade pesto to serve alongside this simple steak! It's the perfect vegetarian alternative for meatless Mondays and makes a great main dish for a summer cookout.
When you crave the comfort of roasted potatoes, Simple and Low Carb Roasted Radishes come to the rescue. They make a surprising low-carb alternative, having only 1g carbohydrates. That's quite surprising!
Besides radishes, the ingredients in this roasted recipe are simple, on-hand ones that are always stocked in the pantry. A simple toss and roast, and these radishes will be ready to devour without adding unnecessary carbs to your daily macros.