Gluten Free

Nut Free
One Pan Oven Baked Fish with Vegetables and Spices
A bright and warm dish of baked fish, carrots, red pepper, and herbs.
All-in-one dishes like this One Pan Oven Baked Fish with Vegetables and Spices is really the ideal recipe. You have everything your body needs: protein from the halibut, beta-carotene from the carrots, lycopene from the tomatoes, and antioxidants from the garlic.
Warm dinner meals are the best option to serve and make, especially in the fall and winter seasons. They make family meals better and are great combinations of both vegetables (quite a variety, too) and animal protein.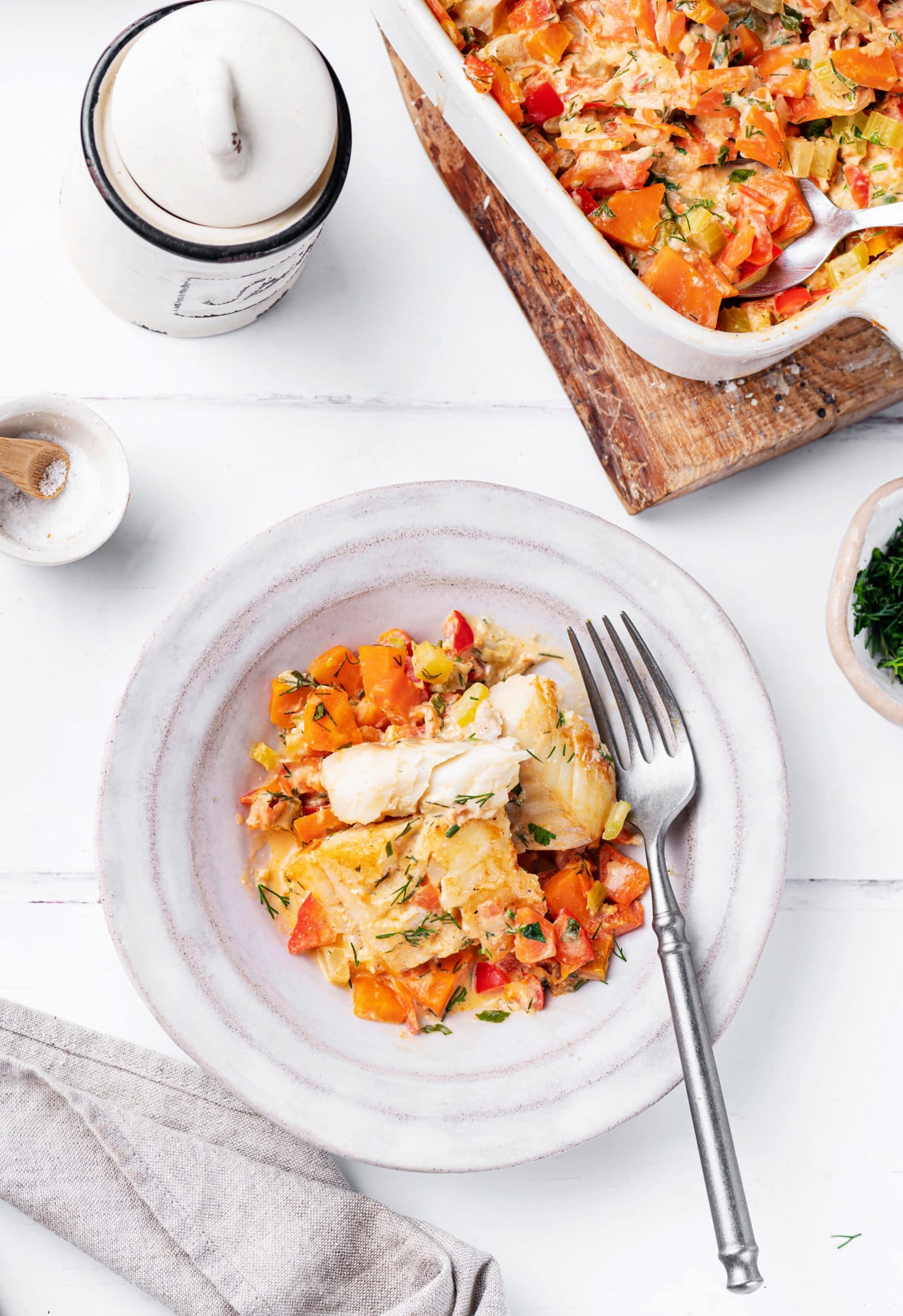 Why add benefits of the ingredients?
Sometimes, there's no time and we rush through the drive-thru for a meal. But when we're at home, we can control what's in our food, I find that it's important to know what really we are putting into our bodies. If you feel like you're missing out on a certain nutrient, going to food is the best option rather than stocking up on pills. This meal will fill you with magnesium, vitamin C, vitamin A, and fiber. You can explore and add more veggies if you feel that you need different nutrients. (Keep in mind, the nutrition facts might change if you do!)
What do I need to make this recipe?
Halibut is rich in magnesium, which helps to reduce the risk of diabetes. Also, it can fight against asthma and multiple myeloma.
Red peppers are anti-inflammatory and contain vitamin C, which helps to boost levels of antioxidants.
Carrots are rich in beta-carotene, which turns into vitamin A in your body. It supports eye health and is vital for immune support.
Tomatoes are filled with lycopene, which prevents sun damage to your skin and protects the body from the damage of free radicals.
Celery is rich in fiber, supporting your digestive system, and antioxidants that help to lower oxidative stress.
Onions are filled with organic sulfur compounds. These compounds contribute to onions' strong taste, but also reduce cholesterol levels in your body and lower the risk of stroke.
Garlic benefits heart health and is even anti-cancer. It helps to protect the heart after a heart attack and reduces blood pressure.
Along with those ingredients, you will need mayonnaise, salt & pepper, dill, parsley, and unsalted butter.
One Pan Oven Baked Fish with Vegetables and Spices
A bright and warm dish of baked fish, carrots, red pepper, and herbs.
Rate
Print
Save
Saved!
Pin
Ingredients
1

lb

white fish,

any kind, I used halibut

1

red pepper,

chopped

2-3

carrots,

chopped

2

medium

tomatoes,

chopped

3

sticks

celery,

chopped

1

onion,

sliced thinly

3-4

cloves

garlic,

minced

¼

cup

mayonnaise,

or sour cream

salt,

to taste

black pepper,

to taste

1

handful

fresh dill,

chopped

1

handful

fresh parsley,

chopped

1

Tbsp

unsalted butter
Instructions
On a frying pan, melt 1 Tablespoon of butter.

Cut fish pieces into small sizes (if you haven't already) and fry on pan, add some salt and pepper. It doesn't need to be cooked through, just brown on the outside. Take fish out on to a plate.

In the same pan, add in sliced onions stir and add in carrots. Stir before adding each vegetable, keep heat on medium/low.

After all vegetables come together add in the minced garlic, your pan should smell amazing.

Sauté vegetables for one minute.

In an oven-safe shallow dish, add in enough of the vegetable mix just to cover the bottom.

Take half of the fish pieces and spread around the dish on top of the vegetables

Spread the other half of the vegetables that are left onto the fish pieces.

Take the rest of the fish and spread around the dish.

The rest of the vegetable mix put on top of the fish pieces.

Finish off with spreading 1/4 cup of mayonnaise, add some salt and pepper, then cover the dish (you can use foil.)

Bake for 40 minutes. I hope you enjoy this simple and healthy oven-baked fish with vegetables!
Nutrition
Calories:
186
kcal
|
Carbohydrates:
8
g
|
Protein:
16
g
|
Fat:
10
g
|
Saturated Fat:
3
g
|
Polyunsaturated Fat:
5
g
|
Monounsaturated Fat:
2
g
|
Trans Fat:
1
g
|
Cholesterol:
47
mg
|
Sodium:
133
mg
|
Potassium:
525
mg
|
Fiber:
2
g
|
Sugar:
4
g
|
Vitamin A:
4583
IU
|
Vitamin C:
36
mg
|
Calcium:
37
mg
|
Iron:
1
mg