Gluten Free

Nut Free

Sugar Free
How to make Filet Mignon over Greens Salad
Date night dinner with a juicy and delicious Filet Mignon steak salad is just what I had in mind recently, so here's my recipe that I want to share with you!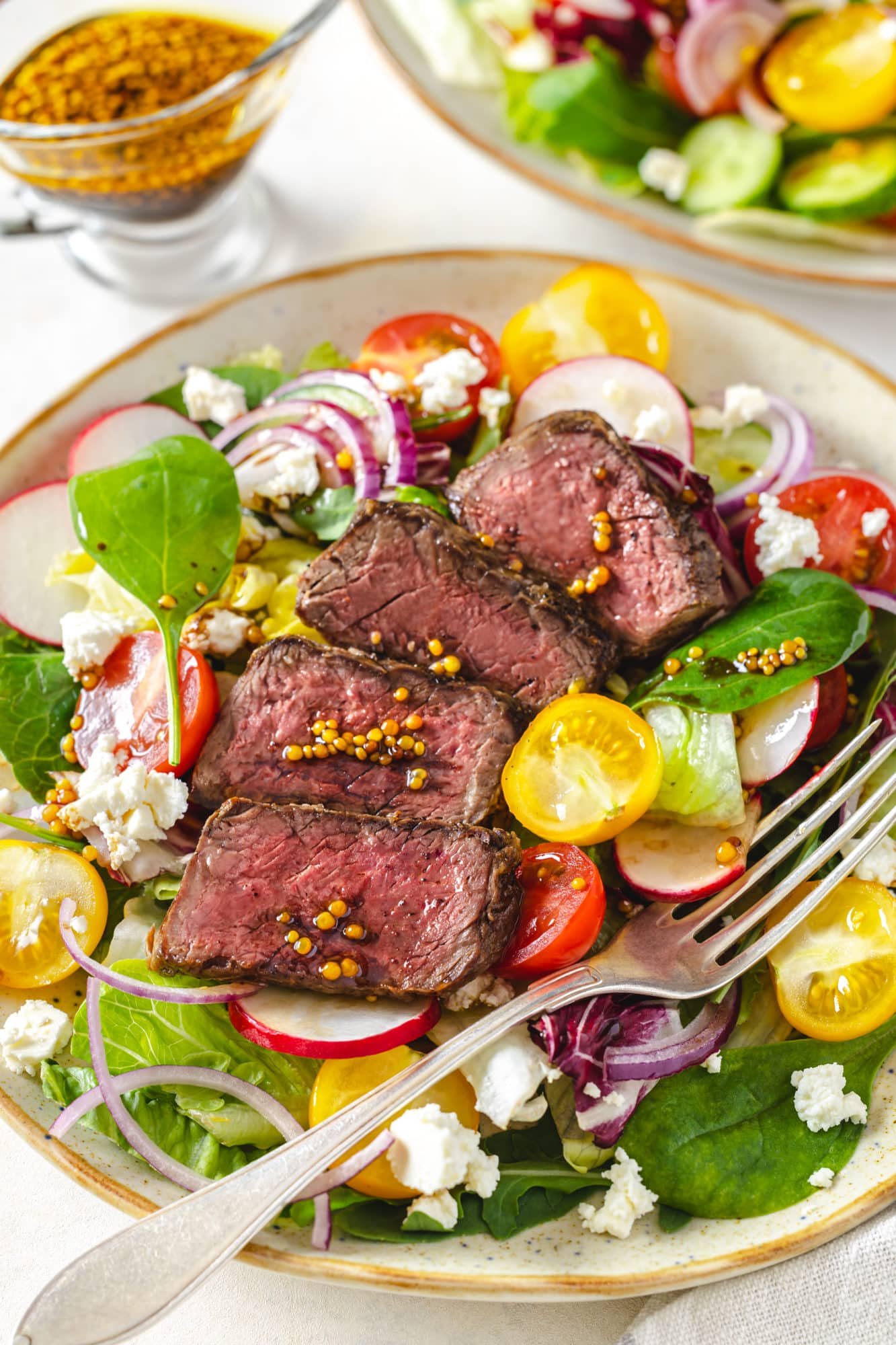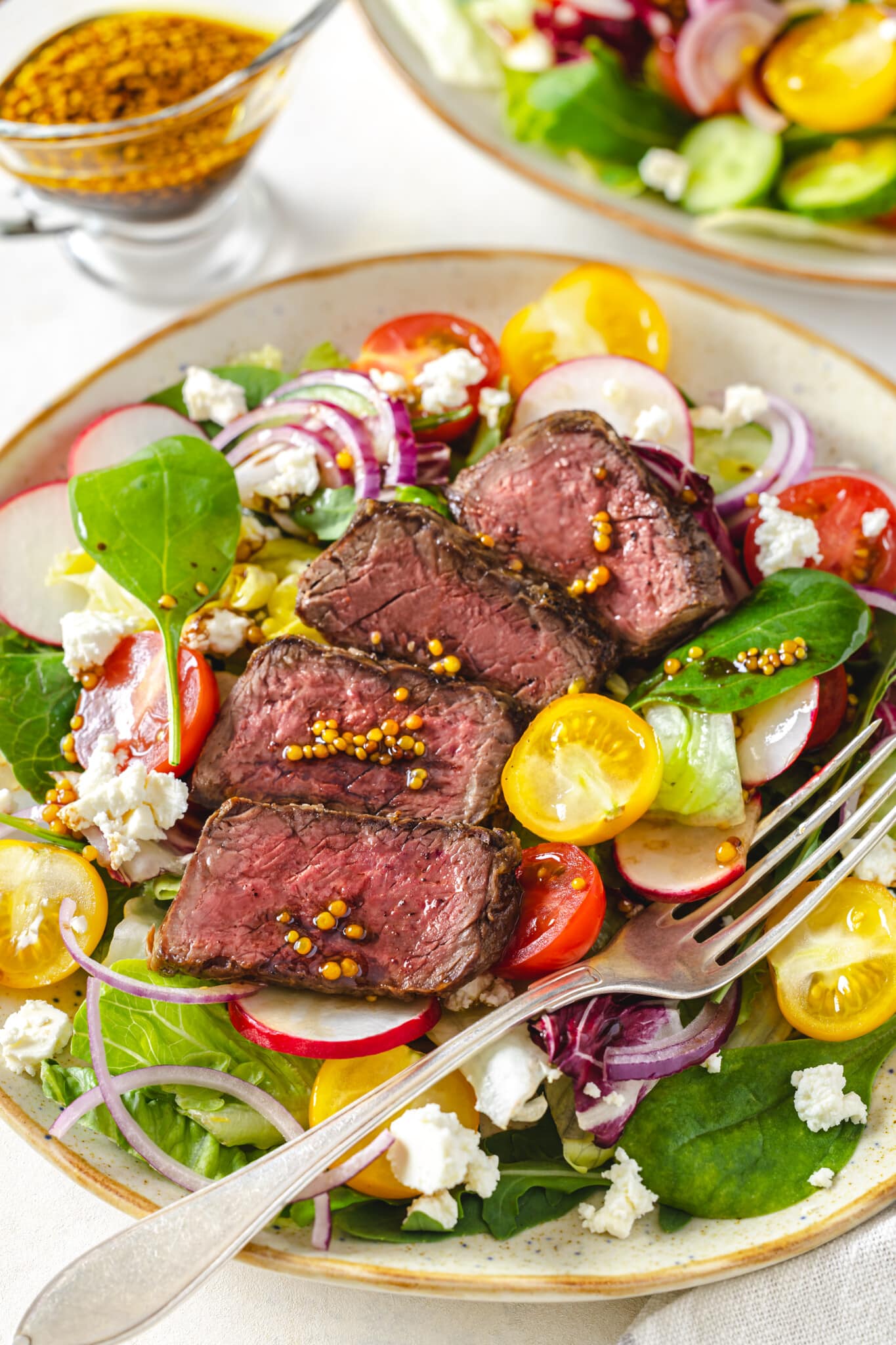 If you are a big fan of steak, you've come to the right place.
My family loves to fire up the grill (or prepare a pan in a pinch) and make this steak salad recipe. Why a salad? Well, because you can combine two things into one! With a steak that melts into your mouth over a tasty, crisp leafy and fresh salad with veggies and a balsamic salad dressing.
FAQs
How long to cook filet mignon in oven?
A filet mignon can be cooked in the oven for 10-15 minutes after it's seared in a pan.
What part of the cow is filet mignon?
The filet mignon is the tenderloin part of the cow. The filet mignon makes an amazing steak.
How to season filet mignon?
Filet mignon steak tastes great seasoned with salt, pepper, and olive oil. The meat itself has an amazing flavor that your taste buds are sure to enjoy!
The cuts of steak all vary, but I chose filet mignon for one special reason.
What cut of steak do you enjoy? When it comes to choosing a cut of beef, I like to try out all of my options before I settle with one: and here, the perfect way to go was filet mignon! With a buttery, melt-in-your-mouth flavor, filet mignon is a special cut that might be pricier at the restaurant for date night. When you enjoy bite-size pieces of this delicious cut, you can taste that the savory flavor needs no addition besides olive oil, sea salt, and black pepper. Flank steak might be easier to cook, maybe. Skirt steak is more common in the average household. But thick slices of filet mignon over the simple ingredients of this salad does not compare. A slight peppery flavor coats them, and the tangy vinaigrette rests nicely on top. That's what makes a perfect lunch: a good balance between uncommon and common on your menu.
When I'm not making a salad with my steak, I like to use New York strip steak with a side of roasted veggies, or beef tenderloin steaks when we have a crowd.
How done do we want our steak to be?
A medium-rare steak has an amazing amount of flavor, rich in the juicy meat. It's not the easiest level of doneness to pull of, but it works the best for this filet mignon salad. For the process, you'll want to have a meat thermometer and make sure that the internal temperature of the meat while in the oven goes up to 135F. You can take it out a few minutes before it goes up to that temperature, since while steak rests, it finishes cooking. Resting your steak lets the juices seep through the entire cut of meat, making so much flavor even out throughout the meat. You'll get a delicious grilled steak salad without breaking a sweat!
For the finishing touch, we have a balsamic dressing, and here's why:
I'd say, "use a dressing of your choice," but this salad needs a special touch. After trying endless combinations, I can confidently say that the best steak salad has a balsamic dressing. It's a great choice because it balances out with the red onion, feta cheese, and radishes in the salad below the filet mignon and on top, the drizzle perfectly matches the juicy tenderness of the steak. With the balsamic flavors and the Dijon mustard, there's no going wrong with this dressing.
Making the balsamic vinaigrette seriously takes a bowl and a whisk. It's made with pantry staple ingredients that you can whip up ahead of time.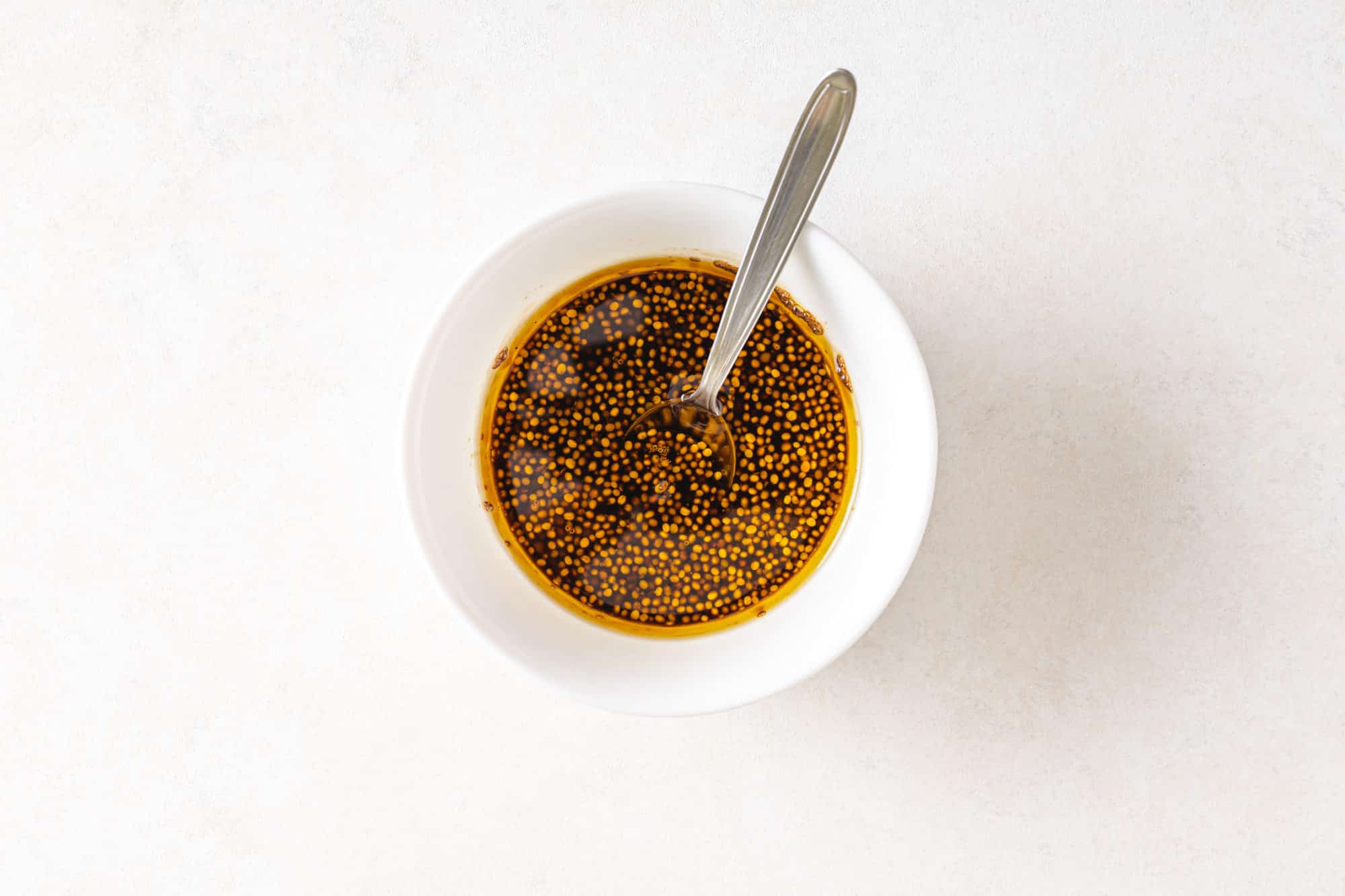 I hope you love this delicious filet mignon salad! Here are more easy dinners you'll love:
Easy Soft Dinner Rolls Recipe in a Bread Machine
Sautéed Pan Chicken and Vegetables
Roasted Cornish Hens Stuffed with Vegetables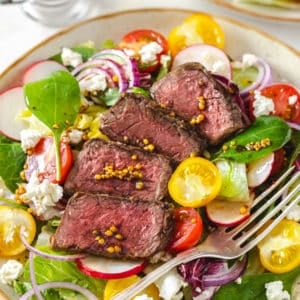 How to make Filet Mignon over Greens Salad
The best skillet Filet Mignon Beef marinated in ginger sauce combined with greens. Steak that melts into your mouth over a tasty, crisp leafy fresh salad with veggies and a balsamic salad dressing.
Rate
Print
Save
Saved!
Pin
Ingredients
For the dressing:
2

Tbsp

balsamic vinegar

4

Tbsp

olive oil

1

Tbsp

grainy Dijon mustard

1

tsp

honey

salt

black pepper
For the salad:
5

oz

leafy green salad mix

12

cherry tomatoes

2

medium

cucumbers

1/2

red onion

3

radishes

¼

cup

feta cheese

8

oz

filet mignon

2

Tbsp

olive oil
Instructions
Take filet from the fridge and let it rest for 30 minutes. Pat it dry with a paper towel.

Preheat the oven to 450F. Heat the cast iron skillet over medium-heat. Add 2 Tbsp to the skillet.

Season the steak with salt and pepper. Place the steak in the skillet and cook for 2-3 minutes until golden crust forms. Flip the steak and cook for another 2 minutes.

Transfer the cast iron skillet to the oven, cook for 7 minutes. It should be a medium rare steak as a result.

Transfer the steak to a cutting board and let it rest for 10-15 minutes, then slice.

Cut cherry tomatoes into halves and slice cucumbers, radishes, and onion.

12 cherry tomatoes,

2 medium cucumbers,

3 radishes,

1/2 red onion

Mix all ingredients for the dressing.

2 Tbsp balsamic vinegar,

4 Tbsp olive oil,

1 Tbsp grainy Dijon mustard,

1 tsp honey,

salt,

2 Tbsp olive oil,

black pepper

On a serving plate, arrange leafy greens and vegetables. Toss with half of the dressing. Then top the salad with filet and crumbled feta.

5 oz leafy green salad mix,

8 oz filet mignon,

¼ cup feta cheese

Drizzle the rest of the dressing.
Nutrition
Calories:
827
kcal
|
Carbohydrates:
20
g
|
Protein:
27
g
|
Fat:
72
g
|
Saturated Fat:
19
g
|
Polyunsaturated Fat:
6
g
|
Monounsaturated Fat:
42
g
|
Cholesterol:
96
mg
|
Sodium:
394
mg
|
Potassium:
1060
mg
|
Fiber:
3
g
|
Sugar:
12
g
|
Vitamin A:
1534
IU
|
Vitamin C:
49
mg
|
Calcium:
166
mg
|
Iron:
5
mg