Dairy Free

Gluten Free

Nut Free

Sugar Free
Simple One Pot Hearty Soup with Beef or Lamb
This hearty soup combines carrots, potatoes, and beef with flavors of onion and parsley to create a filling and nutritious soup for chilly days.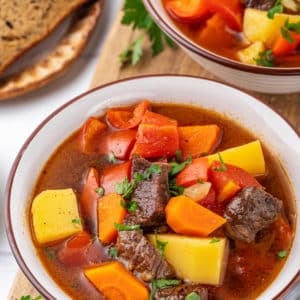 What makes a soup hearty?
This large pot of soup is hearty because of all of the benefits the meat and variety of vegetables provide. It also fills you up and is very easy to eat. It's one of the best soup recipes that we can call hearty!
What to serve in dinner with hearty soup?
This hearty soup can be accompanied by these fantastic Easy Soft Dinner Rolls. They make a great side to soup, especially on a chilly day.
Simple One-Pot Soup is the best: especially when there's no dishes that you have to do afterwards, so enjoy this hearty soup!
This hearty vegetable beef soup is perfect for the chilly months!
During the fall rush, there is no replacing valuable family time. Spending time in the kitchen cooking and cleaning sometimes can take up that time. That's where one-pot dishes come in! My family loves making comfort food together, and this amazing hearty beef vegetable soup is the ideal meal for us. All of the ingredients can be found at the grocery store with no problems.
This vegetable beef soup recipe is very filling. With the tender chunks of protein-rich beef, lots of veggies, and fresh parsley, this vegetable soup recipe is the best thing to make when a family member is sick or if anyone is just in need of a tasty comfort dish. While you may be tempted to use frozen veggies, don't forget that fresh vegetables have the best flavor and benefits additions to this homemade vegetable beef soup.
Simple and easy, this old-fashioned vegetable beef soup is a fall staple. Filled with potatoes, tender beef, and some favorite veggies, it's the perfect well-rounded meal. It fills you up and even benefits your body!
What do I need to make this recipe?
Beef or lamb, whichever you choose to enjoy, are both filled with protein, which supports cell repair and helps to make antibodies. The best cut of beef to use for this homemade soup is one that has been grass-fed!
Potatoes contain fiber which helps to lower blood sugar levels and keeps your cholesterol in check.
Carrots are rich in beta-carotene, which your body changes into vitamin A. This vitamin supports your eye health.
Yellow onion helps to reduce cholesterol levels and lower your risk of heart disease.
Red bell pepper is rich in vitamins A and C, as well as vitamin B6.
Tomatoes are filled with lycopene, which protects your skin from sun damage and benefits heart health.
Along with those ingredients, you will need olive oil, fresh parsley, salt, black pepper, and water.
Here are some more delicious recipes:
A quick 30 Minute Chicken and Avocado Wrap Recipe is perfect for any lunch!
A Simple Make Ahead Chicken Skewers over Greens Salad is perfect as a next day meal.
This tasty Oven Baked Beef Stuffed Zucchini Recipe has the best lean ground beef!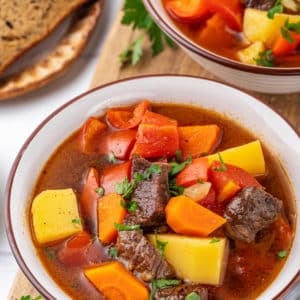 Simple One Pot Hearty Soup with Beef
This hearty soup combines carrots, potatoes, and beef with flavors of onion and parsley to create a filling and nutritious soup for chilly days.
Rate
Print
Save
Saved!
Pin
Ingredients
1-2

lb

beef,

or lamb, cut into small pieces

4

potatoes,

peeled & chopped

2

carrots,

peeled & chopped

1

yellow onion,

chopped

1

red bell pepper,

chopped

2-3

tomatoes,

chopped

4

Tbsp

oil

1

bunch

fresh parsley

salt,

to taste

black pepper,

to taste

1

liter

water
Instructions
In a cast iron pot, heat 4 Tablespoons of oil.

Cut the meat into small pieces and add into the pot. Stirring the meat occasionally until it becomes brown (about 10 minutes.)

While the meat is cooking, peel and wash your vegetables.

Chop the onions and add to the meat, continue to fry for another 7 minutes or until the onions are soft and clear.

Chop 2-3 tomatoes and also add into the pot.

Now add 4 potatoes and 2 carrots, cut potatoes in smaller pieces and chop the carrots, then add to the pot. Cook for another 5 minutes.

Add in 1 chopped red pepper and stir.

Pour the water, about 4 cups or enough to cover all the ingredients and an extra inch higher. Add in salt ( I add about a teaspoon) and pepper to your taste. Bring to a boil.

Take off the foam that has gathered on top with a spoon. Add in the washed parsley (whole, not cut), reduce the heat to low, cover the pot, and simmer for about an hour, or until the potatoes are soft and cooked.

After the potatoes and vegetables are cooked through, remove the parsley, (it was just for flavor) you won't need it anymore. The soup is ready, enjoy!
Nutrition
Calories:
312
kcal
|
Carbohydrates:
24
g
|
Protein:
13
g
|
Fat:
19
g
|
Saturated Fat:
5
g
|
Polyunsaturated Fat:
2
g
|
Monounsaturated Fat:
9
g
|
Trans Fat:
1
g
|
Cholesterol:
40
mg
|
Sodium:
68
mg
|
Potassium:
814
mg
|
Fiber:
4
g
|
Sugar:
4
g
|
Vitamin A:
3872
IU
|
Vitamin C:
56
mg
|
Calcium:
49
mg
|
Iron:
3
mg