Dairy Free

Nut Free

Sugar Free
Chebureki with Meat Filling (Savory Turnovers)
Chebureki recipe has everything: a crispy crust and a moist, flavorful filling that is incredibly satisfying. This Homemade Chebureki recipe from scratch is easier to make than you think. The dough is easy to make and tastes so much better than the store-bought raw flour tortillas. This classic Russian comfort food can be served as a main dish for the whole family.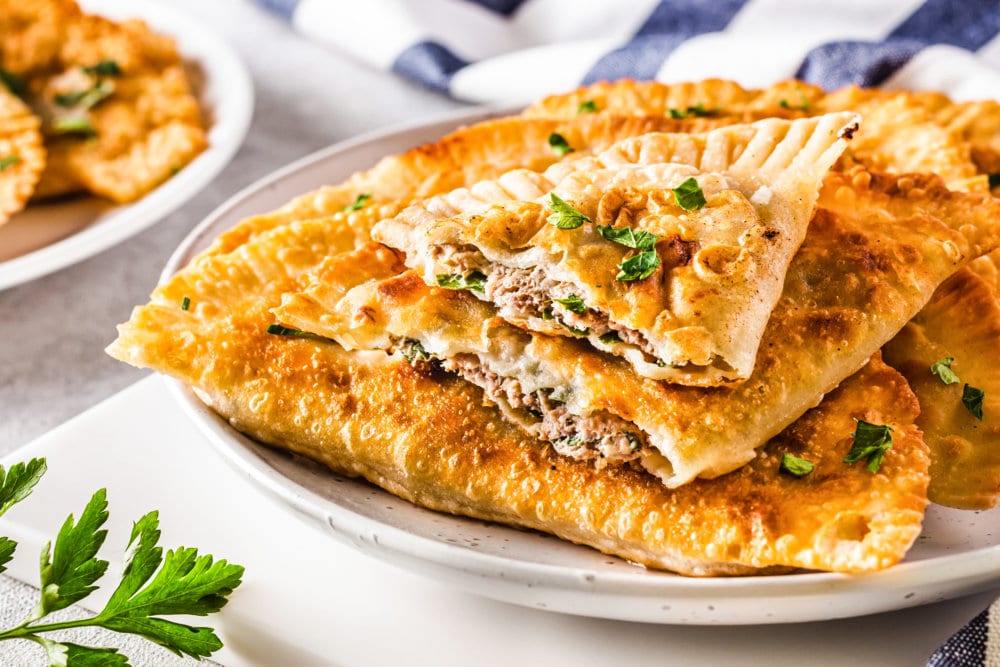 What are Chebureki?
Chebureki is like savory turnovers filled with juicy meat filling with the addition of onion and herbs, made with a tortilla-like thin sheet dough.
Chebureki is a dish with its earliest origins from Crimea but is a well-known food all over Eastern Europe. It is popular street food in Russia. Personally, it's a trendy dish in my own home. We often serve these for large crowds. We've also had these as our main entree for dinners – they're pretty satisfying.
For this recipe, you can use ground beef or lamb with pleasant notes of herbs and spices that make this dish incredibly flavorful. Whether you're serving these at your next dinner party or making them for your family to grab and go, you'll be pretty pleased with the way they turn out.
Ingredients You Need to Make the Dough
This one is the easiest of all the homemade dough recipes for chebureki. Some people use raw tortillas to skip ahead, but like tortillas, Chebureki dough requires just four ingredients: flour, oil, water, and a pinch of salt. And it's so easy to make. It takes 40-60minutes for the flour mixture dough to rise. So you have time to make the filling in the meantime.
How to Make the Minced Meat Mix:
You can ground meat yourself by using a meat grinder attachment, but make sure the meat you buy is not boned. You can also save some time and buy ground meat. For the ultimate Chebureki taste, use lean ground lamb or beef. You can also use chicken, pork, or turkey for Chebureki, but lamb or beef delivers the most flavor! In addition to the ground beef, I also add one medium onion. Either thinly chop the onion or chop it in the food processor.
Can I Freeze These Tasty Chebureki?
Raw Chebureki can be made ahead and put in the freezer for later. Make sure to put a sheet of parchment paper between each pocket, so it does not stick to each other. Keep in a closed container for up to 3 months in the freezer.
TIPS to Making Chebureki with Meat Filling:
Make the meat filling while the dough rises; this will save time.
Put in the effort and make your dough. You won't regret it.
Fresh meat, juicy ground beef, or lamb is the type of meat you want to use for chebureki.
Make sure you got hot oil for frying. The best is to use light olive oil.
Chop the onion and herbs tiny, almost mushy. Best not to have any large pieces of onions or cilantro in your meat mixture. They can pierce through and create holes in your turnover and could split it apart. Best to use a food processor.
You are not deep frying. Shallow fry in only a little bit of oil. My rule of thumb is one tablespoon of oil for two turnovers.
Don't overcrowd your pan—just two Chebureki at a time. Fry till crispy and golden perfection.
Place a small sheet of parchment paper between each Cheburek if not frying them right away.
What to Serve with Chebureki
I grew up eating Chebureki with sour cream, and later, my husband introduced me to the spice Sumac. Sumac is a dark red seasoning, has a tartness flavor similar to lemon juice, and could be found in mid-eastern stores or amazon.
Traditional Slavic recipes are so delicious, check out these classics:
Vanilla Cookies with an Easy Glaze are traditionally called Pryaniki. They're served at the holiday dessert table!
A Simple and Classic Red Borscht is a staple in every Slavic household.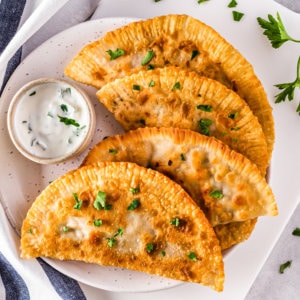 Simple and Classic Chebureki with a Meat Filling
Chebureki are crunchy, yet soft and meaty with a hint of herbs and spices and they also make a great grab-and-go food.
Rate
Print
Save
Saved!
Pin
Equipment
Stand mixer

food processor

bowl

rolling pin

Fork

tongs
Ingredients
2

cups

flour

5-6

drops

oil

250-270

ml

water

1

pinch

salt

300

g

ground beef,

10 oz

1

medium

onion,

put through a food processor

½

cup

cilantro,

chopped

4-6

Tbsp

water

salt,

to taste

black pepper,

to taste

oil,

for frying
Instructions
Put flour into a bowl and mix well with a pinch of salt. Add 5-6 drops of oil.

2 cups flour,

5-6 drops oil

With a dough attachment in the mixer, mix the oil in with the flour so there will be no clumps.

Little by little add water until you can take the dough and put it in a good ball shape.

Wrap the dough with plastic wrap and let stand at room temperature for 40-60 minutes. (The purpose for this is so the dough comes together and would be easy to work with.)
Meanwhile, make the filling:
Mince the onion through a food processor or a grinder.

In a bowl, mix beef, onion, salt, pepper, chopped cilantro, and 5 Tablespoons of water. Combine everything together well.

1 pinch salt,

300 g ground beef,,

1 medium onion,,

½ cup cilantro,,

salt,,

black pepper,,

4-6 Tbsp water

After the dough has been standing long enough, cut it into 12-14 same-size pieces.

With a rolling pin, roll out each piece into a thin circle (add flour when rolling if dough is sticking to the surface.)

On one side of the rolled out dough put 1-2 tablespoons of beef mix 2cm away from the edge.

Take dough from the other side and fold it, closing like a pocket shape. Using a fork, close the edges all around.

Make a few pokes lightly with a fork inside of the chebureki so the air will come out when frying.

In a frying pan, heat a little bit of oil, about a tablespoon (you don't want the chebureki to be greasy). Start putting by two to fry, they will fry quickly since they are thin. Flip over to the other side as soon as they brown up.

Once both sides are browned, the meat filling should be cooked through. Remove from the skillet, and transfer to a large plate lined with paper towels. The paper towels soak up the excess oils.

Once cooled, they can be enjoyed! Store in a airtight glass container for up to a week.
Notes
My family enjoys eating these with a spice called Sumac (found in mid-Eastern stores), or with sour cream and sometimes just on their own.
Nutrition
Calories:
117
kcal
|
Carbohydrates:
13
g
|
Protein:
5
g
|
Fat:
5
g
|
Saturated Fat:
2
g
|
Polyunsaturated Fat:
1
g
|
Monounsaturated Fat:
2
g
|
Trans Fat:
1
g
|
Cholesterol:
14
mg
|
Sodium:
18
mg
|
Potassium:
85
mg
|
Fiber:
1
g
|
Sugar:
1
g
|
Vitamin A:
36
IU
|
Vitamin C:
1
mg
|
Calcium:
9
mg
|
Iron:
1
mg