Gluten Free
Georgian Chicken in Walnut Sauce with Spices
Georgian Chicken in walnut Sauce (also called Satcivi or Sacivi) is made all in one pot. This fancy, yet simple sautéed chicken in walnut sauce with a load of spices is definitely a recipe to make over and over again! Made with juicy chicken, and a crunchy, spiced, chopped walnuts sauce. It's delicious.
What is Satsivi?
Satsivi is a rich Georgian meat dish made with garlic, walnut sauce and spices. This Chicken in Garlic Walnut Sauce or Satsivi in Georgian is a well-known not just in Georgia but in Russia as well.
What Do You Serve Sitsivi With?
Simple sautéed chicken in walnut sauce is a dreamy main dish to cook up for lunch and dinner. With mashed potatoes on the side, or you can pour this delicious sauce over the potatoes and lay on that chicken! You can also serve it with rice or quinoa. And don't forget some fresh bread for dipping.
What Spices are in the Satsivi?
Have you seen the list of spices in this recipe? That's what makes it so delicious. Even in small amounts, these spices work together perfectly to make this chicken amazing. Georgian chicken is made with a blend of spices called Khmeli Suneli.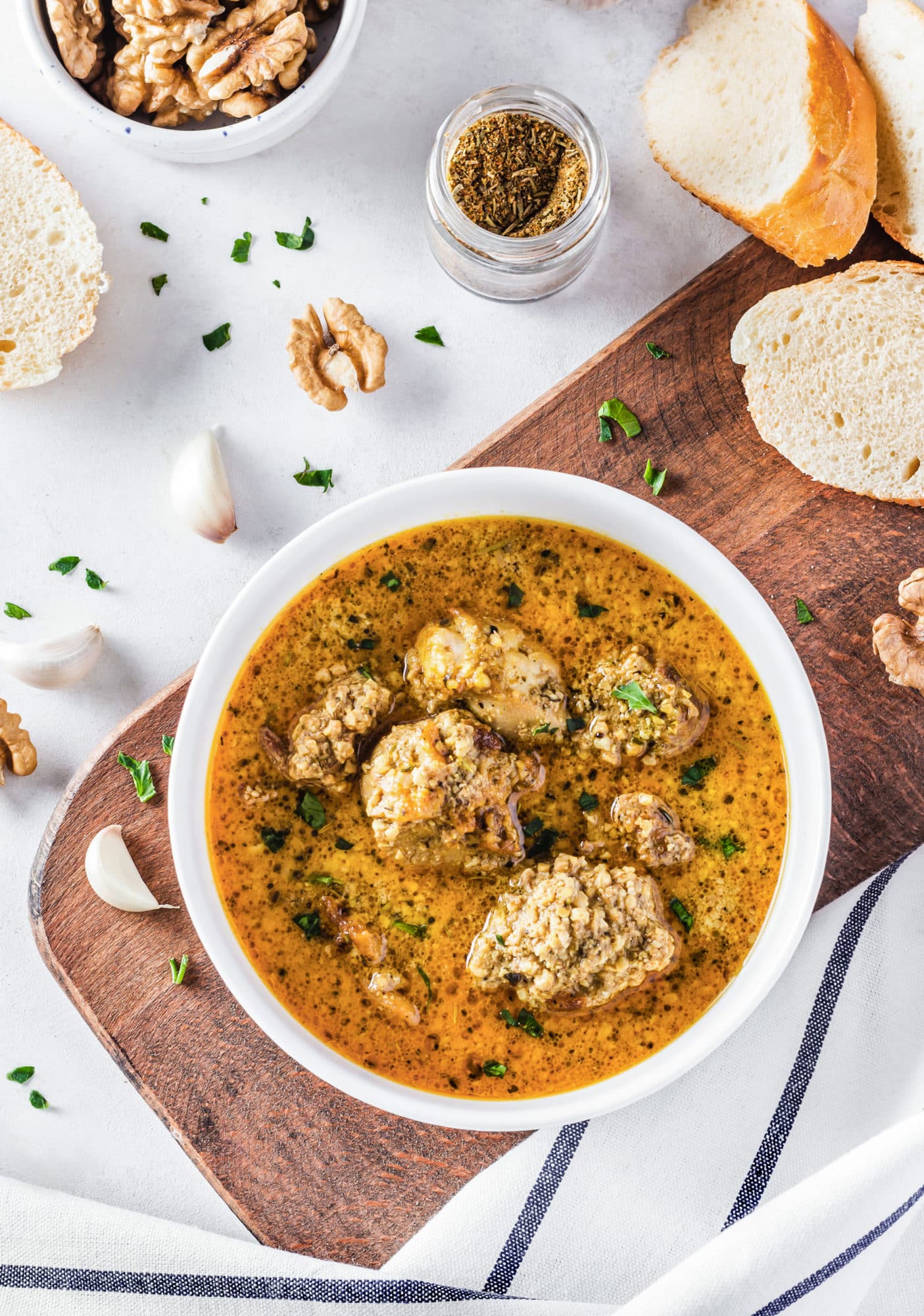 How to Make khmeli suneli Seasoning if I can't buy it?
If you have a special spice that you've wanted to use for a while, this recipe might be the one that you've been looking for to use that spice! You can buy the spice blend here, but here is the list if you want to make Khmeli Suneli blend yourself:
marjoram
dried parsley
black peppercorns
dried dill
dried summer savory
fenugreek seeds
dried mint
coriander seed
dried fenugreek leaves
ground marigold petals
bay leaves
What do I need to make this whole recipe of the Georgian Chicken with Walnuts
Poultry: Usually made with chicken, thighs and breast; but you can also use turkey if you want.
Liquid: Water.
Nuts: Walnuts, pick the freshest.
Spices: Along with khmeli suneli spice blend you will also need, curry powder, red pepper, black pepper sand salt.
Dairy: Unsalted Butter.
and you will need garlic cloves.
More chicken recipes that are packed with protein:
This Healthy Chicken Mushroom Veggie Salad is filled with nutrients from the various ingredients.
You can make this Layered Chicken Salad with Pomegranate as a great holiday salad.
Georgian Chicken in Garlic Walnut Sauce with Spices (Satcivi)
This dish is flavourful and packed with spices and lots of health benefits.
Rate
Print
Save
Saved!
Pin
Ingredients
2

lb

chicken thighs,

or breasts, skinless

1

tsp

curry powder

1

tsp

khmeli suneli

3

tsp

red pepper

3

tsp

black pepper

2

cups

walnuts,

crushed

2

cloves

garlic,

minced

2

Tbsp

salt

salt,

to taste

pepper,

to taste

3

Tbsp

unsalted butter
Instructions
Put chicken into a pot, fill with water and 2 Tbsp salt. Boil for 30 minutes.

2 lb chicken thighs,,

2 Tbsp salt,

2 cups walnuts,

Once finished, take chicken out a cut into smaller pieces then transfer to a pan with 3 Tbsp unsalted butter (save the water, you will need it later).

Frequently turn over the chicken and lightly brown it.

To the chicken skillet, add 1 tsp khmeli suneli, 3 tsp black pepper, 3 tsp red pepper, and 1 tsp curry powder.

1 tsp khmeli suneli,

3 tsp red pepper,

3 tsp black pepper,

1 tsp curry powder

Add 2 cups crushed walnuts and 3 minced garlic cloves. Then top off with the water from the boiled chicken, just enough to cover the chicken.

2 cups walnuts,,

2 cloves garlic,

Simmer for 15 minutes or until it comes to a boil. Add more salt and pepper to taste. All done, serve warm!
Nutrition
Calories:
643
kcal
|
Carbohydrates:
7
g
|
Protein:
31
g
|
Fat:
56
g
|
Saturated Fat:
13
g
|
Polyunsaturated Fat:
24
g
|
Monounsaturated Fat:
15
g
|
Trans Fat:
1
g
|
Cholesterol:
163
mg
|
Sodium:
2444
mg
|
Potassium:
514
mg
|
Fiber:
3
g
|
Sugar:
1
g
|
Vitamin A:
388
IU
|
Vitamin C:
4
mg
|
Calcium:
64
mg
|
Iron:
2
mg