Dairy Free

Gluten Free

Nut Free

Sugar Free
Easy Classic Pilaf Recipe with Beef (Beef Plov)
Beef pilaf (beef plov) all in one pot is hearty, cozy, and oh-so-tasty. This easy beef pilaf recipe is one that you'll want to make over and over again on a busy midweek meal.
This Meat Plov is excellent for several reasons.
Plov is originally an Uzbek dish, but I know many Ukrainian and Russian moms make and love plov. I also make a chicken plov, which has been very popular with my readers. Still determining if this is a Russian or Ukrainian version, but this is a traditional rice recipe with beef that comes from my grandma, who grew up in a mixed culture.
It's easy to make. I know the name makes it sound daunting. But it's all in one pot, which makes it easy and minimal clean up.
It's the perfect one-pot meal. Yup, that's right. No having to saute/fry in a different pan. Just make it all in the same dish.
It's hearty. Seriously, it is a very filling recipe. The combination of beef and rice will keep you filled and satisfied.
Comfort food. This is a family-friendly, delicious meal in one pot, and all you need is a simple salad as a side dish to complete the meal.
Key Ingredients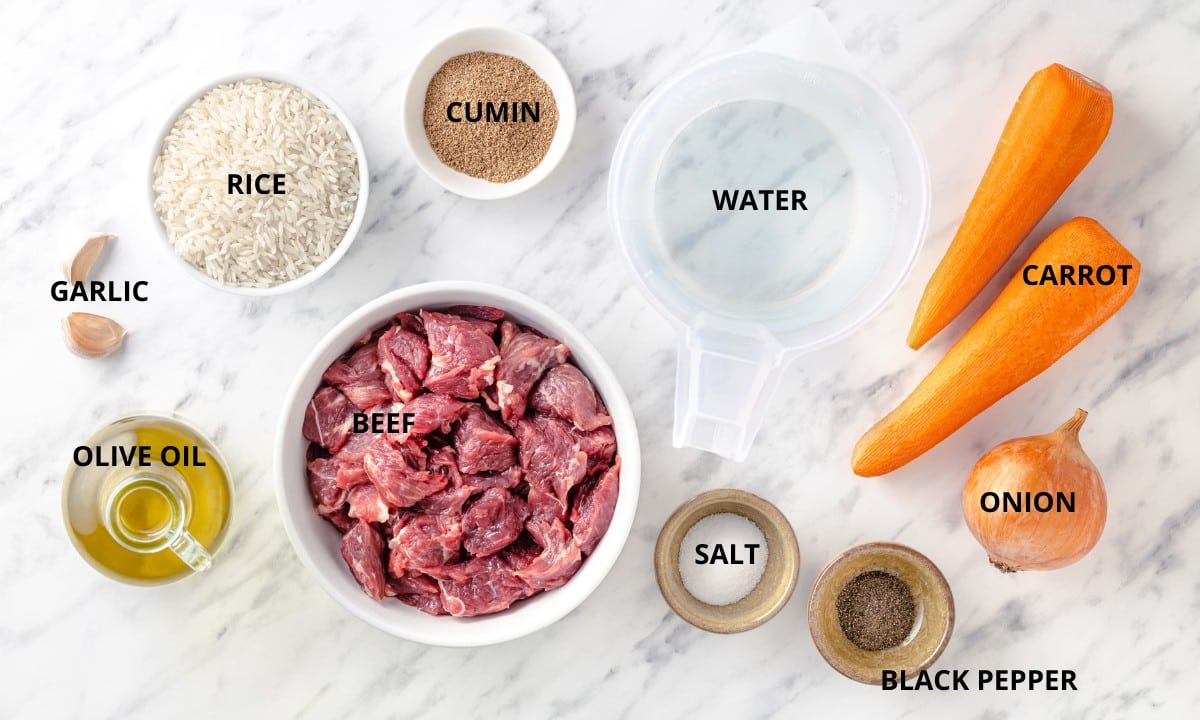 Meat: Beef sirloin is a great choice to add to rice; however, if you prefer lamb, it will also work great in this rice dish.
Oil: Light olive oil or organic canola oil for a light flavor.
Onion: Use yellow onion only, not sweet or red kind.
Carrots: If using organic carrots, there is no need to peel them.
Simple spices: Cumin is a great flavor to add to rice pilaf; if you prefer to leave it out, you can. In addition, you will need salt and black pepper to taste.
Water: I usually use water, but beef broth will make rice pilaf more flavorful.
Rice: For years, I have been using basmati rice or jasmine rice for this recipe, but recently switched to Uncle Ben's Original Rice, which has been a game changer; you also don't need to rinse the rice.
Garlic: For more garlic flavor, feel free to use a whole head of garlic if it's small.
Find the full printable recipe with specific measurements below.
How to Make Rice Pilaf with Beef
Step 1: Add olive oil and first peel of onion on medium heat in a medium size dutch oven. (Just the first layer of the yellow onion, chop the rest of the onion to use later in the recipe). After the onion gets golden brown, take it out and throw it away, this step sets the flavor for plov.
Step 2: In the same pot, turn down the heat to medium-low, and add in the cubed meat, 1 teaspoon of salt, and 1 teaspoon of ground black pepper.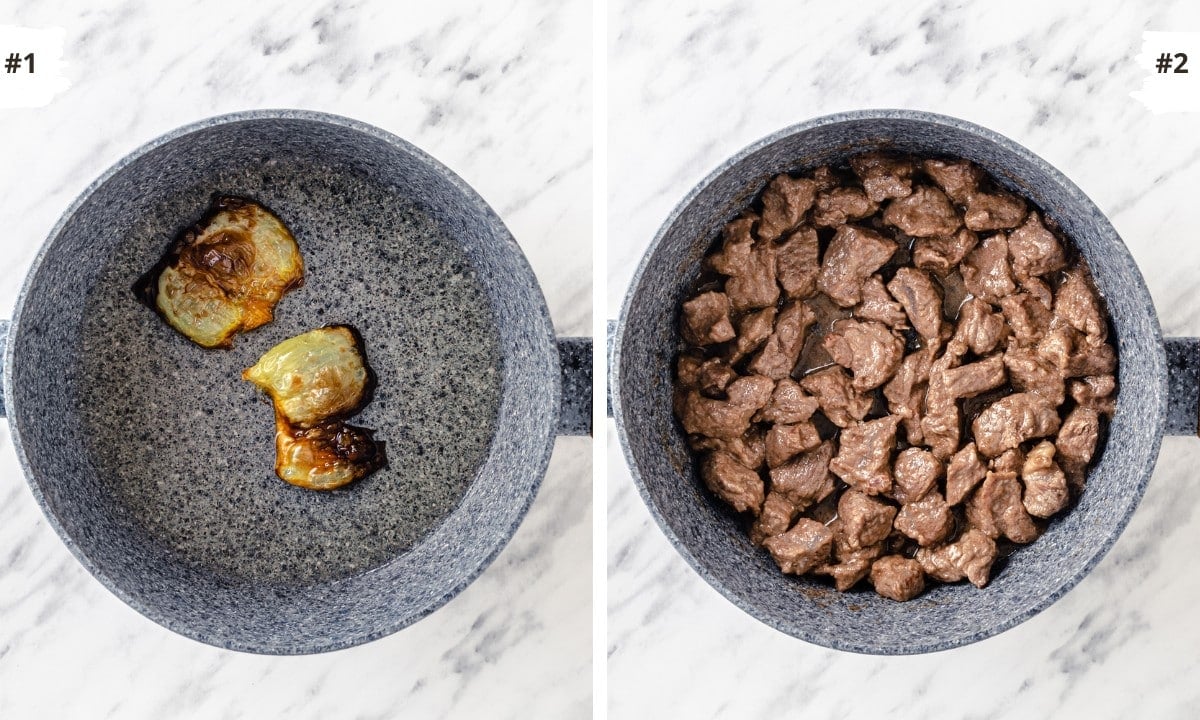 Step 3: While the meat is cooking, prepare the vegetables. Grate carrots and chop the onion.
Step 4: Add the chopped onion to the beef and let it cook for a few minutes.
Step 5: Add in the grated carrots and 2 cups of water, along with 1 1/2 Tablespoons of cumin and salt to taste. (make sure to taste the water, this step is essential, as it sets the flavor for how the pilaf will taste.)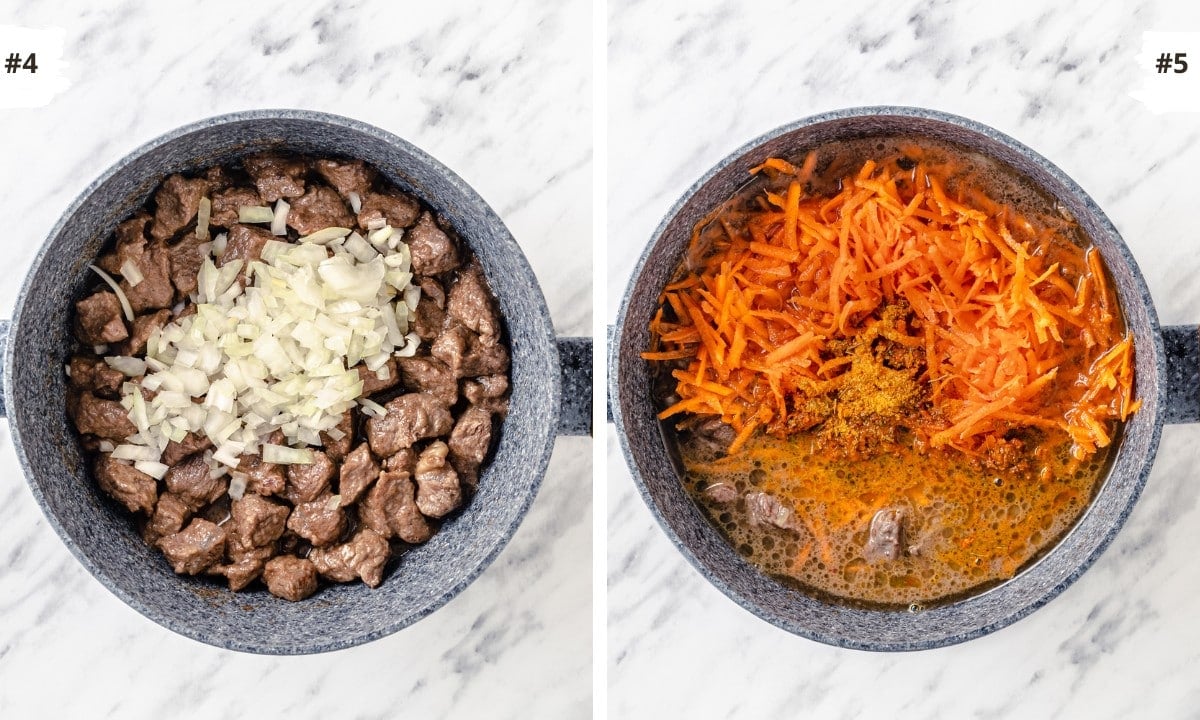 Step 6: Lightly peel the garlic cloves or use the whole garlic head. (Don't mince the garlic.)
Step 7: Bring to a boil. Then turn the heat to low. Add rice on top of the meat, but don't stir. Cover the pot and cook for 35-40 minutes until no water is left.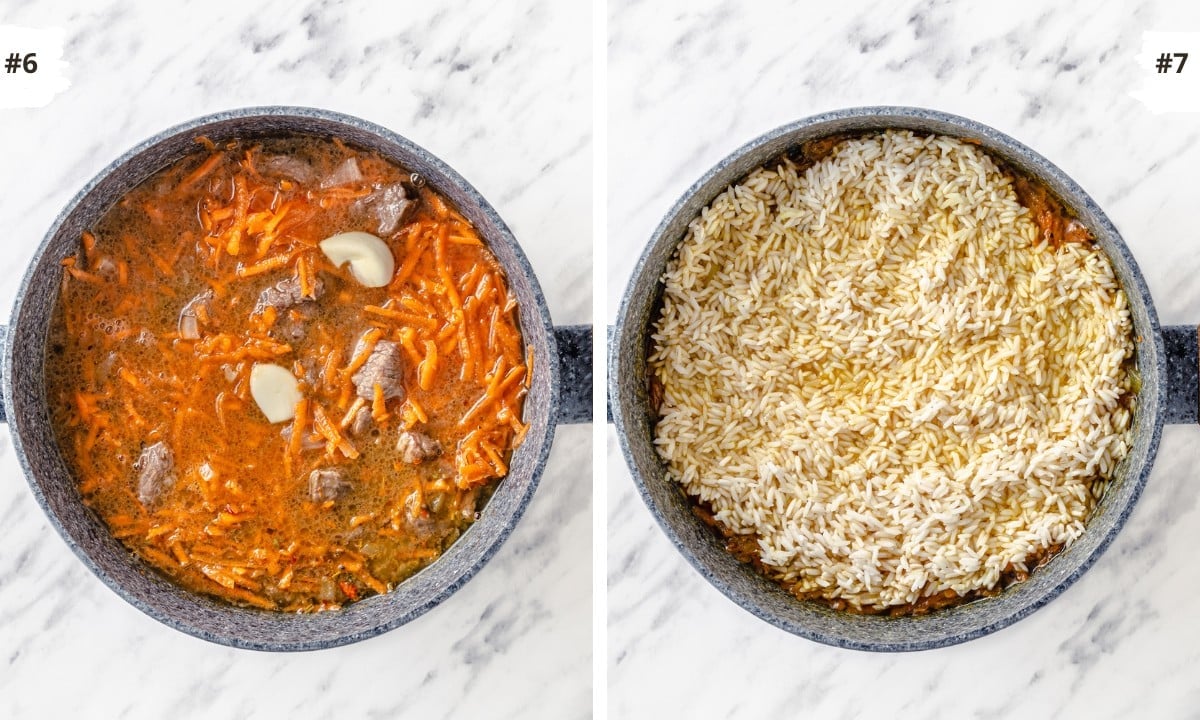 Step 8: Turn off the heat, the rice should be cooked and no water left.
Step 9: Give it a gently stir to combine rice and meat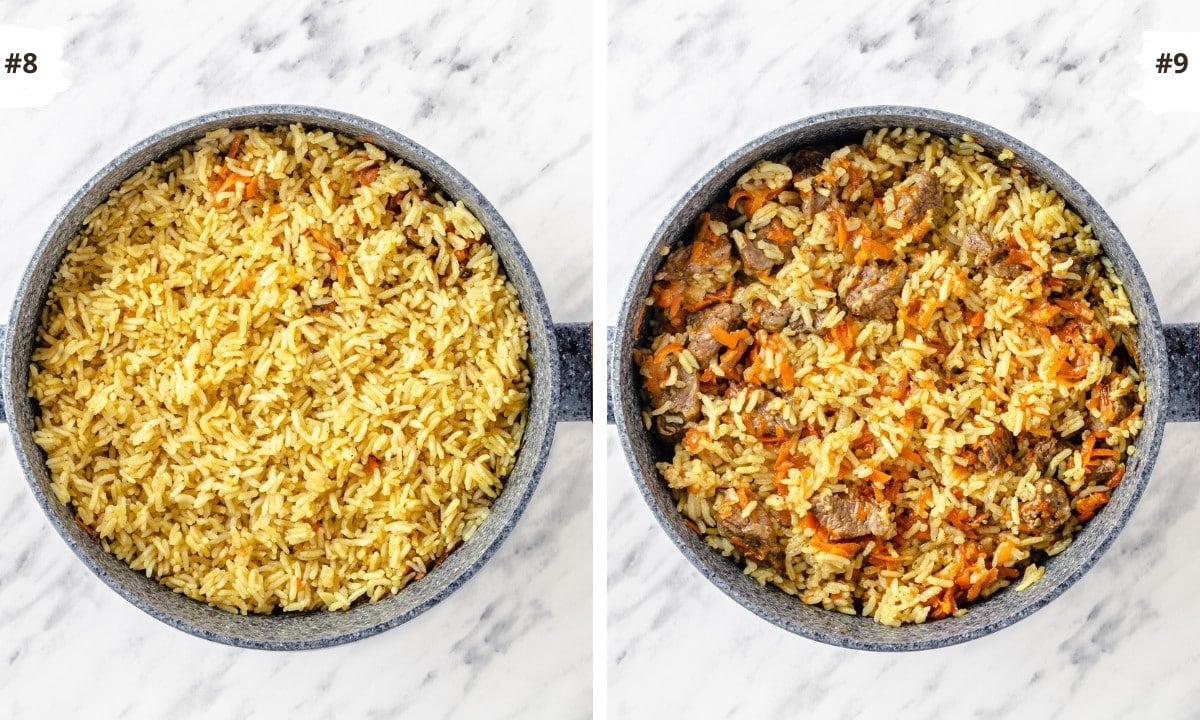 Expert Tips
Use white rice and not brown rice for this specific recipe.
When picking beef, use beef stew meat or tenderloin for a more tender texture or sirloin. Cook time for beef may vary.
When preparing this beef rice pilaf for the next day, I cook the beef ahead of time, and right before I serve, I reheat the meat and add in the rice, it can save time on the day of serving.
Some people make pilaf in a pressure cooker, but I prefer it on the stove in a Dutch oven pot.
Don't reheat in the microwave. Instead, in a large frying pan, melt a couple of tablespoons of unsalted butter on medium heat. Add in the leftover beef pilaf, and stir with a wooden spoon or spatula occasionally till you reach the desired temperature.
Put only a 2:1 water ratio so you don't get mushy rice.
Variations
Instead of cumin or in addition, add 1/4 teaspoon of Italian seasoning.
You may choose lamb instead of beef for this recipe.
You may use chicken broth instead of water or beef broth.
Recipe FAQs
Does rice pilaf have gluten?
No, rice and all the ingredients in beef rice pilaf are gluten-free.
What to do with leftover pilaf?
Leftover pilaf can be stored in an airtight container in the fridge for up to 4 days.
Type of rice to use in beef pilaf?
Long-grain rice is best, for example, the original Uncle Ben's Rice.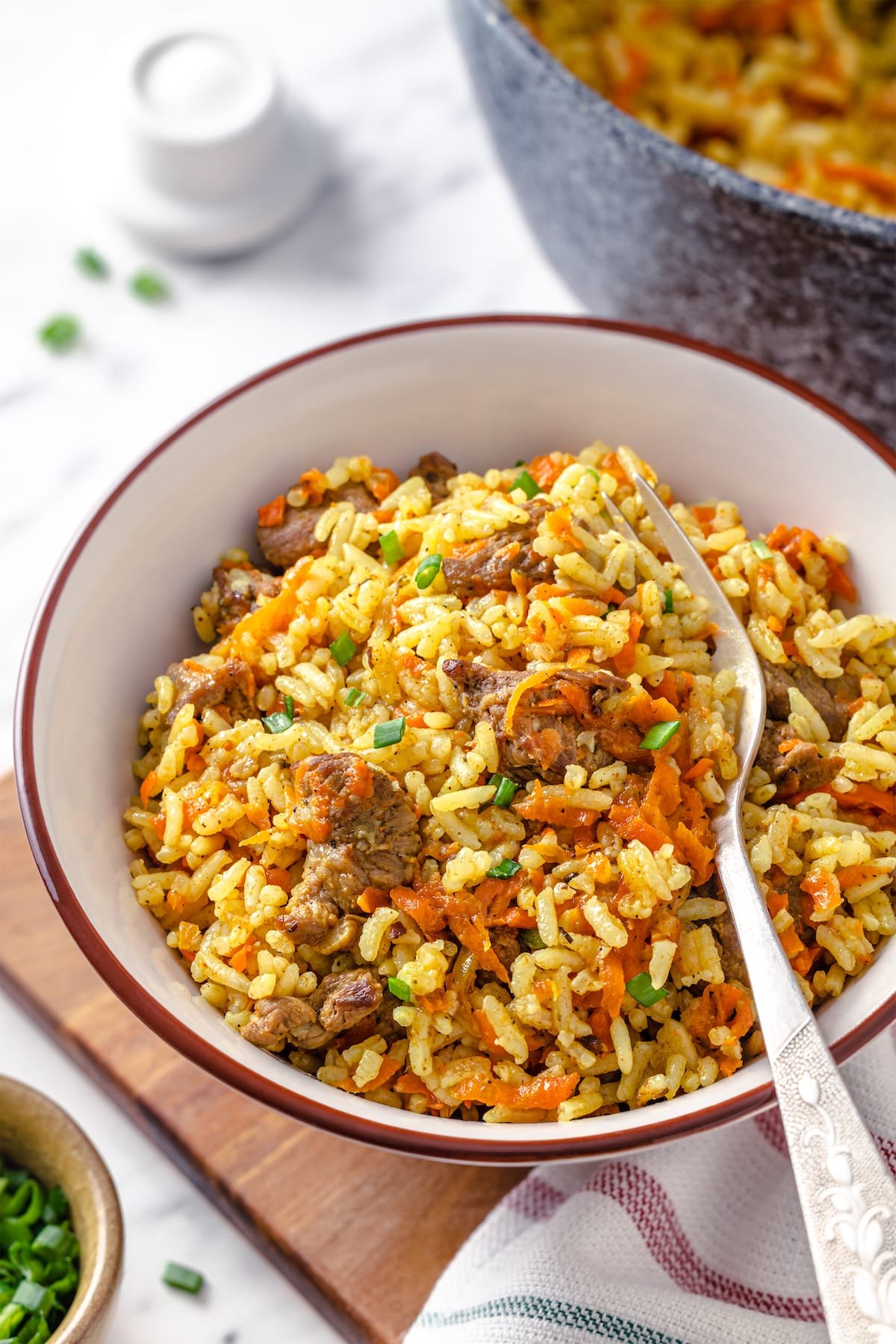 Additional Rice Recipes to Try
I love using rice as part of the main dish because it's gluten-free and pairs well with most protein. One of my favorites is a rice bowl with chicken and peppers or a comfort meatball soup with rice.
Other Recipes Using Rice
If you tried this Chicken Couscous Soup with Vegetables or any other recipe on my website, please leave a 🌟 star rating and let me know how you enjoyed it in the📝 comments below. I love hearing from you!
Easy Classic Pilaf Recipe with Beef (Beef Plov)
Beef pilaf (beef plov) all in one pot is hearty, cozy, and oh-so-tasty. This easy classic pilaf recipe is one that you'll want to make over and over again on a busy midweek meal.
Rate
Print
Save
Saved!
Pin
Ingredients
1

yellow onion,

chopped

1

Tbsp

light olive oil

1

lb

beef

or lamb cut into cubes

2-3

carrots,

grated

1½

Tbsp

cumin

1

tsp

salt,

more to taste

black pepper,

to taste

1-2

cloves

garlic,

or whole small head of garlic

2

cups

water

1

cup

white rice
Instructions
On medium heat, in a pot, pour 4-5 Tablespoons of oil, peel onion, and take the first layer first off and put it in pan. Then, chop the rest of the onion and put aside.

1 Tbsp light olive oil,

1 yellow onion,

After onion gets brown/gold color, take it out and throw away (This step is just for the flavor.)

In the same pot, turn down the heat to medium-low, add in the meat (stew size cut), sprinkle 1 teaspoon of salt, and 1 teaspoon of ground black pepper. Stir.

1 lb beef,

1 tsp salt,,

black pepper,

While meat is frying, grate the carrots, wash the rice, and if you haven't already, chop the onion.

2-3 carrots,,

1 cup white rice,

1 yellow onion,

When meat has browned up a little bit, add in the onion, stir, and let the flavors of meat and onion blend together for 1-2 minutes.

Add in the carrots, mix, and add in 2 cups of water, 1 1/2 Tablespoons of Cumin, and 1 teaspoon of salt (or to taste).

2-3 carrots,,

1½ Tbsp cumin,

2 cups water,

1 tsp salt,

Peel garlic and add to pan. Don't mince; I used one garlic clove because I had a big garlic as a whole, If you have a smaller garlic you could even use it all or few cloves.

Bring to a boil, turn heat to low, and put in the washed rice but don't stir it.

Cover pan, set on low heat if you haven't already and let it cook for 35-40 minutes before enjoying.
Notes
Don't put more water than the water rice ration 2:1
If your head of garlic is small, use the whole garlic.
Taste the water before putting the rice in the water; this will determine how beef pilaf will taste.
Nutrition
Calories:
417
kcal
|
Carbohydrates:
35
g
|
Protein:
19
g
|
Fat:
22
g
|
Saturated Fat:
7
g
|
Polyunsaturated Fat:
1
g
|
Monounsaturated Fat:
10
g
|
Trans Fat:
1
g
|
Cholesterol:
64
mg
|
Sodium:
553
mg
|
Potassium:
432
mg
|
Fiber:
2
g
|
Sugar:
2
g
|
Vitamin A:
4100
IU
|
Vitamin C:
3
mg
|
Calcium:
61
mg
|
Iron:
3
mg