Gluten Free
Simple Beet Salad with Hazelnuts and Goat Cheese
The simple beet salad with hazelnuts and goat cheese is light, refreshing, and tangy. Creamy goat's cheese and crunchy hazelnuts are the perfect addition to the colorful and earthy sweet beetroot. The sweet and savory beet salad with some added crunch is so easy to make, kid-friendly, and a super tasty and healthy appetizer.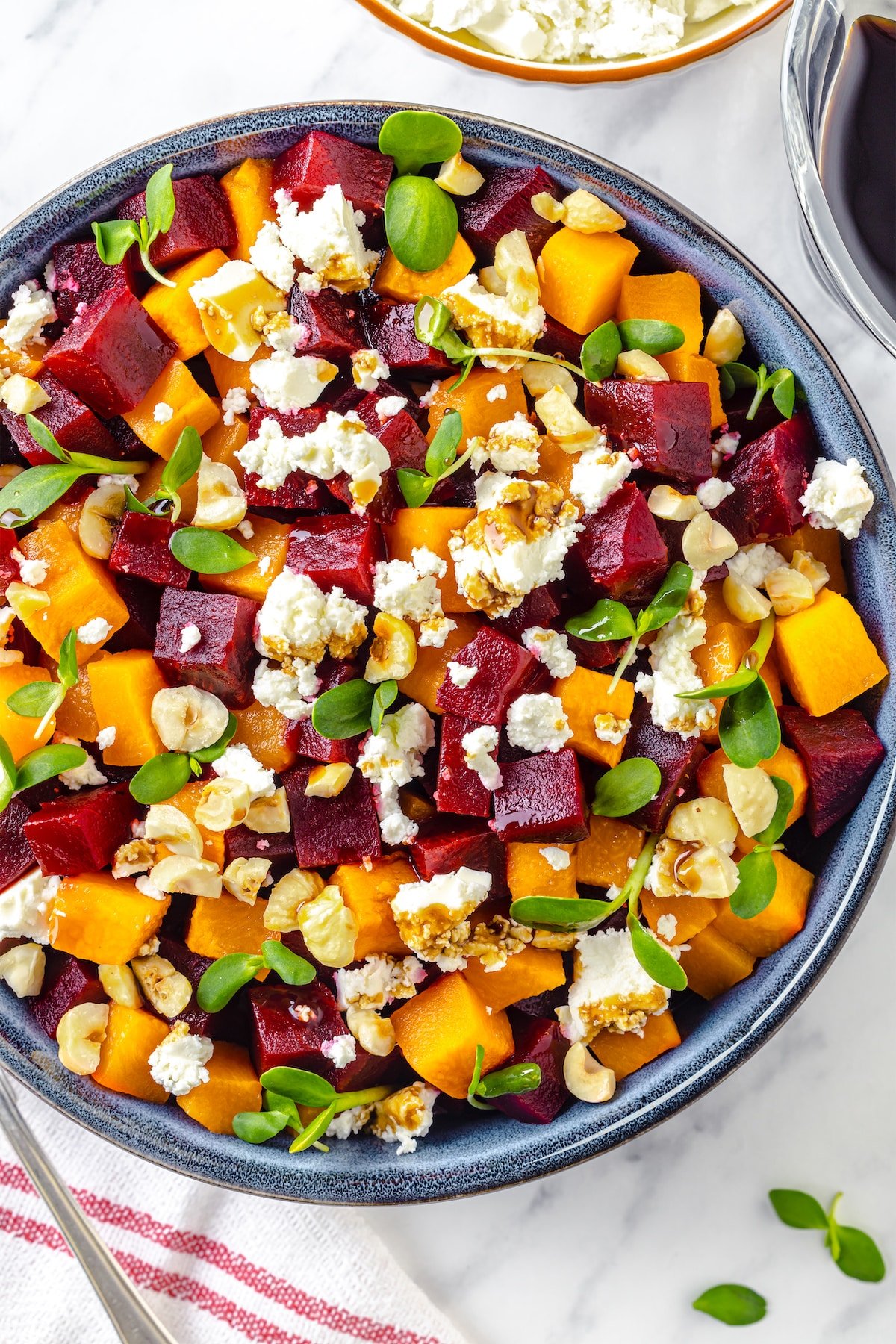 Beetroots, commonly known as beets, are a popular root vegetable used in many cuisines around the world. While beets and other vegetables like Brussels sprouts are not well-liked, l believe when cooked well and mixed with the right ingredients, you'll appreciate their taste. Cooking beets and then peeling their stubborn skin can also seem intimidating. But by boiling whole beets they become perfectly soft, and tender, and the flesh of the beet slides right off.
A delicious and crunchy salad
I love beets and have been wanting to share this simple and oh-so-delicious beet salad with hazelnuts and creamy goat cheese for a while now. Beets are a versatile vegetable that is easy to add to your diet. They're also a great way for your kids to consume another superfood.
This beet salad recipe is one of my favorite sweet and savory recipes. The mildly tart flavor of the goat cheese pairs well with the tangy flavor of the beets and the crunchy texture of the hazelnuts. The beet salad ingredients are simple to find in a grocery store.
The salad can be served on its own, as a wonderful side dish, snack, appetizer, or starter for a dinner party or weeknight meal. You can have it with crusty bread, roast chicken, baby greens, or salmon. We love having it as an easy light lunch and it can be a creative lunchbox idea too.
What's the difference between red beets and golden beets?
When most of us think of beets we think of the red beets. They are known for their deep red-purple color and natural sweetness. Golden beets have an orange-yellow color. As far as I know and have read, there isn't one variety of beet that is healthier than the other.
They both function as antioxidants and anti-inflammatory agents. Golden beets add a bright, yellow color when served roasted or in salad recipes while red beets add a bright, deep red-purple color to your dish.
For this beet and goat cheese salad we will use both red beets and golden beets.
Key ingredients for the Beet, Hazelnut, and goat cheese salad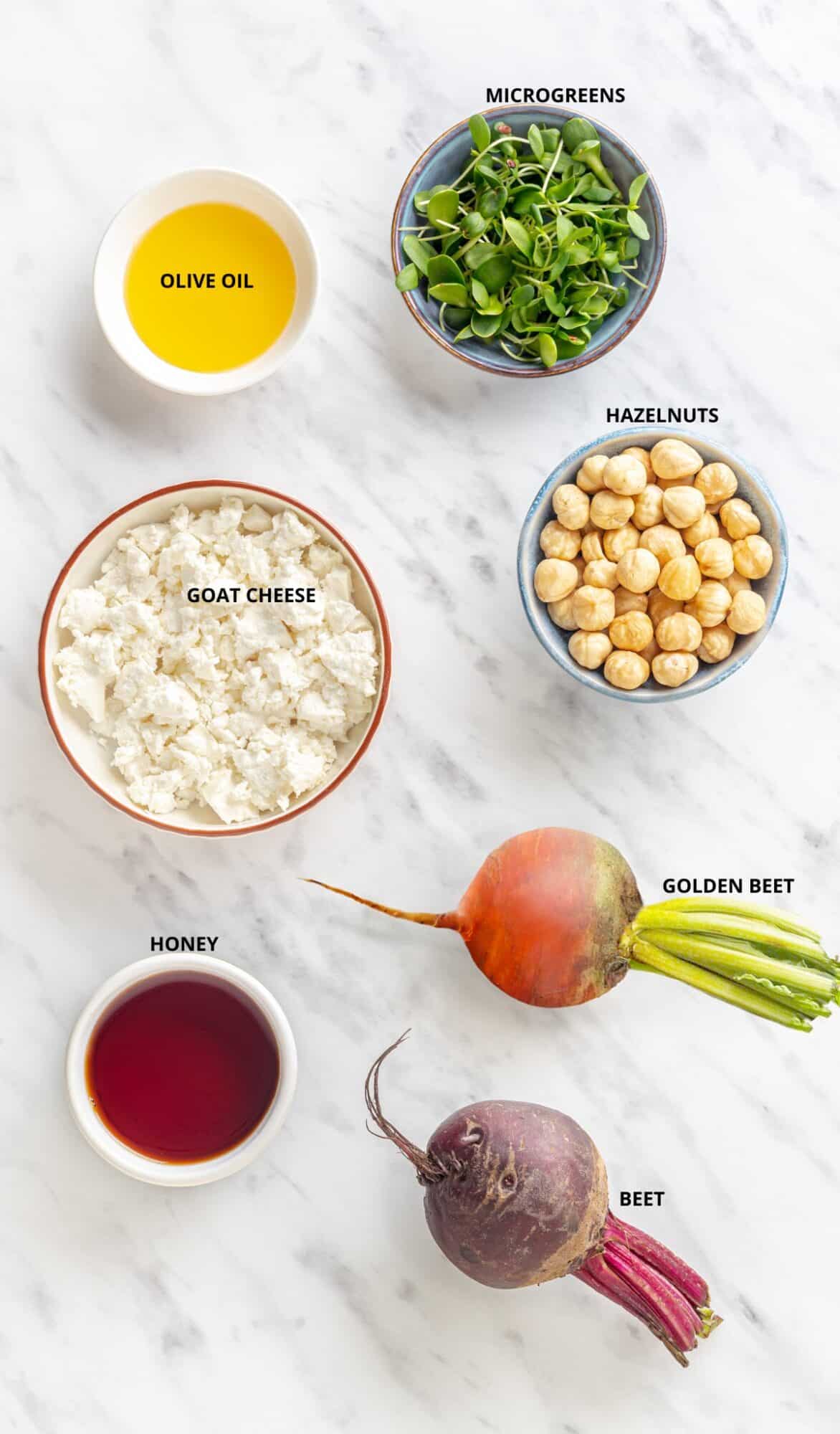 Red beets: Known for their sweet and earthy flavor. They also stain your hands when handling (wear gloves).
​Golden beets: A milder taste than red beets and don't have much of that "earthy" flavor that red beets do, so it does make a difference in taste in recipes. They don't stain as much.
Goat cheese: The soft, salty, and creamy goat cheese flavor complements the sweetness of the beetroot. You can also use feta cheese instead.
Hazelnuts: Create extra texture and crunch and are a delicious addition to the salad.
Microgreens: These are nutritious and add a big, bold flavor to the beet salad recipe.
Find the full printable recipe with specific measurements below.
What do I need to make the dressing?
Raw honey: Adds sweetness to the salad and can be substituted with maple syrup.
Balsamic vinegar: It compliments the sweetness of the beets nicely.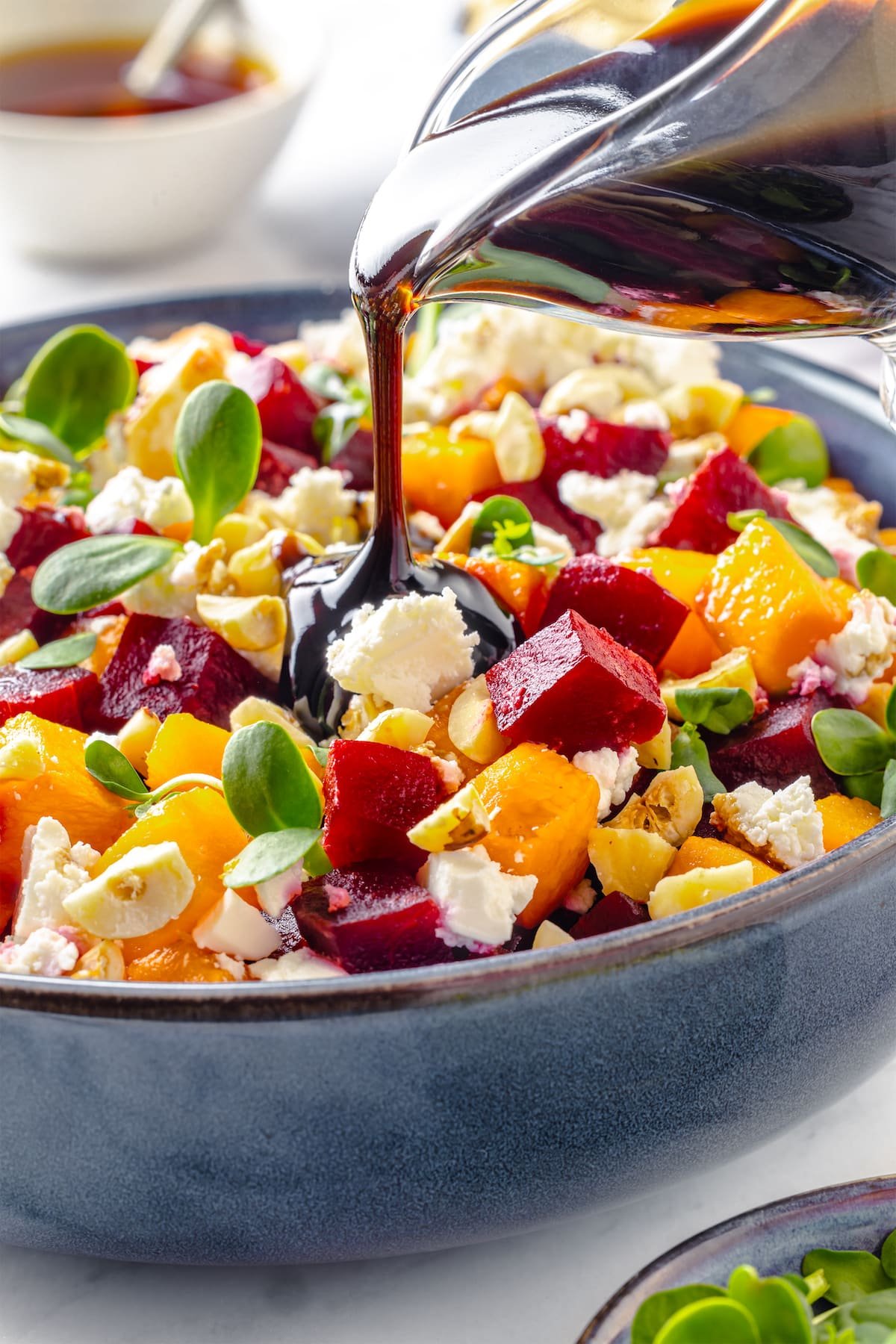 Step-by-step instructions Beet Salad with Hazelnuts and Goat Cheese
1: Wash the beets and cut off the beet greens
Rinse beets under cold water and scrub them to remove any dirt. Then cut and remove the green leaves, leaving about 1-2 inches of the stem connected to the beetroot.
2: Boil beets
In a large saucepan, add water enough to cover the whole beets. Cover with a lid, add a little salt, and boil beets for 1 1/2 hours on medium-high heat. Boil until they are tender and can be pierced with a knife. Then drain the water and chill or set the beet salad aside at room temperature.
3: Cool then cut beets
Allow the beets to cool for a few minutes then peel back the flesh of the beet with your fingers or paring knife. Once done, cut them into small cube pieces. I like to use this cube chopper.
4: Toast the hazelnuts
In a small skillet over medium heat, toast the hazelnuts and stir frequently until they begin to darken for about 10 minutes or until fragrant. Then transfer them to a clean paper towel and wrap them up in the towel. Let them steam in the towel for another 10 minutes, then rub their skins off with the towel and then they are ready to use.
5: Add cheese and hazelnuts to the beets
Arrange the beets on a serving platter and add goat cheese then sprinkle toasted hazelnuts on the beets.
6: Garnish salad
Garnish with salad greens.
7: Make the dressing
Add balsamic vinegar and honey to a small pot. Bring mixture to a boil on medium-low heat, then reduce the heat and simmer for 10-15 minutes or until the sauce coats the back of a spoon. Remove from heat and cool.
8: Drizzle dressing and serve
Drizzle dressing on the salad and serve on individual plates. Enjoy!
Expert Tips
For best results when boiling beets select ones that are a similar size so they cook within the same amount of time.
Leaving a little bit of the stem helps keep too much red juice from "bleeding" out (or leaching) while boiling beets.
Place the hazelnuts in a frying pan (no oil needed) and fry until toasted. Be careful, they will go from golden brown to burnt very quickly! Keep moving them around the pan with a wooden spoon.
Wear gloves when cutting the beetroot to prevent your hands from getting stained.
If you use your bare hands, to remove the red beet stain, squeeze a teaspoon or two of fresh lemon juice on your hands. Rub them together and let them sit for at least 10 seconds. Then rinse your hands with soap and water.
Drizzle the dressing over the beetroot and goat's cheese salad just before serving.
How to store beet and goat salad
Leftover salad can be kept in the fridge for up to 3 days. But ideally, you can boil beets and keep them in an airtight container for 3 to 5 days in the refrigerator until you're ready to make the salad. Then you add the rest of the ingredients just before serving. The dressing can be kept in the fridge separately for up to 2 weeks.
Recipe FAQs
Can l use store-bought hazelnuts for this recipe
Store-bought roasted hazelnuts can be used for this recipe.
Do you peel the beets before boiling them?
You do not need to peel the beets before boiling. It is easier to peel them after.
Are beets healthy?
Not only do beets taste surprisingly good, but they provide some impressive health benefits. Beets and beet greens have high levels of antioxidants, vitamins A and C as well as folic acid. They're low in calories which is great for weight loss and are a good source of fiber which is beneficial for digestive health and helps with weight loss. They also contain nitrates and so they can help lower blood pressure, which may lead to reduce risk of heart attacks, stroke, and heart failure.
Can l use another variant of cheese?
Crumbled feta cheese or blue cheese can be used instead of crumbled goat cheese.
Here are some amazing desserts you can enjoy after this salad!
This Easy and Moist Banana Bread Recipe pairs perfectly with tea or coffee!
These tasty Homemade Cherry Ice Pops are a hit with the whole family!
Other Tasty Recipes Using Goat Cheese
If you tried this Simple Beet Salad with Hazelnuts and Goat Cheese or any other recipe on my website, please leave a 🌟 star rating and let me know how you enjoyed it in the📝 comments below. I love hearing from you!
Simple Beet Salad with Hazelnuts and Goat Cheese
This beet salad is full of healthy benefits, low in calories, and could help you improve the digestion system. Beets are a delicious and versatile vegetable that is easy to add to your diet.
Rate
Print
Save
Saved!
Pin
Ingredients
1

golden beet,

cooked, peeled, & cubed

1

red beet,

cooked, peeled, & cubed

4

oz

goat cheese,

crumbled

½

cup

hazelnuts,

toasted & chopped

1

Tbsp

microgreens,

chopped (I use a variety of microgreens, but any will work)
Balsamic Reduction
1½

tsp

raw honey

4

Tbsp

balsamic vinegar
Instructions
Boil beets for 1 1/2 hours. Drain the water and let them cool. Peel cooled beets and cut into small cube pieces.

1 golden beet,,

1 red beet,

Add crumbled goat cheese in a medium bowl with beets.

On a small skillet over medium heat, toast hazelnuts. Add toasted hazelnuts to beets.

Garnish salad with micro greens.

1 Tbsp microgreens,,

4 oz goat cheese,
For the Balsamic Reduction:
Add balsamic vinegar and honey to a small pot.

4 Tbsp balsamic vinegar,

1½ tsp raw honey

Bring mixture to a boil, then reduce the heat and simmer for 10-15 minutes or until the sauce coats the back of a spoon.
Notes
Golden beets can be substituted with all red beets.
Nutrition
Calories:
167
kcal
|
Carbohydrates:
9
g
|
Protein:
7
g
|
Fat:
12
g
|
Saturated Fat:
4
g
|
Polyunsaturated Fat:
1
g
|
Monounsaturated Fat:
7
g
|
Cholesterol:
10
mg
|
Sodium:
112
mg
|
Potassium:
210
mg
|
Fiber:
2
g
|
Sugar:
7
g
|
Vitamin A:
248
IU
|
Vitamin C:
2
mg
|
Calcium:
54
mg
|
Iron:
1
mg