Gluten Free

Sugar Free

Vegetarian
Simple Herb and Eggplant Appetizer with Walnuts
What does eggplant taste like?
Similar to summer squash, it's tender, mild, and has a hint of a sweet taste.
How to cut eggplant?
This recipe requires that the eggplant is cut horizontally 1/2 inch slices. You can choose to peel the autumn fruit, or not. I like to keep the skin on for this eggplant appetizer.
When are eggplants in season?
Eggplants are available year-round at most major grocery stores but are in season from August through November.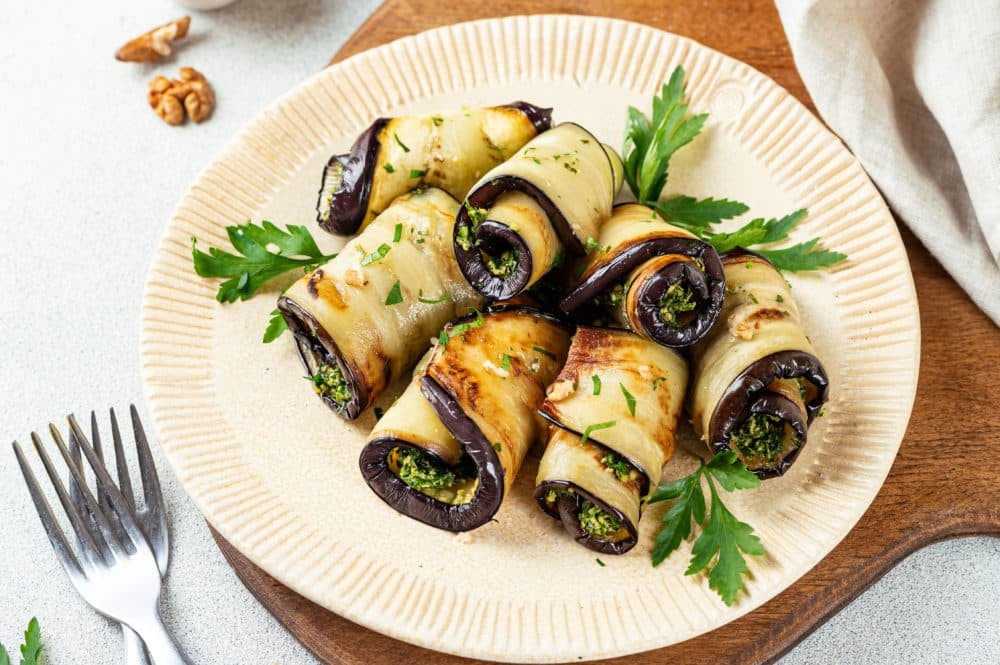 Are you looking for a healthy appetizer under 30 minutes? This one is a must try! This Herb Eggplant Appetizer with Walnuts is definitely a no-guilt starter.
What's so great about eggplant?
Lately, I've been remembering all of the great food my mom used to cook when I was growing up. She was a pretty decent chef! Another one of my favorite recipes that she prepared is her delicious Eggplant Rolls. Now, not everyone is in the eggplant lovers club, but I believe that's just because they haven't tried it when prepared well. I have always been an eggplant lover (thanks, Mom!), and was happy to hear that one cup of cooked, cubed eggplant contains only 20-35 calories.
This dish doesn't take a long time to make, so I always enjoy making it. Eggplant recipes aren't hard to make in general, so if this is your first time, you're in for an amazing treat. Next time you could try an easy make-ahead summer eggplant salad or an eggplant dip!
These are Georgian eggplant rolls, a traditional dish that are super easy to make. You can find them on the menu of some Georgian restaurants. Sometimes it can even be in the form of an eggplant walnut dip. The dish may be different, but the flavors are the same. It makes quite a healthy dip! It's nice to know that you can take the same ingredients and put them together in different ways.
What are the benefits of eggplant?
I found a few more reasons to love eggplant, too; it contains fiber, which helps protect the digestive tract and control diabetes. While you can take the skin off of the eggplant for this recipe, I encourage you to leave it on—the skin contains nasunin, a potent antioxidant and free radical scavenger shown to protect the lipids in brain cell membranes. I guess that kind of makes eggplant brain food!
Another one of the important main ingredients in this recipe is garlic. It adds such a delicious taste when rolled up with the eggplant and makes the first bite rich in garlic tones. With it's inflammation-fighting properties and vitamin C, it supports your immune system.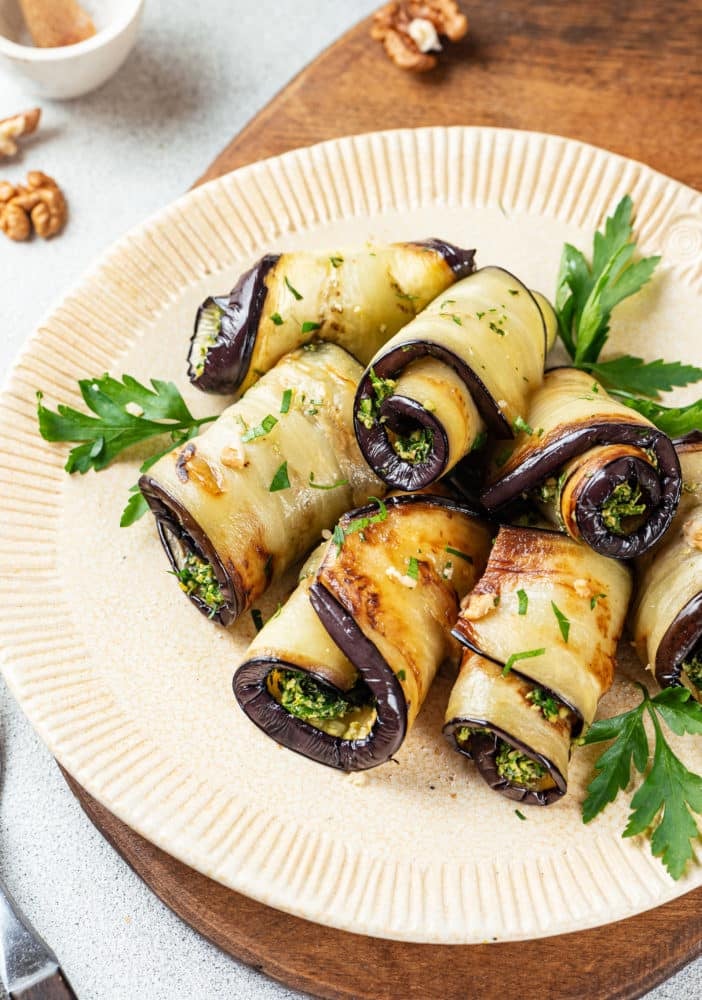 Tips and tricks for this soft eggplant appetizer:
Don't slice your eggplants too thick. Thick slices will take longer to sear and won't' roll easily either. Try to aim for 1/4inch or 1/2inch slices.
Choosing a longer eggplant is helpful when making more servings of this delicious recipe. That way, can have nice and large rolls.
A sharp knife will help your eggplant slices to be smoothly chopped, and thin as well. The eggplant will be soft as it's fried.
For the frying portion, don't hesitate to get out a deep skillet. You'll have enough oil to fry them but if you want to add more, it's up to you. The amount of oil may be 3 Tablespoons, but if you're making more eggplant than the servings in this recipe then you can always adjust.
Make the herb mixture ahead of time! You can prep it several hours ahead of time and store it in the fridge covered with plastic wrap. When you're ready and have fried the eggplant slices, it'll be ready to go.
Bon appetit!
How to make a Herb Eggplant Appetizer:
First gather the ingredients, which are really simple yet contain a whole lot of nutrition.
Eggplant: You will need a medium-sized eggplant. If you're using small eggplants, make less of the herb mixture, and if you're using large eggplants, don't forget to add more of the herb mixture.
Herbs: Only fresh cilantro, parsley, and dill. Dried herbs will not work for this recipe.
Sour Cream: You can also substitute for mayonnaise, if you prefer it.
Walnuts are a great nut that boost memory and brain benefits. You'll need a half cup walnuts (about 50 grams of walnuts.)
Garlic: Several cloves garlic give great flavor kick.
Extra virgin olive oil: For frying the eggplant slices. You may use any oil you like, but try to use a light one, preferably a vegetable oil.
Salt: You'll need a teaspoon salt or two to your taste, to season the eggplant.
Keep some paper towels nearby, you'll need them to take off some of the excess oil.
Did you enjoy this traditional Georgian eggplant appetizer? You might love some more Georgian food recipes:
This Georgian Chicken in Garlic Walnut Sauce with Spices (Satcivi) has traditional khmeli suneli seasoning!
Juicy Lula Lamb Kebabs Baked in the Oven (Lamb Kebabs) are a delicious Slavic treat.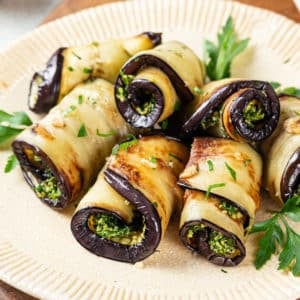 Simple Herb and Eggplant Appetizer with Walnuts
A easy and simple eggplant appetizer, with a nut and herb mixture.
Rate
Print
Save
Saved!
Pin
Equipment
food processor

tongs

Serving plate
Ingredients
3

Tbsp

olive oil

1

medium

eggplant,

½ inch slices

salt

1

cup

fresh dill

1

cup

fresh parsley

1

cup

fresh cilantro

1

Tbsp

sour cream

½

cup

walnuts

2

cloves of garlic

minced
Instructions
Wash and slice the eggplant. You may choose to peel the skin off or leave it on. There are health benefits in the skin, so I prefer to leave the skin on. Add a pinch of salt to each eggplant slice.

Over medium heat, heat up olive oil in a large skillet then place the slices in heated oil. You can also grill the eggplant slices instead. Fry each side for 2 minutes, or until they're a light golden brown color.

Pat dry eggplant slices with a paper towel.

Combine garlic, fresh herbs, walnuts, and sour cream in a food processor. Blend until smooth.

1 cup fresh dill,

1 cup fresh parsley,

1 cup fresh cilantro,

1 Tbsp sour cream,

2 cloves of garlic,

½ cup walnuts

Spread herb mixture on each eggplant slice.

Roll the eggplant up and enjoy. Don't forget your serving plate!
Nutrition
Calories:
134
kcal
|
Carbohydrates:
6
g
|
Protein:
2
g
|
Fat:
12
g
|
Saturated Fat:
2
g
|
Polyunsaturated Fat:
5
g
|
Monounsaturated Fat:
5
g
|
Cholesterol:
1
mg
|
Sodium:
12
mg
|
Potassium:
298
mg
|
Fiber:
3
g
|
Sugar:
3
g
|
Vitamin A:
1422
IU
|
Vitamin C:
19
mg
|
Calcium:
43
mg
|
Iron:
1
mg