Nut Free

Vegetarian
The Best Easy Peach Mousse Cake
How long does mousse cake last?
This tasty mousse cake lasts for up to 5 days in the refrigerator.
How to pour ganache over a mousse frosted cake?
To pour ganache over a mousse frosted cake, wait until the ganache is entirely cooled before pouring or drizzling over the top of the cake.
This lovable peach mousse cake can be made with everything you already have at home!
Don't you love quick and easy recipes that make for amazing presentation? Those are my favorite ones. That's why I have so many one-pot, quick, and easy recipes! While I can't make a cake in one pot, I sure can make it quick and easy. And so can you!
Peach mousse with a cake base is the perfect combination of baked sweets and creamy, fruity mousse. There's balance and harmony along with flavor and consistency differences that wouldn't make it in any other cake but this Peach Mousse!
There's no need to run to the farmer's market or grocery store to buy some juicy peaches. In fact, I recommend using canned ones for this delicious cake. The fruity flavor won't be changed. In fact, using canned peaches makes this the perfect summer dessert, winter treat, and fall indulgence. It's perfect for all seasons, any weeknight dessert, or special occasions.
Here's why this is the perfect cake:
It's super versatile! While the bright color of this mousse pops because of the flavored Jello, you don't necessarily have to use a peach or apricot flavored Jello, but if you use a different flavor, the cake will no longer be the orange color and will taste a bit different, but still good. It's not the most important thing in this cake, but it's nice to create a matching flavor with the canned sweet peaches.
You can use cake mix in place of baking your own cake layer. I recommend vanilla cake so it's milder. It will create a different flavor addition and will change the nutritional information, but if you want to go as easy as possible, that's definitely an option.
You can make the layers ahead of time. Whether you make the whole cake ahead of time or the layers separately and then put them together, this peaches mousse cake is delicious the next day, or even in two days.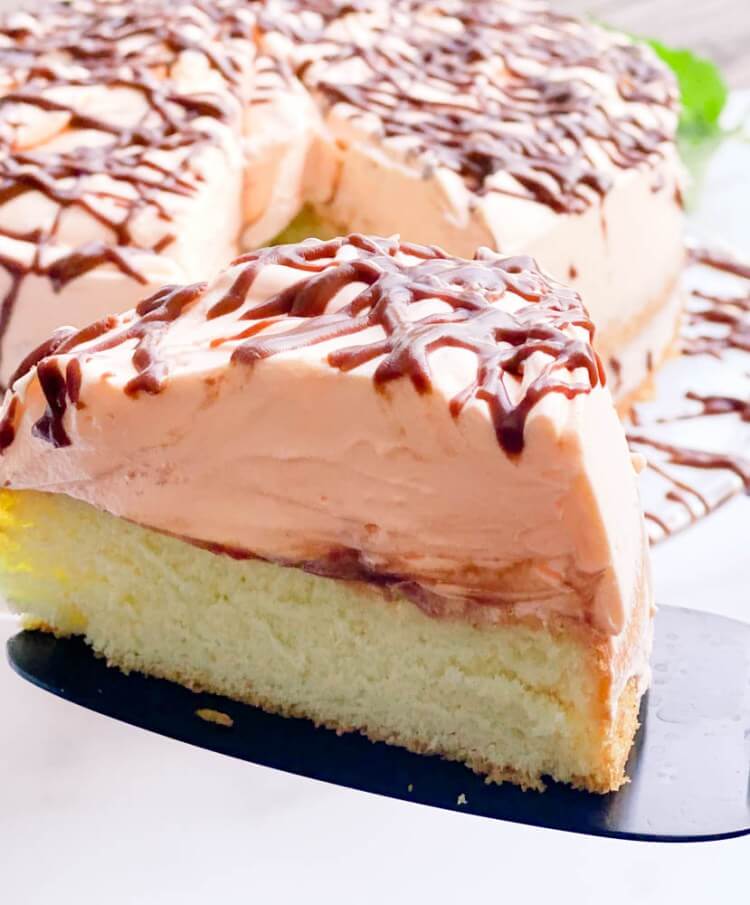 [block_content]
Here's what you'll need to make this Easy Peach Mousse:
Eggs start off the cake layer for texture.
Sugar sweetens up that bottom cake layer in th is peach dessert.
Baking powder is added to baked goods to create a light and airy texture.
Flour is for the cake layer, creating structure.
Peaches (in juice) are in this simple dessert for flavor. I don't recommend using fresh peaches, you can use ripe canned peaches.
Jello (apricot or peach flavored) is for the creamy mousse layer. In a couple of easy steps, it creates the structure for this perfect peach cake. It also adds a sweet peach flavor.
Whipping cream is to add sweetness to this creamy dessert, for the mousse base.
Chocolate chips will be melted down to drizzle on top of this cake!
Unsalted butter will be melted with the chocolate chips to make them more runny.
Other tasty cake recipes:
This Gluten Free Plum Cake turns out moist and soft every time!
You can make this Honey Pecan Cake Recipe, it's a perfectly sweet dessert.
The Best Easy Peach Mousse Cake
Your guests will be thinking you spent hours in the kitchen, but it's so easy to make this peach tasty and delicious peach mousse cake.
Rate
Print
Save
Saved!
Pin
Equipment
bowl

hand mixer

Cake spatula
Ingredients
3

eggs

1

cup

sugar

1

tsp

baking powder

½

cup

flour

1

can

peaches,

in juice

3

oz

Jello,

1 package, apricot or peach flavor

16

oz

whipping cream

¼

cup

chocolate chips

3

Tbsp

unsalted butter

½

cup

water

1

tsp

sugar
Instructions
For the cake: Preheat the oven to 350F.

With a hand mixer beat together 3 eggs and 1 cup sugar for 1 minute.

Add in 1 teaspoon of baking powder; beat for 1 more minute.

On the lowest speed, add in ½ cup of flour. Pour better into a nonstick cake pan and transfer to the oven for 20-25 minutes.

For the mousse: Separate juice and peaches from the can.

In a microwave safe bowl, mix 3 ounces of peach jello with the peach juice.

Transfer to the microwave for 3 minutes, mixing after each minute.

With a hand mixer, beat whipping cream.

While beating, slowly pour the jello mixture into the whipped cream. Continue beating until the mix can form stiff peaks.

Mix together ½ cup of water with 1 teaspoon of sugar. Pour on top of the sponge cake using a spoon. This will help make the cake moist.

Spread the mousse on top of the sponge cake. Put the cake in the fridge for 10-15 minutes.

While the cake is in the fridge, make the chocolate glaze by melting 3 tablespoons of unsalted butter.

Stir in ¼ cup chocolate chips right away and mix until melted.

Pour the chocolate glaze over the cake.

Finish off by decorating the cake with some peach slices. All ready, slice the cake and enjoy!
Nutrition
Calories:
307
kcal
|
Carbohydrates:
33
g
|
Protein:
4
g
|
Fat:
18
g
|
Saturated Fat:
11
g
|
Polyunsaturated Fat:
1
g
|
Monounsaturated Fat:
5
g
|
Trans Fat:
1
g
|
Cholesterol:
92
mg
|
Sodium:
100
mg
|
Potassium:
102
mg
|
Fiber:
1
g
|
Sugar:
28
g
|
Vitamin A:
820
IU
|
Vitamin C:
2
mg
|
Calcium:
54
mg
|
Iron:
1
mg