11 Holiday Desserts You Can Enjoy All Season Long
The colder the weather, the warmer the oven, right? The holiday season sparks the inner baker inside a lot of us, even if we almost never bake. If that's not the case for you, don't worry. I've compiled some of my favorite holiday recipes that are easy to make, whether you bake or not. Some are no-baking-required and others will make you the ultimate bake-off winner in your own home. Enjoy these holiday treats in their prime season!
Starting off with moist, fluffy, and buttery goodness, this Simple Apple Cake is perfect for using up those apples in your kitchen. Have it with tea and your friends will be asking for the recipe! If there are any leftovers (which is unlikely when it tastes this good), you can simply heat it up and enjoy with coffee for breakfast the next morning. It'll still be perfectly soft!
This Chocolate Kielbasa comes from my childhood. Made with animal cookies, walnuts and smooth chocolate. All from scratch. I love it. This is the dessert I ask my mom to make for my birthday instead of cake. It's addicting.
There's no need for complicated ingredients when you have this simple recipe, and one that's perfectly winter-y, too! In my childhood, these Sweet Winter Trees were always the star of the show on the Christmas or New Year's dessert table, all perfectly dusted with powdered sugar "snow". They really add the perfect winter vibe amongst the cakes and sweets!
Easy to make and easy to eat, these Sugarless Dough Rogaliki are a popular choice if you want to keep a little further away from sweet, sugary dessert. The inside of the rolls can be customized, too! You can choose any kind of jam, or add in Nutella, honey, cinnamon, nuts, strawberries, or anything else that you can think of. These ones will be a hit!
If you visit the pumpkin patch, baking these Autumn Pumpkin Muffins with the pumpkin you pick is a great activity to do afterwards with the kiddos. Topped with a Sweet Vanilla Glaze, they'll be gone before you know it. If you want to bake them long after pumpkin patch season is over, you can find pumpkin puree in the baking aisle year round. Enjoy these fluffy and soft treats!
A salad among baked goods? This Sweet Persimmon Pomegranate Fruit Salad fills you with benefits and unique fruits of the winter season. Low in calories, this salad with honey and ginger is included in this selection of holiday recipes so you don't miss out on recipes that don't require baking! Persimmon has a sweet, honeyed taste and fills you with vitamins!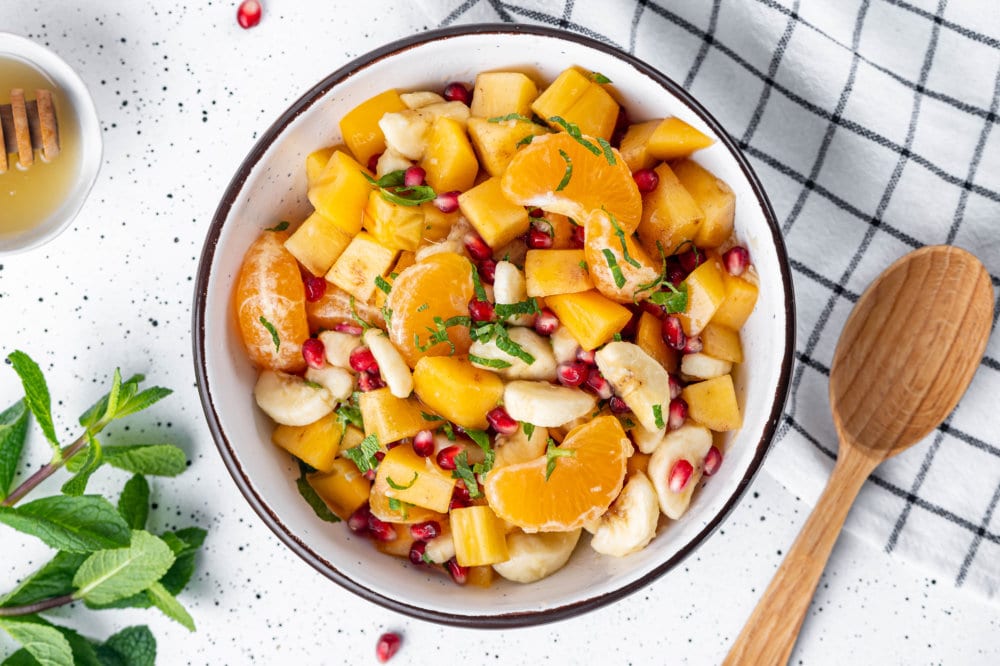 Settling down with a hot drink and this Gluten Free Plum Cake makes the perfect holiday evening. You can choose to make it gluten free, and even dairy free, too! So perfectly soft, you will absolutely devour this moist cake.
Delicious and inviting, this Easy Baked Warm Fruit Salad with Chocolate, Coconut, and Almonds is a one-of-a-kind salad that you won't want to miss out on! With cherries, strawberries, blueberries, and apricots, this salad is filled with benefits and vitamins. It's rich in fiber, too. It makes the perfect light dessert after a full dinner!
This is the season for comforting, nutty flavors. This pecan torte is made up with a load of pecan nuts, very delicate and glazed with a smooth chocolate.
Looking for a quick show stopper dessert to bring to your next party? Got you covered with this Honey Pecan Cake Roll. This is the roll I make when I need something quick to a gathering. It's always a hit. I also have it in cake version!
I just can't have enough of these gluten-free desserts. Another one of my favorites is this Quick and Easy Apple Crisp! It's super simple and is perfectly gooey. It has that crispy textured top that pleases in a crisp. This apple crisp is going to make your home smell so good, you'll be making it over and over again all winter long.
All of these recipes are great ones to bake at home. If you need more inspiration, see my Web Stories! They're a quick tap-through to find the recipes perfect for you.