10 Best Must Visit Places in Baku, Azerbaijan
My husband and I recently visited the capital of Azerbaijan- Baku.
Where is Baku?
Baku is the capital of Azerbaijan. It is located in the east of the country, right by the beautiful Caspian Sea. Azerbaijan's neighboring countries include Georgia and Armenia to the west, Russia to the north, and Iran to the south.
Baku is where my husband was born, so after 14 years, he wanted to visit some family and explore the city. He says it changed big-time since the last time he was there. The city has expanded. We had three and a half days there and got to see the city's charm.
Our trip to Baku, Azerbaijan
Our trip to Azerbaijan started with a 19-hour flight from Seattle, WA with a 4-hour layover in Germany.
(Side note- if you are ever flying business class and have a long layover, don't forget about FREE business lounges, where there are showers, food, and even beds.)
We arrived at Baku (great and clean airport) in the evening, so went to explore the city right away upon checking in to our hotel in the famous Flame Towers, located in the city center Hotel Fairmont. Our room had both the sea and city view (the perfect views in my opinion).
We were starving so we went to find a place to eat. Oddly enough at 10 pm, the hotel restaurants were closed so we took a taxi to the restaurants. Most restaurants and cafes in the city are open late, some even till 2 am – this is normal there.
We walked home from the restaurant and found ourselves looking at the flame towers at night. The buildings are shaped in a form of flame and are completely covered with LED screens that present movements of fire.
There are a lot of tourist attractions around the city, and you will find many things to do in Baku to keep yourself entertained and busy.
Here are 10 must-visit places when traveling to Azerbaijan's Capital- city of Baku:
1. OLD CITY OF BAKU
At the center of Baku lies the Old City. It has a lot of character and here is where you will find surrounded by fortressed walls, stone mansions, tourist attractions, tea shops, souvenir vendors, restaurants, and boutiques. Make sure to put on your comfy shoes and do a walking tour of the old city. It's truly a historical part of the city.
This Old City is very clean and recently renovated, with freshly squeezed pomegranate juice on every corner. If you choose to, you can book an audio tour that will elaborate on the main sightseeing point of the Old City.
2. CLIMB UP THE MAIDEN TOWER
Make sure to visit the iconic Maiden Tower along with Shirvanshahs' Palace, located in the Old City of Baku. If debating to do one or the other, choose the Maiden Tower. It goes into the World Heritage List of Historical Monuments. This 12th century tower is a standout feature of the old town complete with a tragic tale from which it derives its name.
You can climb to the top of the tower through narrow stairs, passing small and slightly informative museum exhibits. The views on the top of the tower are worth the climb. It can be too much for little kids though, and no pushchairs allowed.
3. SHIRVANSHAHS' PALACE
We went into the palace and walked through quickly. To be honest, it was our least favorite museum in Baku. Unless you really love museums and enjoy the details of them, then for sure put it in your plans to visit.
4. TAKE A WALK ON BAKU BOULEVARD
This place is one of the best-recommended places in Baku for me. Modern art and creation nearby which makes the city more attractive and beautiful. It is about 3 km long by the Caspian Sea. However, I recommend you start in the middle and walk towards the carpet museum and mini Venice, with really good coffee kiosks along the way.
5. CARPET MUSEUM BAKU
To be clear, we didn't go inside the museum. (My husband isn't a big fan of museums, so I need to pick wisely in which one I want to see, but I didn't want to see it up close). We did stop and take some pictures from the outside.
It's a museum shaped like a carpet located right near the little Venice boat rides. Inside the carpet museum, you will find a big selection of Iran and Pakistan carpets.
6. TAKE A BOAT AT LITTLE VENICE BAKU
A mix of waterways and concrete bridges doesn't really make this Venice, but it's a clean and unusual attraction on a boulevard. You have the option to rent a short boat ride to get a tiny feeling of Venice. Located right across the Carpet Museum, fun for all ages.
7. FOUNTAIN SQUARE BAKU
This large pleasant square, surrounded by restaurants, stores, coffee shops felt safe to walk through day or night. Evening time is when it is full of activities, people, street vendors. Sadly, the foundations don't always appear to be on, but there are loads of options for food. Really beautiful and worth seeing.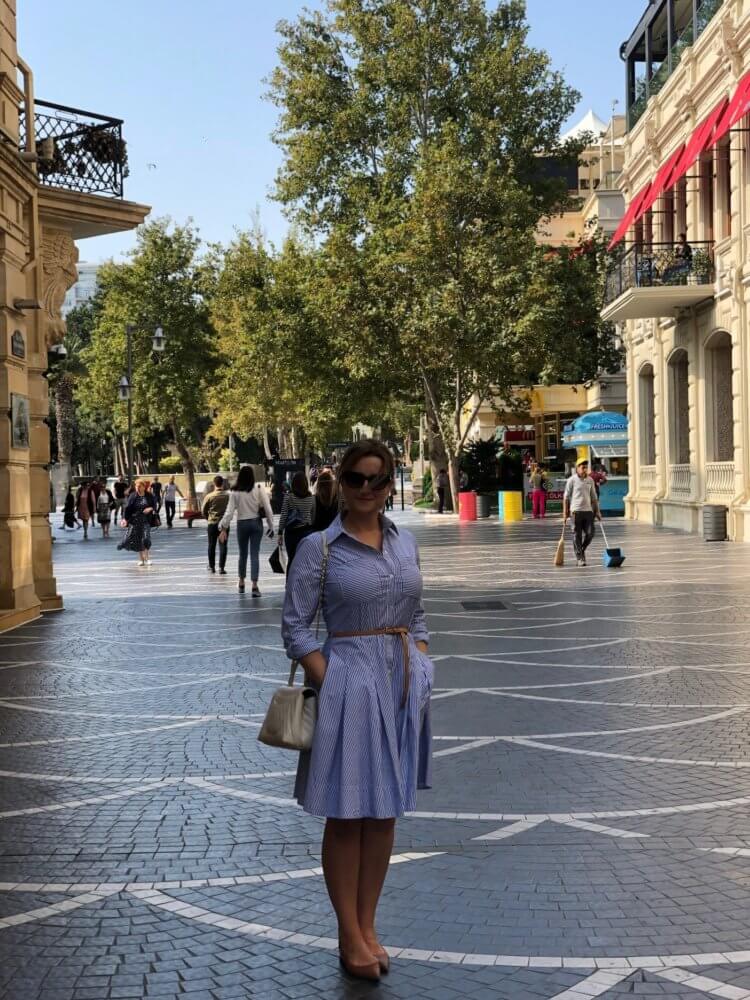 For lunch, we found a great restaurant in the square, Dolma. Dolma serves traditional homemade Azerbaijan cuisine along with Georgian and Italian cuisine. Great food and service.
We told our server we wanted to try the real experience of their local cuisine and he made it happen. Try their traditional plov, you won't regret it. (30 minutes wait, but worth it).
8. THE FAMOUS NIZAMI STREET
Named after the poet Niami, this street is hard to miss if you are at the fountain square. Totally worth a stroll in the well-lit Nizami street. Nizami Street is one of the best places to roam around the city, shop, and dine.
9. TAKE A HIKE UP THE STAIRWAY TO ENJOY THE VIEW
An amazing place for a panoramic view of the city. If I am not mistaken, I think this is the highest point in Baku. You can have a nice snack in the cafe next to it, relax and take the best pictures of flame Towers, Baku Eye, and the Caspian Sea. The stairs light up in the evening.
10. ADMIRE THE ARCHITECTURE AT THE HEYDAR ALIYEV CULTURAL CENTRE
We didn't go inside the center since it was closed at the time we were near it, but the architecture of it is worth the visit. It is named after the former President Heydar Aliyev, who is now deceased. The cultural center contains a gallery and a museum where you can find many examples of Azerbaijan architecture, crafts, traditions, and more. A few feet from the building you can also snap a photo of yourself by the sign that reads "I Love Baku".
Forget the scale, Taste all the food you can!
VIST SHIRVANSHAH MUSEUM RESTAURANT FOR THE BEST AZERBAIJANI CUISINE EXPERIENCE.
The majority of national dishes are prepared with lamb, beef, poultry, and sturgeon fish. One of the most reputed dishes of Azerbaijani cuisine is plov from saffron-covered rice (must try!).
You can also find a variety of meat and fish kebabs, and don't leave without trying the lamb lyulya kebab, which is grounded minced meat with spices cooked on skewers. The bread tandir bread, (or tandoori bread), if fresh, is also a must-try. It's an Azerbaijani bread that is made in a clay oven.
Embrace the tea culture. Similar to the British, tea is served everywhere, and locals sit down for tea and sweets. It is essential when you visit Azerbaijan. The sweets during teatime range from cookies to jams and of course the traditional baklava (that you have to try and bring back to your family to try).
Definitely worth to plan a trip to Baku, Azerbaijan, if you like to explore a new city.