7 Easy Chunky Soup Recipes to try this Winter Season
Soup season is in full swing and I am loving it! Anything that can be made in one pot and served in a bowl makes the perfect meal for me. Here, I have complied some of my favorite chunky soup recipes, ranging from low-carb soups to classics. I even have ones that make the perfect light lunch! You might find a new one to try, so don't hesitate to explore these recipes and more here.
Chunky and with classic flavors: there's nothing better than a good warm tortilla soup to remind me of the summer street eats in the city. My family loves Mexican food and what better way to serve it this fall than in a delicious Chicken Tortilla Soup?
Chunky soups are always a good idea since you not only taste the soup recipe as a whole, but also the flavor of each individual ingredient.
One of the best features of this recipe is that you can make it with gluten free tortillas if you'd like. Exploring, experimenting, and customizing a recipe is always fun!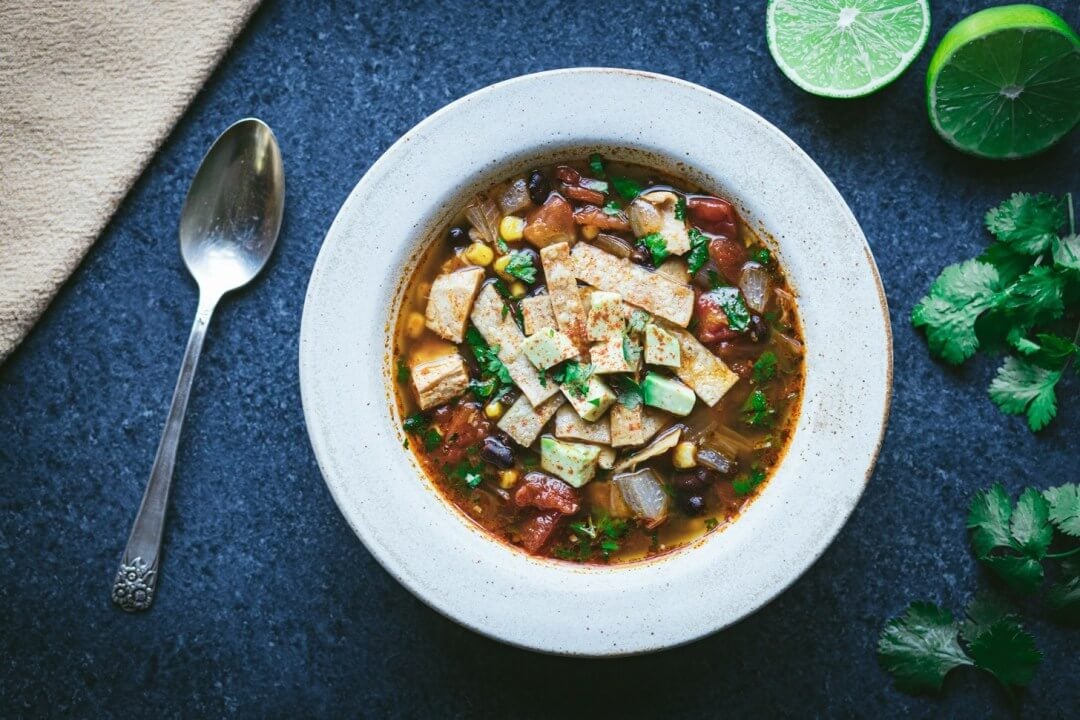 There's no need for complicated ingredients and an extra trip to the store when all you have at home will perfectly satisfy you for lunch in this most simple soup!
This mild and Light Chicken Meatball Soup is a perfect appetizer or a light lunch when you're not entirely hungry yet but won't have an opportunity to eat later. It's perfect as a starter and has protein to keep you satisfied.The three special main ingredients in this soup are chicken meatballs, rice, and potatoes. They help to create the perfect well-rounded meal that is nutritious and beneficial to your body.
Cozy and classic, there's nothing better than a classic Chicken Noodle Soup! Family meals are exactly the time to incorporate this classic. Fighting inflammation and benefitting your body, soups like this one are always a good idea. Don't hesitate to make the ultimate comfort meal and support your immune system with it, too!
Transport yourself to Italy with this delicious Tuscan Soup! The fresh vegetables in this soup are a great way to build your immune system up for the flu season. Spices, onion, veggies, and broth all perfectly combine in just one pot. The white beans in this soup are filled with antioxidants and vitamins!
Loaded with protein, herbs, spices, and veggies, this Healing Soup gives you a superfood ingredient: kale! Everything in this soup is homemade, including the chicken broth. It's good to know exactly what you're putting into your body!
Quick and easy, this Thai Coconut Vegetable Soup is super simple to make from scratch and is loaded with only the healthiest ingredients. One fun factor of this soup is the spiciness level! You can customize that all to your liking. With mushrooms, napa cabbage, and cilantro, this soup fills you up with nutrients!
Simple One Pot Chunky Fish and Vegetable Chowder
Creamy, low-calorie, gluten free, dairy free, and all in one pot: that's how great this soup is! It applies to many lifestyles and is loaded with benefits. Tender potatoes and carrots, soft white fish, and the perfect mix of herbs all combine in one pot to mix up the Chunky Fish and Vegetable Chowder you'll be making over and over again!
What starts almost all of these soups off?
Of course, broth (whether vegetable, fish, or chicken) starts off almost every soup recipe. One or two may have it included in the recipe, but most of the time it's listed as an ingredient. Rather than buying, making your own vegetable broth at home is just as simple and easy as making the soup itself!