Dairy Free

Gluten Free

Nut Free

Sugar Free

Vegan

Vegetarian
Homemade Apple Cider (Quick Recipe)
What apples to use for apple cider?
This recipe has you use unsweetened apple juice or cider. If you press or juice your own apples, I recommend you use pink lady or gala apples. These apples also bake well. This delicious apple cider needs no added sugar, with the maple syrup sweetening it.
What is the difference between hard cider and apple cider?
Hard apple cider is fermented apple cider or juice, making an alcoholic drink. A regular apple cider drink is simply apples and spices cooked together to make a fall drink. You can make your own apple cider right here with this recipe.
Where to buy mulled cider spices?
Apple cider spices can be found at any grocery store that has a bulk spices section. You can pick up whichever spices you need or want to add into this delicious homemade apple cider recipe. Optional spices include allspice or vanilla beans.
Apple cider is the perfect fall drink to keep you warm and enjoy the fruit harvest! Whole apples and delicious spices are the perfect autumn combination.
Why is apple cider so loved this season?
Slow cooker apple cider recipes are a necessary staple every year as the weather gets colder. Homemade cider made of ground spices, cooked apples, a touch of orange peel, and whole cinnamon sticks is the perfect drink to have when you're sitting by the fire or walking around town with the yellow leaves falling. Apple picking with the family is the best way to gather apples for this recipe.
Even if you don't have apples that you'd like to use up, this recipe is great for those quick-in-the-kitchen folks. Some simple unsweetened apple juice or cider makes a great base to this spice mix if you don't have the time to juice your own apples. Raw apple juice is perfect for it. Apples are rich in health benefits whether you juice your own or not. They support gut, lung, and heart health with fiber and antioxidants. They're the whole package this fall season!
Ingredients for a fresh apple cider at home:
Cinnamon sticks
For the main flavor profile of this cider, you will need two cinnamon sticks, and a couple more if you'd like for serving the hot cider.
Black peppercorns
Black peppercorns add a tasty spiciness that makes fresh apples and whole spices complement each other.
Whole cloves
Cloves are subtly sweet and are the spice that makes your house smell amazing. They are the perfect way to add richness and a mild bitterness to the cider.
Ground nutmeg
Nutmeg is warm and nutty, commonly used in apple pie for a touch of fall flavor. It can be added to both sweet and savory dishes. In this warm cider, it is the perfect spice addition.
Star anise
Star anise is similar to licorice and is very sweet. The flavor can remind you of both cloves and cinnamon, but is subtly unique. It's another spice that looks amazing on top of the hot cider!
Ground ginger
Ginger adds extra flavor to this traditional apple cider. Ginger is warm and peppery.
Apple juice or cider
In this recipe, you don't have to make the apple juice or cider base yourself. You can purchase unsweetened apple juice at the store. If you prefer to juice the apples yourself, be sure to get enough apples for the amount you want, using a variety of apples including granny smith or pink lady. The easiest way would be to run them through a juicer, discard of the apple pulp, and cook the cider with the additional spices.
Orange
The orange in apple cider adds a tang and sweetness that is the perfect "cherry on top" so to say. The best flavor can be added in and once you're done, i makes your home smell like the flavors of fall.
Maple syrup
Is added in this cider to sweeten up the drink. It's a great way to avoid added sugars (like brown sugar) and still have a sweet taste.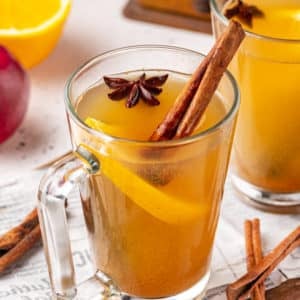 Homemade Apple Cider (Quick Recipe)
Apple cider is the perfect fall drink to keep you warm and enjoy the fruit harvest! Whole apples and delicious spices are the perfect autumn combination.
Rate
Print
Save
Saved!
Pin
Ingredients
2

sticks

cinnamon,

plus for serving

½

tsp

black peppercorns

½

tsp

whole cloves

¼

tsp

ground nutmeg

2

star anise

1

tsp

ground ginger

4

cups

apple cider

(or apple juice, unsweetened)

1

orange,

cut in half

⅓

cup

maple syrup
Instructions
Add all the ingredients into a large enough pot. Bring to a simmer, cover and cook for 10-15 minutes.

2 sticks cinnamon,,

½ tsp black peppercorns,

½ tsp whole cloves,

¼ tsp ground nutmeg,

2 star anise,

1 tsp ground ginger,

4 cups apple cider,

1 orange,,

⅓ cup maple syrup

Strain into cups and enjoy.
Nutrition
Calories:
206
kcal
|
Carbohydrates:
51
g
|
Protein:
1
g
|
Fat:
1
g
|
Saturated Fat:
0.1
g
|
Polyunsaturated Fat:
0.1
g
|
Monounsaturated Fat:
0.1
g
|
Sodium:
13
mg
|
Potassium:
388
mg
|
Fiber:
3
g
|
Sugar:
42
g
|
Vitamin A:
86
IU
|
Vitamin C:
20
mg
|
Calcium:
86
mg
|
Iron:
1
mg