Nut Free

Vegetarian
Drunken Cherry Chocolate Cake
This beautifully soft and airy Drunken Cherry Chocolate Cake has got it all. Every bite is an amazing melody of chocolate, smooth cream, juicy cherries, and a sweet wine taste. What's there not to love?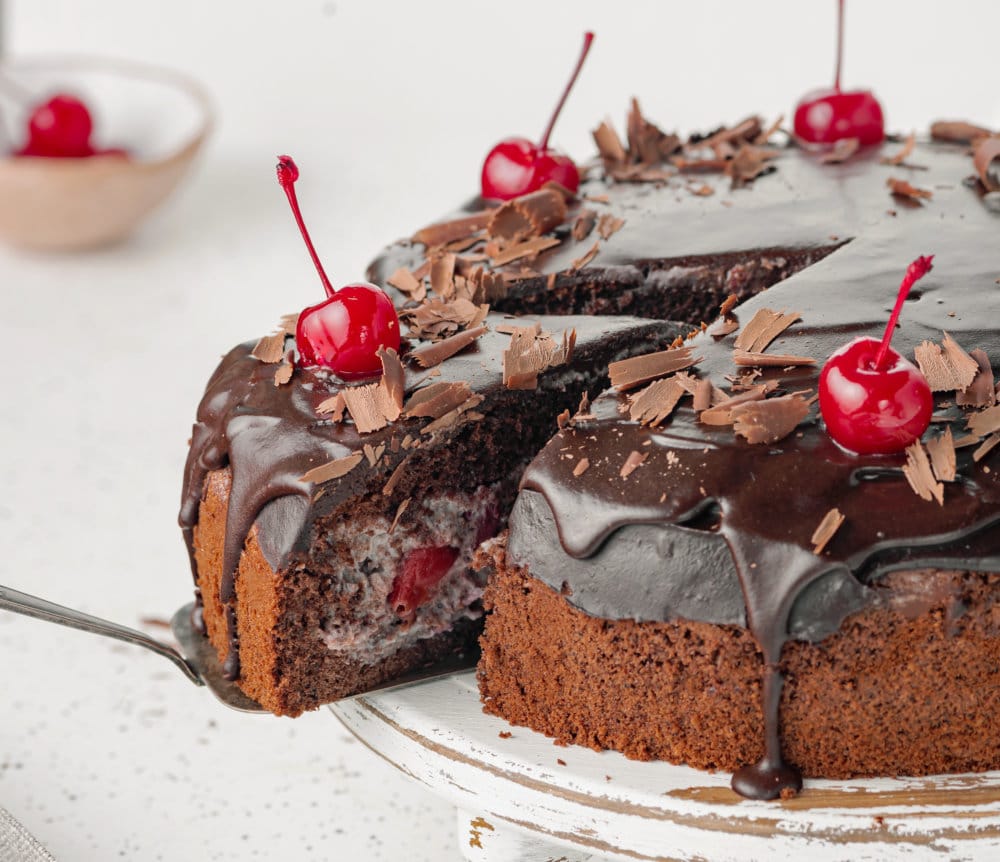 Okay, my loyal readers. I am love drunk. Or is it drunk in love? I am drunk in cherry cake love.
And I don't want to snap out of it. This drunken cherry cake with cream and chocolate is out-of-this-world delicious. It's a cake like no other cake. It's got all the right ingredients to hit your chocolate cravings. Plus, it's got wine. Oh yes. This cake is the real deal. You won't want to share.
What makes this drunken chocolate cherry cake? The luscious, juicy cherries are soaked in a beautiful red concord wine before being added into the cake.
Have I gotten your attention yet? This cake tastes as good as it looks. And I'm certain it'll be one you make over and over again.
Please excuse me while I wipe away my drool. I'm craving this scrumptious cake as I speak.
Tips to make the perfect drunken cherry cake
I've made this cake for years. It's a favorite amongst my family and friends and is the perfect dessert to make when you just don't want to take any chances with a group. This guy is always a hit.
I want to share my tips with you to ensure you get a perfect cake, every time.
Let those cherries soak! Give the cherries and wine some time to get properly acquainted
Use the liquid from the soaked cherries to add to the sides of the cake. This helps the cake from drying out.
Wait until the cake is cooled before adding the glaze. Otherwise, it'll just melt off. And you won't get that nice glossy sheen
This is definitely the cake you want to make for your next party! It'll win everyone over! Cheers to delicious desserts! Enjoy!
To make this cake, you will need:
eggs
sugar
cocoa
unbleached flour
baking powder
Now, for the cream:
sweetened condensed milk
cool whip
For the cherry mix:
Concord wine
cherry pie filling
For the chocolate glaze:
baking chocolate chips
butter
cocoa
milk
Chocolate desserts are the best kind of desserts. Enjoy these chocolate recipes:
These Gluten-Free Double Chocolate Muffins taste like you bought the at the bakery! They also make your home smell like amazing chocolate.
You can make an exquisite Creamy Chocolate Tart for any event ahead of time!
Equipment
Stand mixer

bowl

small bowl

hand mixer

Bread knife

Cake spatula
Ingredients
For the cake layers:
6

large

eggs

1

cup

sugar

3

Tbsp

cocoa

1

cup

unbleached flour

½

tsp

baking powder

3

Tbsp

concord wine

1

can

cherry pie filling
For the cream:
1

can

sweetened condensed milk

12

oz

Cool Whip

¼

cup

butter,

½ stick

1

Tbsp

cocoa

½

cup

milk

3

Tbsp

baking chocolate chips
Instructions
6 large eggs,

1 cup sugar

While eggs and sugar mix, in a separate bowl sift baking powder, flour, and cocoa together.

1 cup unbleached flour,

½ tsp baking powder,

3 Tbsp cocoa

Turn speed on mixer to the lowest and add in the flour and cocoa mix.

In a small bowl or shallow plate combine the can of cherries and 3 tablespoons of concord red wine (or another sweet wine). Let stand.

1 can cherry pie filling,

3 Tbsp concord wine

With a hand mixer, start mixing sweetened condensed milk.

1 can sweetened condensed milk

Add in the cool whip, beat for half a minute, and cream is done!

After the cake has risen, and taken out of the oven. Let it cool down for 5-10mins. With a bread knife cut half an inch of the top of the cake, try to make it even.

Take inside of the cake and put it in the cream bowl, leaving about half an inch of the sides and bottom.

From the cherry and wine, take the liquid part and spread it around the inside of the cake, (this will help this part of the cake not to get dry).*Leave some for the top

Cover the cake pieces well in the cream and start putting them back into the cake.

Take the cherries that have been in the wine and poke them into the cake (cream) all over.

Add in any cream you have left, and spread evenly with a knife.

Spread the rest of the cherries and liquid into the cream and put the cake top back on.

In a bowl melt 1/2 stick of butter and add 1/2 cup of milk, and 1 Tablespoon of cocoa. Combine.

¼ cup butter,,

½ cup milk,

1 Tbsp cocoa

As soon as you take it out of the microwave, add chocolate chips, and combine quickly. (you could also do this on the stove in a saucepan if you prefer).

3 Tbsp baking chocolate chips

Pour the glaze on the cake.

Let stand in the refrigerator until ready to serve!
Nutrition
Calories:
525
kcal
|
Carbohydrates:
76
g
|
Protein:
10
g
|
Fat:
21
g
|
Saturated Fat:
12
g
|
Polyunsaturated Fat:
1
g
|
Monounsaturated Fat:
6
g
|
Trans Fat:
1
g
|
Cholesterol:
151
mg
|
Sodium:
165
mg
|
Potassium:
388
mg
|
Fiber:
2
g
|
Sugar:
47
g
|
Vitamin A:
767
IU
|
Vitamin C:
3
mg
|
Calcium:
204
mg
|
Iron:
1
mg