Gluten Free

Nut Free

Sugar Free

Vegetarian
Crispy Tofu Salad with Creamy Tahini Dressing
Crispy Tofu Salad with a creamy tahini dressing makes this salad a new favorite for vegans and vegetarians. It's one of my favorite tofu recipes that I'm happy to finally share with you!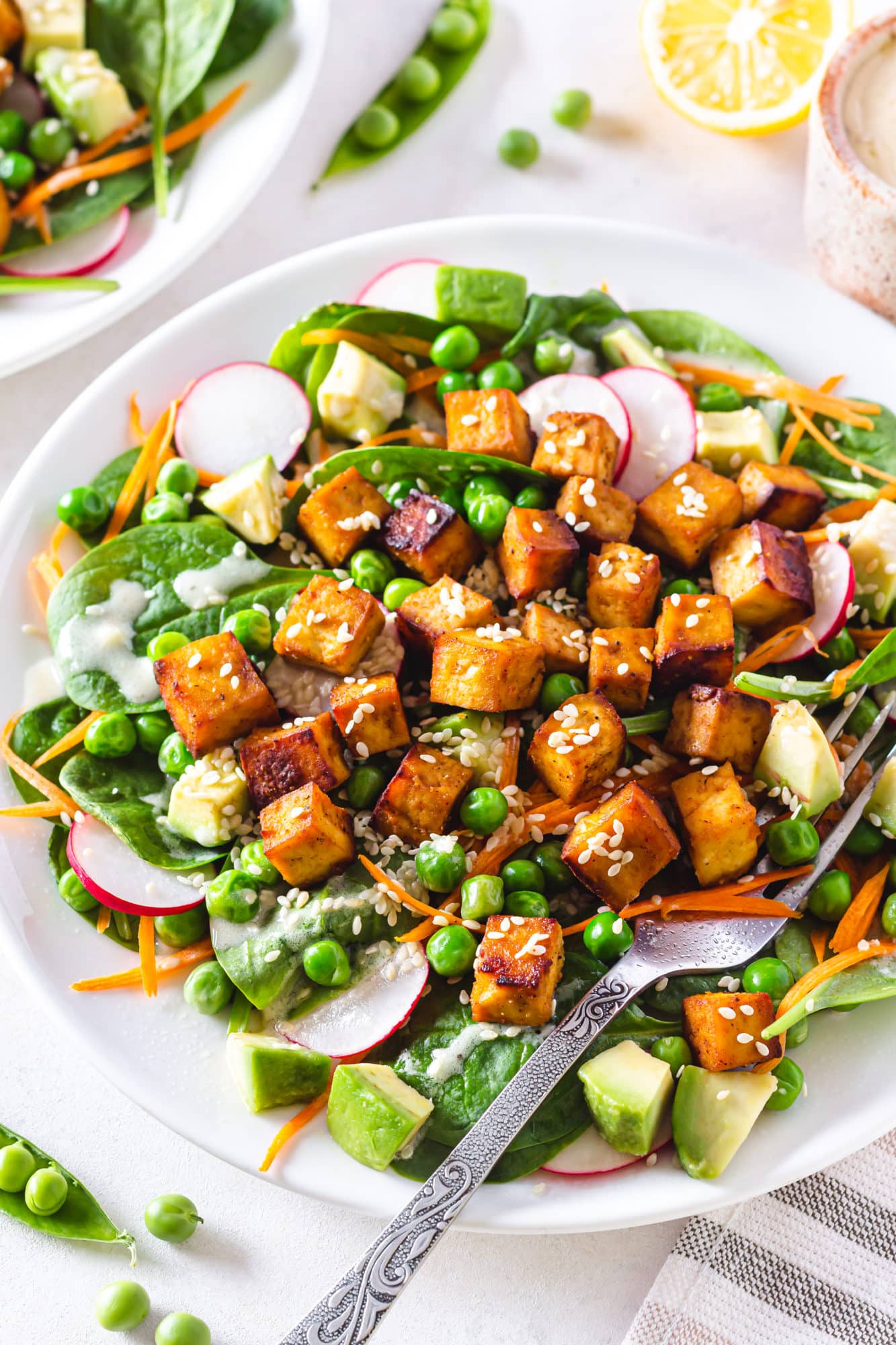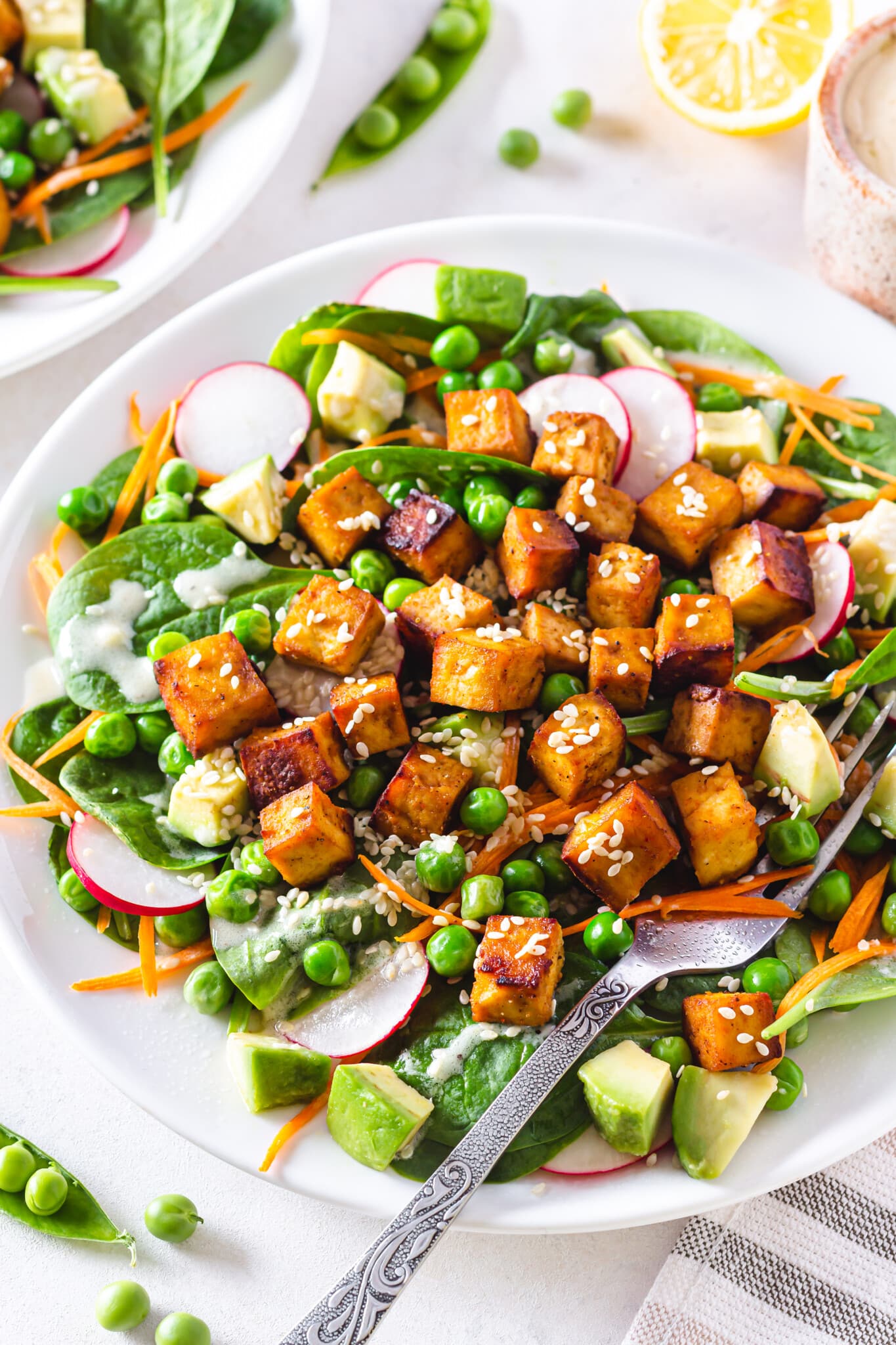 If you tried the baked feta cheese trend, this baked tofu shouldn't be a problem, it actually can be a solution for vegans. Some extra firm tofu combined with spices, soy sauce, (garlic powder if you'd like some extra flavor), and salt is a great way to try out the new trends without compromising your diet or lifestyle. While the feta cheese may have turned out soft, this crispy baked tofu makes the best kind of meal: a crunchy and flavorful one!
Tofu is so easy to work with in the kitchen.
Tofu is one of the easiest and most versatile ingredients to cook. You don't have to check for it's internal temperature to kill of bacteria or have to take any special preparation measures. All you get to do is to add the flavor that you'd like to taste in it and then take care of cooking it however you'd like! Whether you like to add garlic, pair it with Brussels sprouts, or make a rice noodles and tofu dish, fried tofu, marinated tofu, any kid you like pairs well as a great protein option with fresh vegetables.
One important thing to remember with tofu is that you don't want it to have excess water from the package so you'll need to press tofu to get the excess water out with paper towels. Having less water in your tofu pieces helps for them to turn out crunchy. Making tofu in the air fryer is also a great option along with baking. It makes a good option to enjoy with other side dishes as well, if you're making a different recipe.
What is tahini?
This power bowl salad has the most flavorful tahini sauce dressing. If you like to make hummus, you'll be familiar with this ingredient, since it's commonly used to add in so much flavor to recipes. Tahini itself is made of ground sesame seeds so it's a sesame butter paste, so essentially this tahini dressing is a flavorful sesame dressing! It's the easiest way to add flavor to your favorite foods and is a great way to keep this salad vegan, too.
What is in the salad portion of this recipe?
With iron-rich spinach, radishes, vitamin A-filled carrot, an avocado rich in healthy fats, and green peas, this salad does not lack in benefits. These are just a few that I've mentioned. The crunchy veggies just add more pleasing textures to this salad, especially with the smooth tahini dressing. This s a good recipe to add to your meal rotation and into your grocery shopping list, too. This main dish salad is so rich in benefits you'll be blown away.
So here's what you'll need to make this delicious tofu salad:
Tofu of course! You'll need to bake it for this crispy tofu bowl.
Tahini dressing has simple on-hand ingredients that are easy to put together or find in the grocery store.
Spinach is rich in iron.
Radishes are rich in calcium and vitamin C.
Carrots are rich in vitamin A and support eye health.
Avocados are rich in healthy fats and make meal prep fun. I love adding creamy avocados to my buddha bowls!
Green peas are rich in vitamin E and zinc.
Sesame seeds add the cherry on top to this salad. You'll need a quick sprinkle of a single layer and you'll be good to go. I love sesame seeds, they are perfect for simple salads.
Enjoy some more protein filled recipes from the blog:
Quick and Easy Chicken Soup with Tortillas is authentic, spiced, and loaded with chicken!
A quick Chicken with Mushrooms in Tomato Sauce dish is great for meal prep, dinner, or a weeknight meal.
Crispy Tofu Salad with Tahini Dressing
Crispy Tofu Salad with a creamy tahini dressing makes this salad a new favorite for vegans and vegetarians. It's one of my favorite tofu recipes that I'm happy to finally share with you!
Rate
Print
Save
Saved!
Pin
Ingredients
For the salad:
1

block

tofu

(12 ounces)

1

package

spinach

(5 ounces)

4

small

radishes

1

medium

carrot

(or 2 small carrots)

1

ripe

avocado

⅓

cup

green peas

2

Tbsp

sesame seeds
Marinade ingredients:
2

Tbsp

soy sauce

2

Tbsp

olive oil

1

tsp

honey

½

tsp

black pepper

½

tsp

paprika

salt

to taste
Tahini Dressing:
3

Tbsp

tahini

1

Tbsp

lemon juice

1

Tbsp

olive oil

2

tsp

honey

2

Tbsp

water

1

clove

garlic

⅓

tsp

black pepper

1

tsp

salt
Instructions
Prep Ingredients
Drain the tofu with a paper towel and cut it into small cubes.

Mix all the ingredients for marinade – olive oil, soy sauce, honey, paprika, salt and pepper.

2 Tbsp soy sauce,

2 Tbsp olive oil,

1 tsp honey,

½ tsp paprika,

salt,

½ tsp black pepper

Place tofu into a bowl and pour the marinade over it. Gently stir. Let the tofu marinate for about 30 minutes.

Spread the tofu cubes in a baking sheet, covered with parchment paper, and arrange it in an even layer. Preheat the oven to 400F.

Bake the tofu for about 20-25 minutes until it turns golden brown and crispy.

Slice radishes and dice avocado (sprinkle avocado with lemon juice to keeps It from browning).
Tahini Dressing
Combine 3 tbsp tahini, 1 tbsp lemon juice, 1 tbsp olive oil, 2 tsp honey, 2 tbsp water, 1 clove of garlic, ⅓ tsp black pepper, 1 tsp salt

3 Tbsp tahini,

1 Tbsp lemon juice,

1 Tbsp olive oil,

2 tsp honey,

2 Tbsp water,

1 clove garlic,

⅓ tsp black pepper,

1 tsp salt
Arrange Salad
Place spinach on a serving plate.

Spread all the veggies over spinach. Sprinkle with tahini dressing.

4 small radishes,

1 medium carrot,

1 ripe avocado,

⅓ cup green peas

Top it with baked tofu and sprinkle with sesame seeds. Add more dressing on top. Enjoy!
Nutrition
Calories:
1199
kcal
|
Carbohydrates:
146
g
|
Protein:
49
g
|
Fat:
52
g
|
Saturated Fat:
7
g
|
Polyunsaturated Fat:
11
g
|
Monounsaturated Fat:
31
g
|
Sodium:
2268
mg
|
Potassium:
1270
mg
|
Fiber:
23
g
|
Sugar:
28
g
|
Vitamin A:
12133
IU
|
Vitamin C:
78
mg
|
Calcium:
529
mg
|
Iron:
15
mg