Dairy Free

Gluten Free

Nut Free

Vegan

Vegetarian
No Cooking Freezer Raspberry Jam Recipe
Can I Use Frozen Berries?
No, the taste and texture of this raspberry jam just won't be the same.
Could I Use Other Fruit?
Yes. I also use strawberries or blackberries to make a quick freezer jam.
How much sugar do you need to make jam?
In making this recipe, the amounts depend on how many raspberries you have. For every cup of raspberries, you'll want to use ½ cup of sugar. Of course, you can change that if you want a more sweet, or less sweet raspberry jam. More cups of berries will equal more cups of sugar. To start with, I just put 1 cup of raspberries and half a cup of sugar, but if you'd like to make more or less you can use the simple formula to fit your amount of raspberries! If you generally enjoy your treats to be a bit less sweet, don't hesitate to put less sugar into this jam.
How To Store Raspberry Jam?
You're only 2 ingredients away from this delicious raspberry jam. Storing it in your freezer can last you for up to a year in an airtight container.
How long does jam last in the freezer?
Jam in the freezer can last up to a year.
Here's a quick and easy raspberry freezer jam recipe that you don't need to stand over. It may not be your traditional jam, but it's a no-hassle freezer jam recipe that can be stored for months in your freezer. Every time you crave it, you can just pull it out, defrost, and enjoy.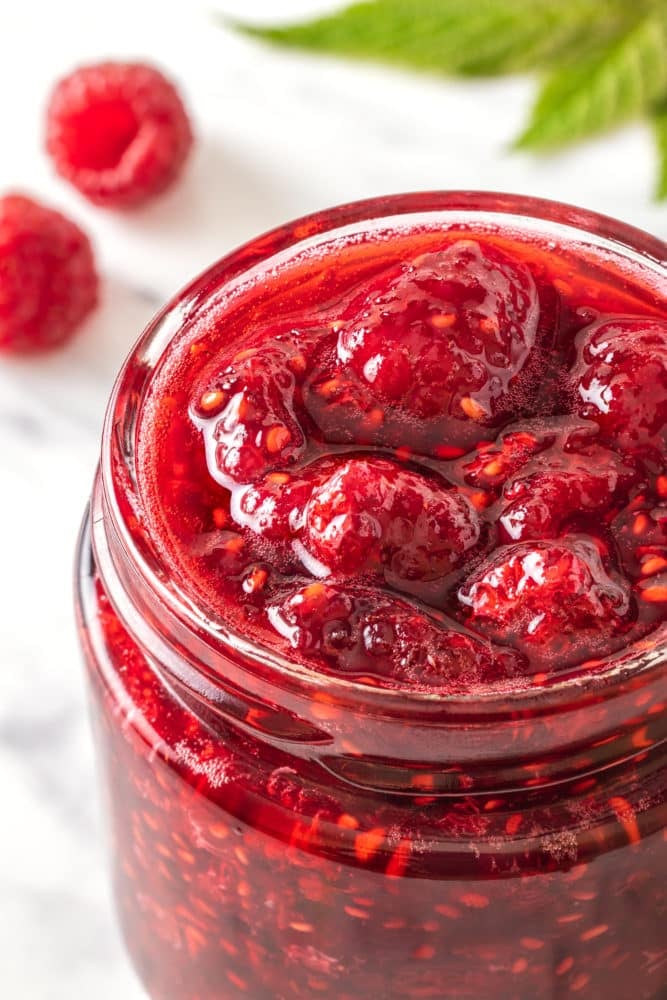 Raspberry Benefits
Raspberries are slightly sweet but have a great tangy flavor.
They're low in calories
Raspberries can be high in fiber!
These sweet fruits are jam-packed with antioxidant (pun intended).
Ingredients for a raspberry freezer jam recipe
There are only two, and they're the kind that are super easy to find:
Fresh raspberries. Because there's no raspberry jam without pints of fresh raspberries!
Sugar. Because the sweetness is always appreciated. You'll need about a half cup of sugar.(Substitute monk fruit for a keto-friendly jam).
Why You will Love this Fresh Raspberry Jam Recipe
No added pectin.
Lasts up to a year in the freezer.
No cooking involved. Easy recipe.
Tastes amazing.
Kids love this jam! (Actually, the entire family enjoys it. It's a win.)
You can add sugar as much as you want, or as little – you control that.
Raspberry jam literally could not get easier than this.
No stove required. No pans to be washed. No sticky residue that you have to wash.
An easy raspberry jam recipe with no dishes? Count me in. Count my kids in, my whole family. It's easy enough for kids to make, and is a great first recipe for them to try out and even succeed at with no effort.
Are you amazed yet? This is my go-to recipe when I want raspberry jam without putting in the work. Any regular jam is this easy. This really is the easiest way to make it! Fresh fruit plus sugar equals a delicious jam and a great recipe. Absolute perfection!
All you have to do is mash raspberries with a perfect amount of sugar. Then, let them stand for an hour. Pour into freezer-friendly containers and freeze. This delicious recipe is barely a recipe since it's just two ingredients and an easy task. Making jam hasn't been easier.
If you're waiting for more instructions, don't. Because that's literally all you have to do. Oh, you're welcome..
The easy part is done, now let's talk about how to enjoy this homemade jam recipe.
Whenever I get my hands on a big batch of raspberries, I turn them into homemade raspberry jam. Yes, we're a jam family. You'll always find a jar or two on our table.
Enjoy it with a cup of tea.
Heat up this traditional recipe and serve hot jam over ice cream. There's nothing like the fresh raspberry flavor of… raspberries, of course.
Add it to homemade crepes.
Use it in a recipe like jam-filled bars.
No fresh berries in the house, and you want some fruit with your french toast? Consider this homemade jam your lifesaver. A small amount goes a long way!
A slice of homemade bread looking lonely? Look no further than this jam. Making your own jam and your own bread? I consider this snack a success.
Pun intended. Fresh berry season calls my name in so many ways, and small batch jams are one of the simple ways I love to enjoy it. This particular recipe is one of my favorites because it's one of my mom's jam recipes. Also, it is very easy to make, literally feels like I didn't do any work to make it. It kind of just appears! It is definitely a hands-off recipe. It's my favorite way of making an amazing raspberry jam so I hope you love it as much as I do.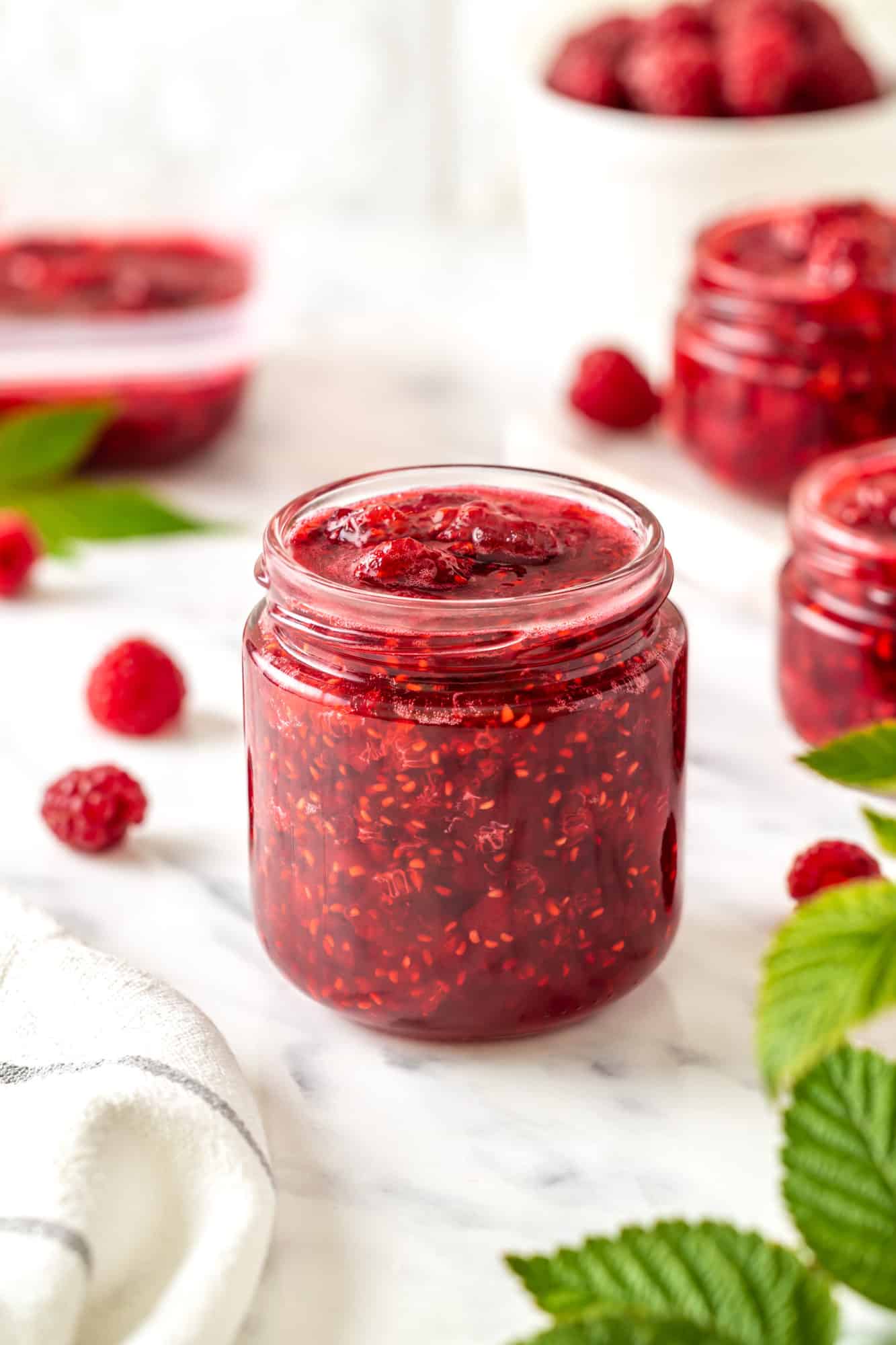 Check out these other raspberry recipes:
I love making these Easy and Sweet Crumbled Jam Bars (tertiy pirog) in the summer!
Fancy desserts don't have to be difficult to make. With this Step by Step Basic Macaron Recipe with Raspberry Jam, you can make it right at home.
No cook freezer raspberry jam
Here's a quick and easy raspberry freezer jam recipe that you don't need to stand over. It may not be your traditional jam, but it's a no-hassle freezer jam recipe that can be stored for months in your freezer. Every time you crave it, you can just pull it out, defrost, and enjoy.
Rate
Print
Save
Saved!
Pin
Equipment
Air-tight plastic containers

bowl

Potato masher
Ingredients
1

cup

fresh raspberries

washed

½

cup

sugar
Instructions
Wash your fresh raspberries. (Throw the bad ones away that you might have picked.)

Into a large bowl, add 1 cup of washed raspberries and 1/2 cup of sugar. Or you could first count how many cups of raspberries you have and then add in the sugar. The ratio I use is 1 cup of raspberries to 1/2 cup of sugar.

With a potato masher squish the raspberries, mixing them with the sugar. (I like to have some whole raspberries, so I smash a little and then just mix with a spoon.)

After an hour, pour into plastic containers, and put in the freezer. Then just defrost when you are ready to eat it.
Notes
In adjusting this recipe, I recommend that for each cup of fresh raspberries you add 1/2 cup of sugar.
Nutrition
Calories:
224
kcal
|
Carbohydrates:
57
g
|
Protein:
1
g
|
Fat:
1
g
|
Saturated Fat:
0.01
g
|
Polyunsaturated Fat:
0.2
g
|
Monounsaturated Fat:
0.04
g
|
Sodium:
1
mg
|
Potassium:
92
mg
|
Fiber:
4
g
|
Sugar:
53
g
|
Vitamin A:
20
IU
|
Vitamin C:
16
mg
|
Calcium:
16
mg
|
Iron:
0.4
mg