Dairy Free

Nut Free

Vegetarian
Easy and Sweet Crumbled Jam Bars (tertiy pirog)
Sweet, crumbly, deliciously juicy, fruity jam bars. Everything you want in a dessert.
I'm all about multi-textured desserts. Ooey gooey on the inside, crispy-crumbly on the outside. And this one delivers just that. The perfect bite. Every bite.
Packed with delicious strawberry jam and cushioned with a crumbly pastry, these Russian bars make a great dessert or the perfect pick-me-up the next morning.
These crumbled jam bars are unique because of the grated pastry. Once your dough is formed, you'll want to freeze half of it to use right before baking. After the layers of your pastry and jam, you'll grate your frozen pastry right on top. This will give your bars not only a fantastic look, but also that amazing texture we talked about.
Let's talk ingredients
There really isn't much to the dough. It comes together fairly easily. You'll want to beat the flour, butter, and baking soda in one bowl; combine the egg, sugar, lemon juice, and sour cream in the other.
Sour cream is the superstar in this pastry. I know what you're thinking. "Sour cream in pastry dough? Why would you add that?" Hear me out though:
Sour cream helps provide moisture to the dough while being surrounded by fat – from both the sour cream and the butter. The result? A beautifully tender dough. It makes all the difference.
Jam. Oh how I love jam. And how I can switch out the jams for these bars. This recipe lists organic strawberry jam but almost any jam could work here. Apple, raspberry, blueberry, even apricot. Pick your favorite.
You seriously don't want to skip out on these jam bars. I'm confident your family will love these just as much as mine.
My sister suggested I ask my mom for the recipe of jam bars (we call it tertiy pirog). Well, I finally got around to make the recipe, and it's delicious. Tertiy pirog is basically a soft thin layer of dough on the bottom with a spread of your favorite jam and grated dough on top. It's very simple and quick to make so here it is! You will love it!
Here's what you'll need to make this recipe:
sugar
unsalted butter
egg
unbleached flour
baking soda
lemon juice
sour cream
fruit jam (I used organic strawberry)
powdered sugar
Looking for sweet recipes? Check out these tasty options:
This Easy and Sweet Honeyed Quinoa Fruit Salad is a great way to start your day, or to enjoy as a lunch.
This Easy and Refreshing Sweet 2 Ingredient Weight Loss Smoothie with Citrus is loaded up with vitamin C!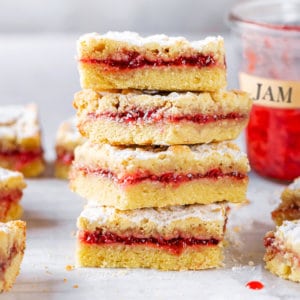 Easy and Sweet Crumbled Jam Bars (tertiy pirog)
Sweet, crumbly, deliciously juicy, fruity jam bars. Everything you want in a dessert.
Rate
Print
Save
Saved!
Pin
Equipment
bowl

hand mixer

Cake spatula

Pans
Ingredients
½

cup

sugar

2

sticks

unsalted butter,

softened, 1 cup

1

large

egg

2½

cups

flour,

unbleached

½

tsp

baking soda

½

tsp

lemon juice

2

Tbsp

sour cream

1

cup

fruit jam,

I used organic strawberry

¼

cup

powdered sugar
Instructions
In a small bowl, beat together 1 large egg, 1/2 cup of sugar, 1/2 teaspoon of lemon juice, and 2 Tablespoons of sour cream for 2 minutes.

In a separate bowl on low speed beat together 1 cup of softened unsalted butter (2 sticks) with 1/2 teaspoon of baking soda and 2 1/2 cups of flour until everything is mixed. It will be clumpy from the butter, that is normal.

Combine the sugar and flour mixes together. With the help of your hands, mix the dough together until it forms into a ball. The dough will be soft and easy to work with.

Divide the dough in half. Take one half and place in the freezer for 15 minutes.

Preheat your oven to 350F. Spray or butter up your pan if you need to. (I use ceramic so it doesn't stick.) You could also use a glass dish.

Take the other half of dough and spread it on the bottom of a half sized baking sheet.

On top of the dough spread 1 cup of jam.

After 15 minutes, take out the dough from the freezer and grate it onto the jam.

Put in oven for 20 minutes. The top will start to brown up, that means it's ready!Let it cool down. Sift powdered sugar on top and cut into squares.
Nutrition
Calories:
216
kcal
|
Carbohydrates:
30
g
|
Protein:
2
g
|
Fat:
10
g
|
Saturated Fat:
6
g
|
Polyunsaturated Fat:
1
g
|
Monounsaturated Fat:
3
g
|
Trans Fat:
1
g
|
Cholesterol:
33
mg
|
Sodium:
38
mg
|
Potassium:
37
mg
|
Fiber:
1
g
|
Sugar:
15
g
|
Vitamin A:
302
IU
|
Vitamin C:
2
mg
|
Calcium:
11
mg
|
Iron:
1
mg