Dairy Free

Gluten Free

Nut Free

Vegetarian
How to Make Fruit Juice (Homemade!)
Today we're going to learn how to make fruit juice at home and without a juicer! This simple method will open up a new world where you can make your own homemade fruit juice without all of the sugars and additives that come with storebought. Just pop it in some mason jars, slip it in your fridge, and you have a delicious kid-approved juice ready to go!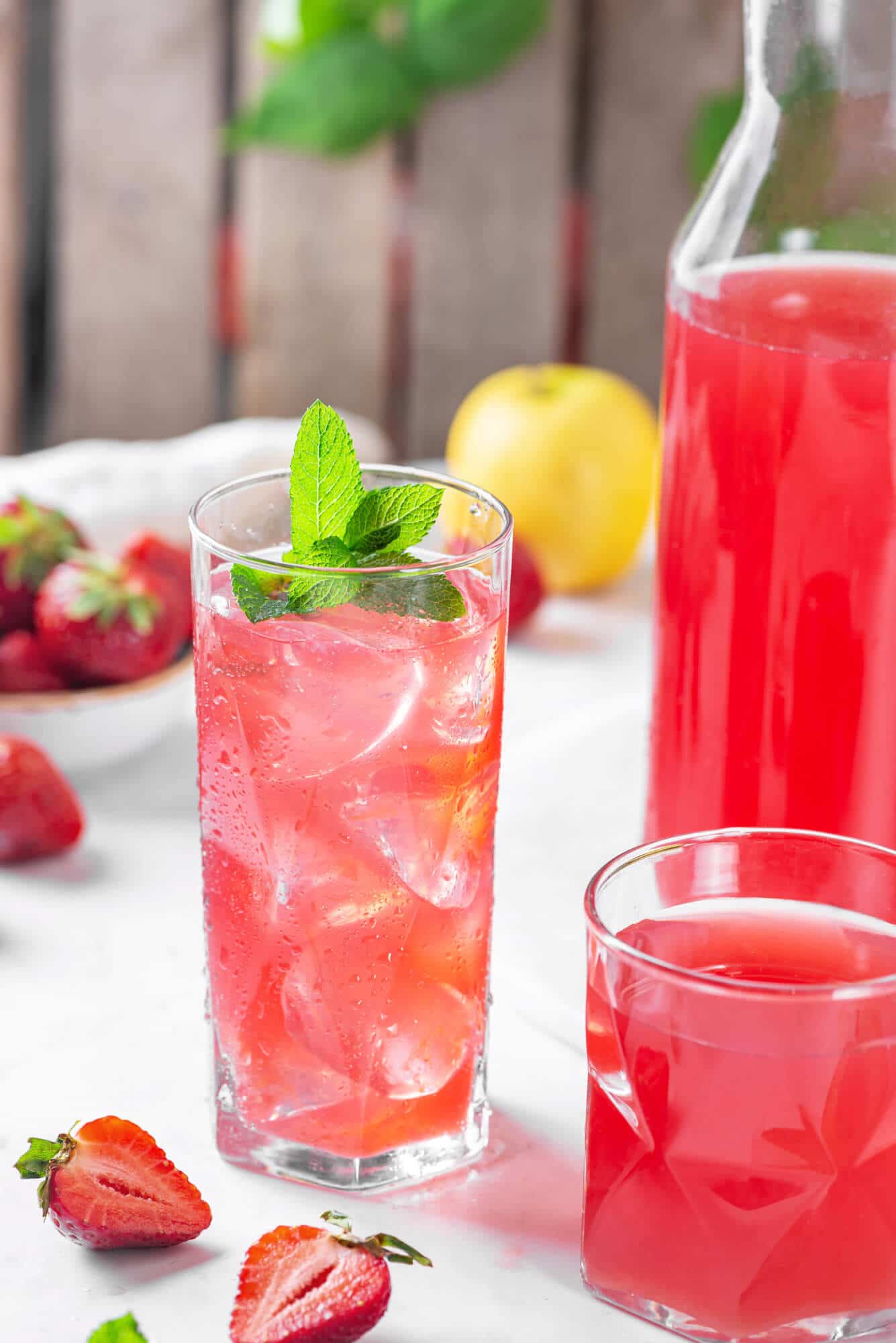 Why This Homemade Fruit Juice is So Good
If you're anything like me, you read food labels and are astonished to discover what goes into foods mostly targeted toward children. Juice is especially chock full of sugar and high fructose corn syrup – but the worst part is that there's barely any actual fruit juice in there!
That's why I had to create a simple recipe for you to make at home! Don't be intimated, it's so simple that you don't even need any additional equipment like a juicer. It stores in your fridge just fine, and you don't have to worry about your family throwing back juice like it's their job!
This method on how to make fruit juice will give you a great way to get in more fruits! And the best part? You get to control the amount of sugar going in!
Key Ingredients to Make Any Kind of Fruit Juice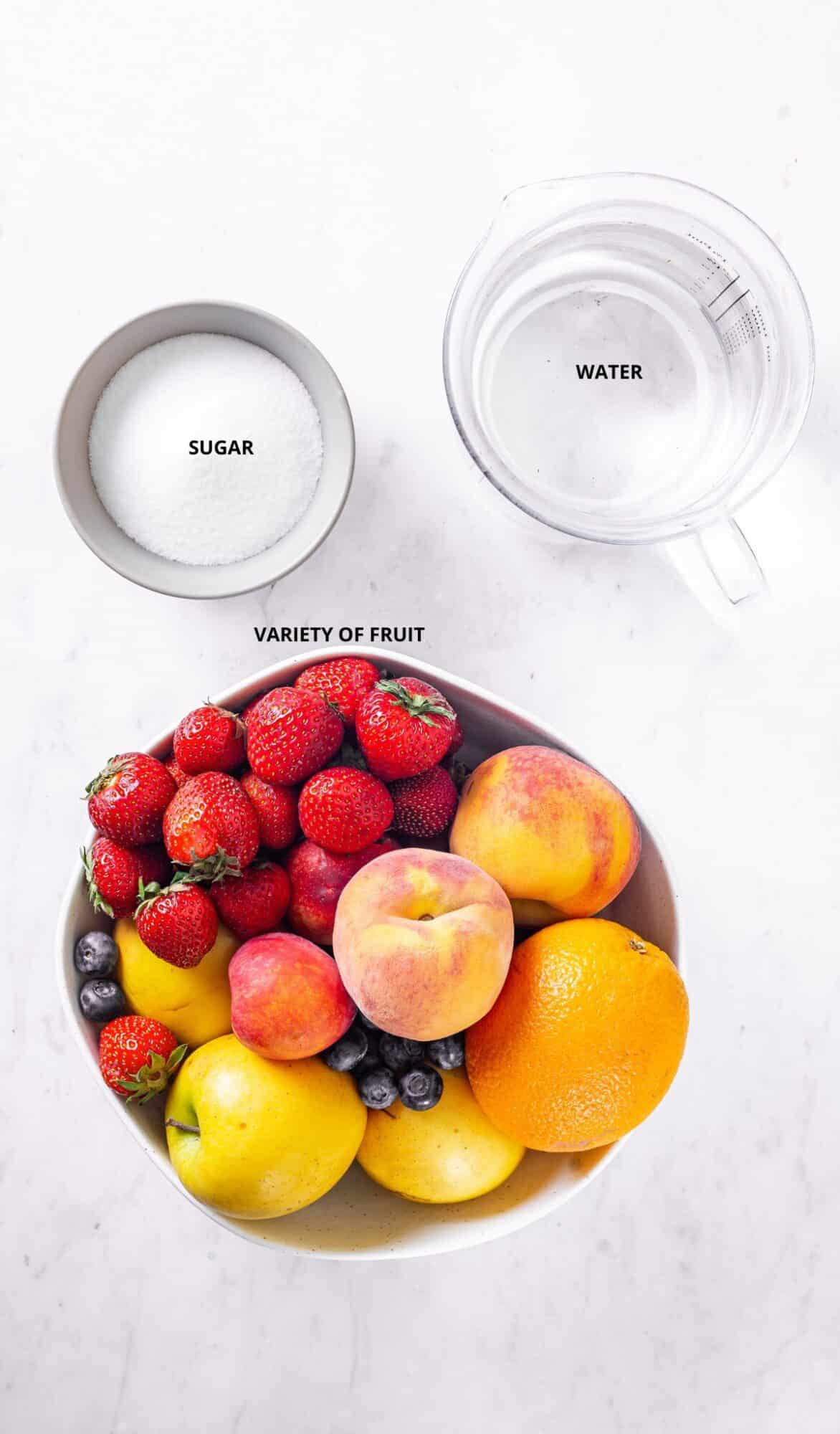 Fruit – Enough to fill 1/3 of the pot
Sugar – To taste
Water
Find the full printable recipe with specific measurements below.
Homemade Juice Combinations
So what goes into this homemade fruit juice? Well, the chef's choice.
You get to add whichever fruits you like best or have on hand.
Most combinations work just fine. But if you're asking me? I like a combination of…
Citrus fruits – for a tangy flavor that hits the right spot
Sweet fruits – to reduce the amount of artificial sugar,
Dark-colored fruits, like berries – to enhance the flavor profile.
Whatever you decide to go with, I'm sure it will be delicious and way healthier than the ones on the shelf!
Instructions on How To Make Fruit Juice
Step 1: Fruit in Pot
Put your choice of fruit in a large pot with water.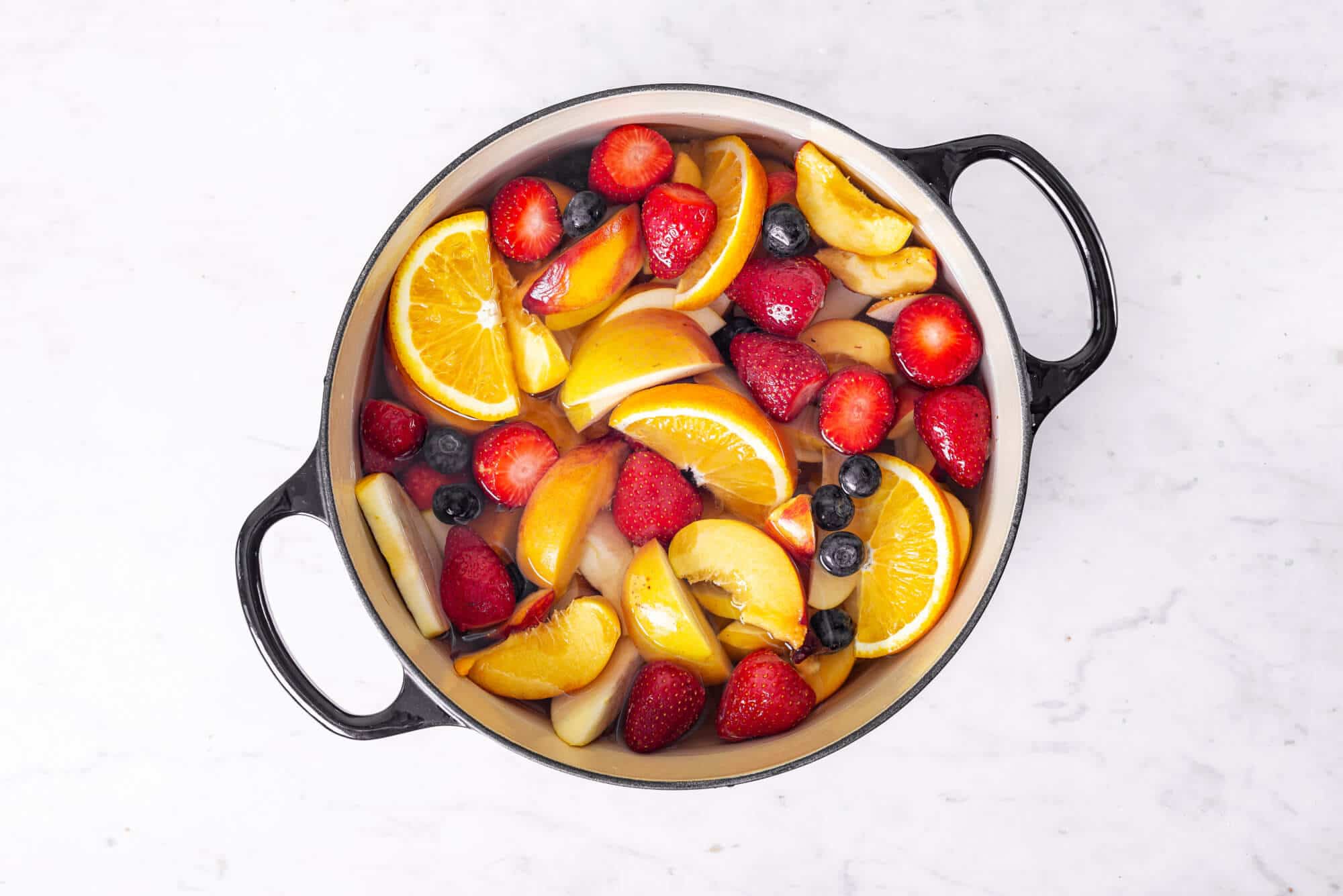 Step 2: Boil
Bring the pot of fruit and water to a boil.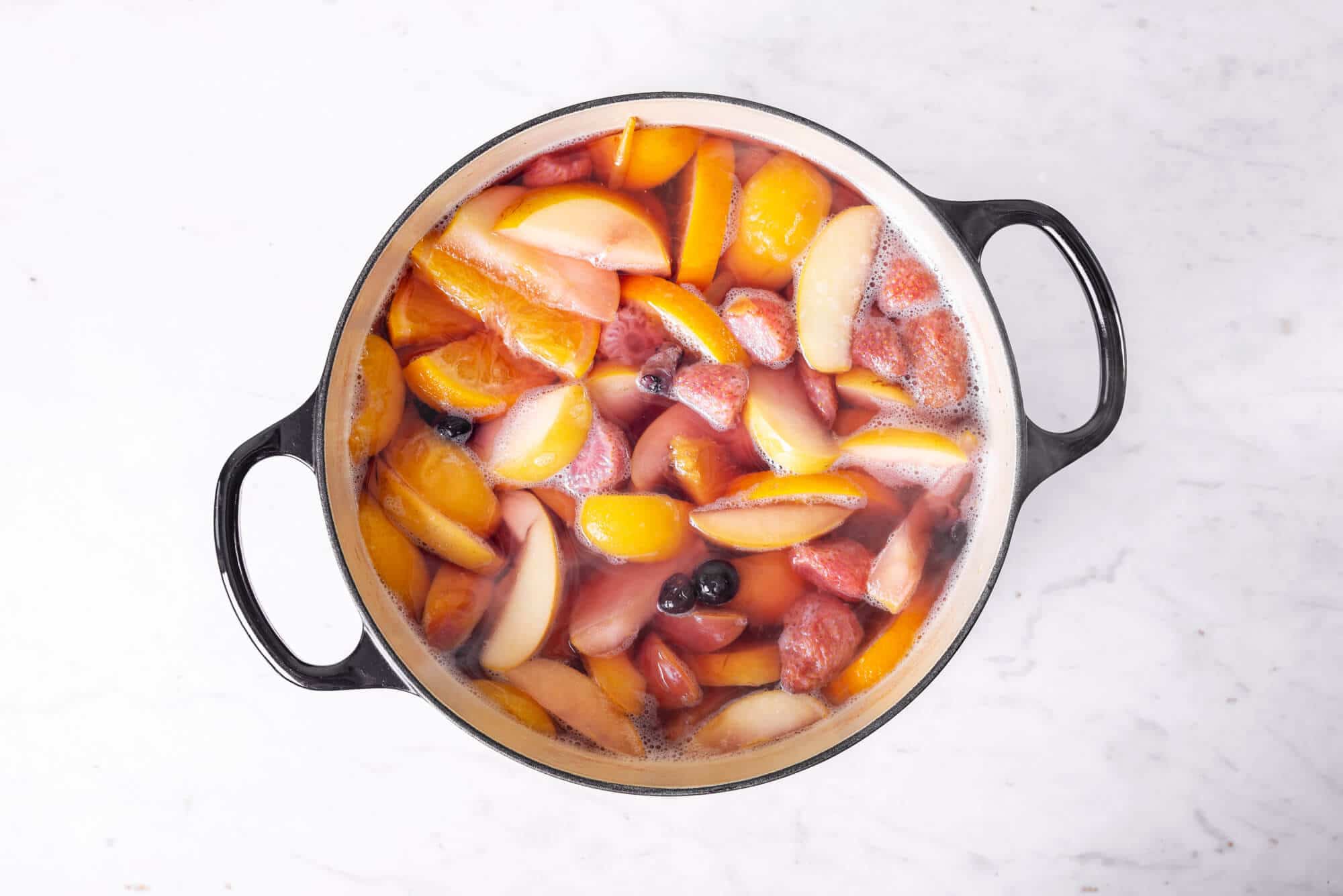 Step 3: Sugar
Once the juice starts boiling, allow it to boil for five more minutes, and then turn it off. Stir in the sugar a little bit at a time. Taste before you add more sugar to be able to control how sweet your juice is. Be careful, it might be hot!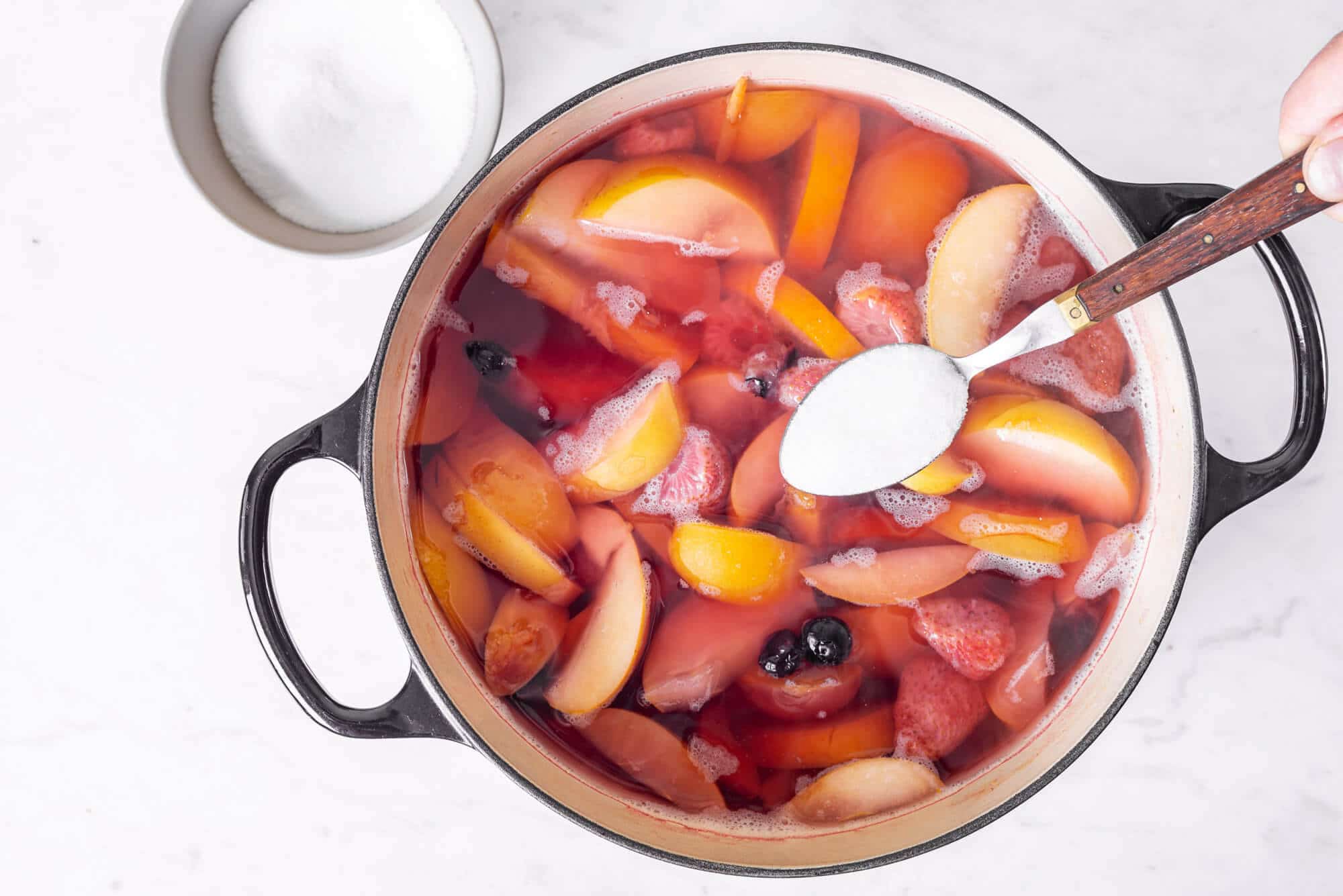 Step 4: Strain and Enjoy
Allow the juice to cool and then strain it into pitchers or storage jars of your choice. You can either throw out the fruit pieces, add them to your compost, or leave some in the juice!
FAQs
Is it healthy to make your own fruit juice?
Yes because you can control the amount of sugar and you get the benefits of every part of the fruit which then means your juice contains more nutrients and fiber.
How long does homemade fruit juice last?
You can keep it in an airtight container in the refrigerator for a few days, but you can also freeze it if you'd like and that way it can last for a few months!
Can I put a banana in my juice?
I definitely wouldn't recommend it because if you think about it, bananas aren't juicy! While we love the flavor of bananas, we probably wouldn't like the texture of bananas made into juice. However, you can blend your juice with banana and some additional ingredients to create a yummy smoothie!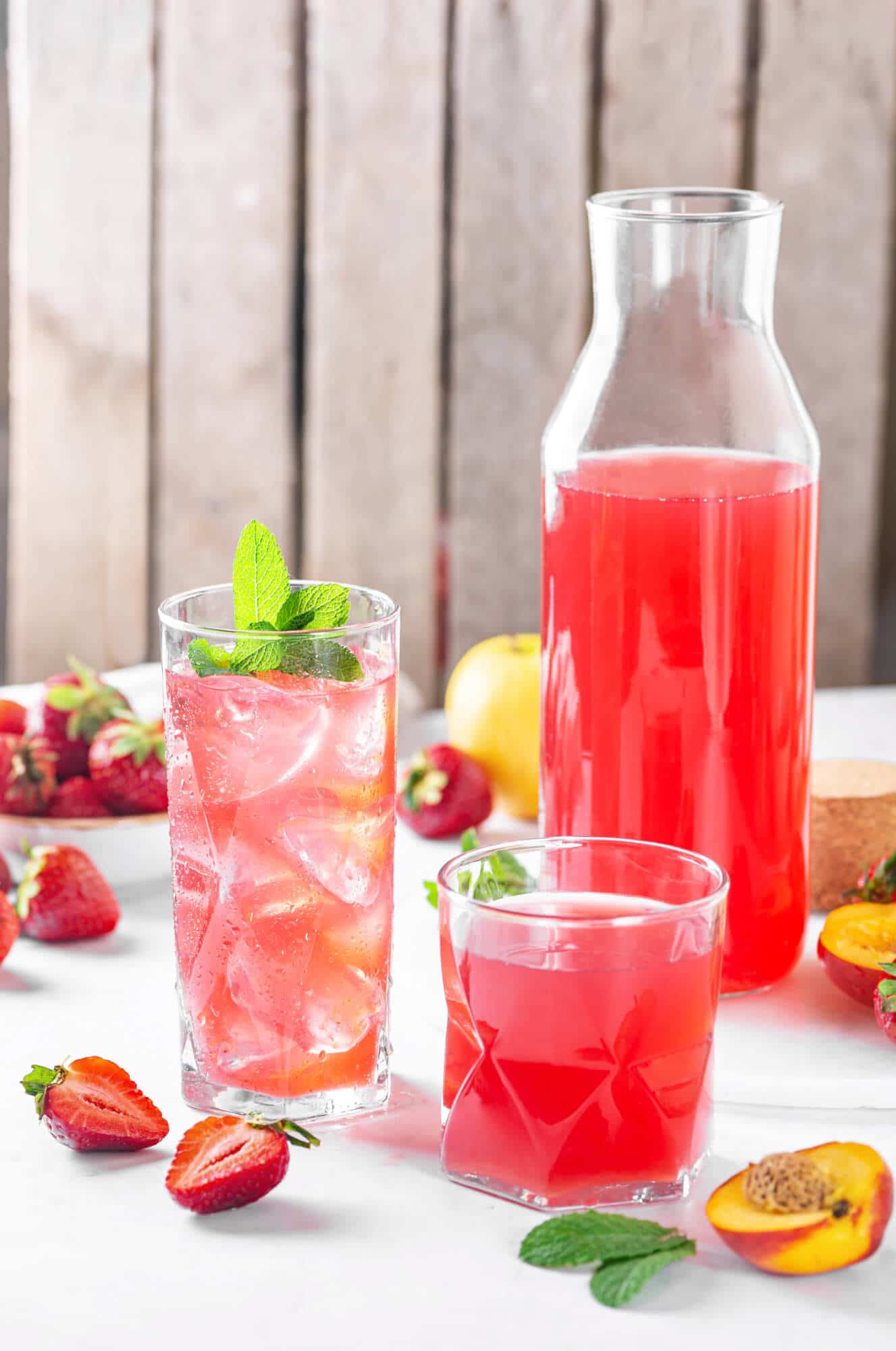 Ways to Enjoy Homemade Juice
Drink it on its own over ice, of course!
Add it to a smoothie.
Make a cocktail.
Mix it with sparkling water, tonic, or seltzer for a delicious mocktail.
Add it to salad vinaigrette.
Make ice cubes or popsicles out of it.
More Juice Recipes To Try
Other Refreshing Color Fruit Drinks
If you tried this How to Make Fruit Juice (Homemade!) or any other recipe on my website, please leave a 🌟 star rating and let me know how you enjoyed it in the📝 comments below. I love hearing from you!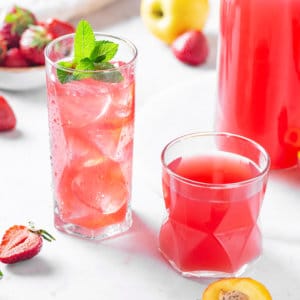 How to Make Fruit Juice (Homemade!)
The great thing about homemade fruit juice is that you know exactly what's in your cup and you can adjust the sweetness and fruit to your liking.
Rate
Print
Save
Saved!
Pin
Ingredients
fruit,

enough to fill ⅓ of the pot

sugar,

to taste

water
Instructions
Put your fruit and water into a large pot. I would suggest you use citrus, dark fruits, and sweet kinds of fruit all together; but any combination will be great!

As soon as the juice starts boiling, wait 5 more minutes, turn it off, and stir in the sugar. Add a little at a time, and taste before you put more sugar in; especially if you don't like sweet juices. Caution: it could be hot!

There is your homemade juice! Let it cool, then strain the juice into pitchers. The fruit you could either throw out or could leave some in the juice!
Notes
For a healthier option substitute sugar for agave or honey to taste.
Use any fruit that is in season, or frozen. Mix dark with citrus for great flavors.
Nutrition
Calories:
93
kcal
|
Carbohydrates:
24
g
|
Protein:
1
g
|
Fat:
1
g
|
Saturated Fat:
1
g
|
Sodium:
6
mg
|
Potassium:
105
mg
|
Fiber:
2
g
|
Sugar:
20
g
|
Vitamin A:
358
IU
|
Vitamin C:
3
mg
|
Calcium:
6
mg
|
Iron:
1
mg