Dairy Free

Gluten Free

Nut Free

Vegan

Vegetarian
30 Minute Vegetable Soup All-in-one Pot
Can I Use vegetable stock instead of vegetable broth?
Yes, you can. Feel free to use chicken stock and chicken broth too.
Can I use ground garlic instead of fresh garlic?
No, a clove of fresh minced garlic is best for this hot soup recipe.
How can I make a chunky soup to be blended?
After the soup has been cooked, and soup cools down, with an immersion blender, blend till smooth for a creamy vegetable soup.
How to store leftover soup?
Depending how much you have left, store soup in a smaller soup pot or saucepan in the refrigerator. Alternatively, you could transfer it into an airtight container and store it in the fridge to reheat the next day for a healthy lunch.

No matter the time of year, for me it's always soup season. If you feel the same way, grab a loaf of crusty bread to accommodate this delicious soup made all in one pot, perfect for busy weeknights. This All in one pot vegetable soup is made with hearty vegetable broth, garlic, onion, carrots, pepper, celery, beans, juicy tomatoes, green cabbage and Italian parsley to garnish. What a great way to start the school year!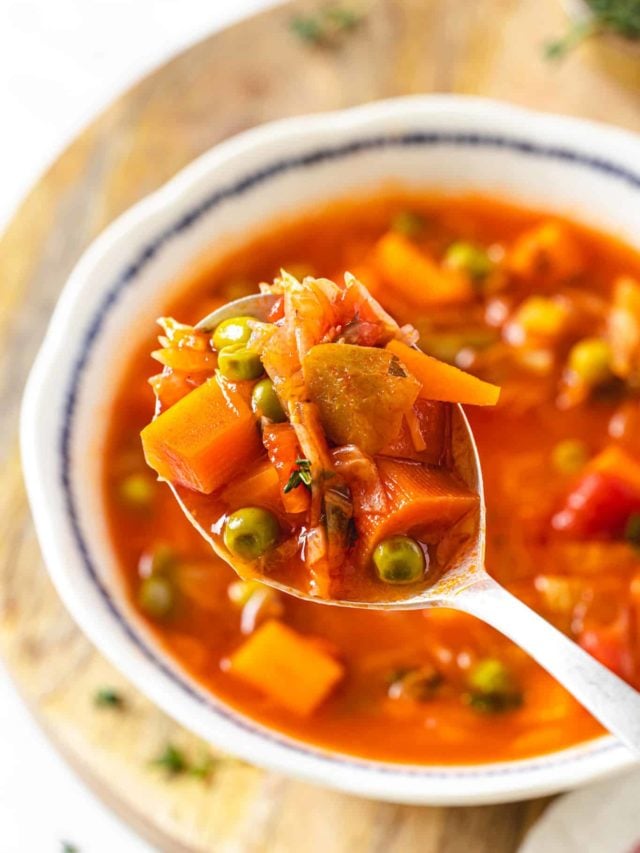 Filling you with the benefits you need for the winter months, a bowl of soup is rich and so beneficial! I have tried many different versions of veggie soups, but nothing compares to my mom's version, and for good reason. Full of healthy veggies, with herbs, and spices all in large stockpot.
Veggie soup may not be as popular with kiddos. Making a hearty soup like this one is a great way to introduce more vegetables into their diets, all filled with rich flavor. Seasonal vegetables are always the best to use in an easy vegetable soup like this one. It always makes for a hearty meal. You'll know you've cooked up the good stuff when the kiddos will be asking for more!
Fighting inflammation, giving your body vitamins, antioxidants, and supporting all of your body systems, this simple, healthy One-Pot Vegetable Soup is well-loved by my family.
The veggies in this soup aren't the only main characters. They share the spotlight with the tasty spices that bring the shine. Paprika, Italian parsley, fresh thyme, oregano, and salt with pepper all grace this delicious soup.
You can find full list of ingredients down in the recipe card, but briefly, here's what you'll need to make this soup and there health benefits:
Each ingredient works to create this yummy bowl of health benefits. Fresh produce is the best option, especially since so many of these ingredients are in season.
Vegetable broth is the perfect base to any soup recipe. It starts the flavor base and the benefits, too.
Garlic fights inflammation.
White onion is rich in antioxidants.
Carrots fill you with vitamin A and beta-carotene.
Green bell pepper gives your body vitamin C.
Celery is rich in vitamin K, supporting bone health.
Green beans fight free radical damage in the body.
Tomatoes support heart health with lycopene.
Green cabbage is high in fiber, supporting your digestive system.
Fresh herbs: Italian parsley, thyme, oregano which both can help to reduce bloating and blood pressure.
Along with those ingredients, you will need tomato sauce, olive oil, sea salt, black pepper, lemon juice, and water.
Check out these great vegetable side recipes:
I love to make these Easy Mashed and Oven Roasted Brussel Sprouts and pair with any protein.
The Best Roasted Asparagus Appetizer with Parmesan is a great side.
Simple and Healthy One Pot Vegetable Soup
Another name for this Hot Vegetable Soup could just be 'Healthy Soup'! Each ingredient works to create this yummy bowl of health benefits.
Rate
Print
Save
Saved!
Ingredients
4

Tbsp

olive oil

4

cloves

garlic,

minced

1

white onion,

chopped

5

carrots,

chopped

1

green bell pepper,

chopped

1

chunk

celery,

chopped

10

oz

green beans,

frozen

24

oz can

organic diced tomatoes

8

oz can

organic tomato sauce

½

head

green cabbage,

shredded

1

bunch

Italian parsley,

chopped

½

tsp

paprika

2

stems

oregano

1

tsp

fresh thyme,

chopped

¼

tsp

ground black pepper

2

Tbsp

lemon juice

1

quart

vegetable broth

2

cups

water

sea salt,

to taste
Instructions
Add minced garlic and diced onion into a large soup pot along with olive oil. Sauté over medium heat until the onions are transparent and soft.

4 cloves garlic,,

1 white onion,,

4 Tbsp olive oil

While the onions and garlic are cooking, chop 5 carrots, slice a chunk of celery, and dice 1 green bell pepper. Add the carrots, celery, bell pepper, as well as the 10oz of frozen green beans to the pot.

5 carrots,,

1 green bell pepper,,

1 chunk celery,,

10 oz green beans,

Add diced tomatoes (and juice) and tomato sauce. Stir to combine.

24 oz can organic diced tomatoes,

8 oz can organic tomato sauce

Allow the vegetables in the pot to heat while you chop or shred 1/2 head of green cabbage. Add cabbage to the pot.

Add 1 bunch of chopped parsley.

Add paprika, oregano, black pepper, lemon juice, and thyme. Stir to combine.

½ tsp paprika,

2 stems oregano,

¼ tsp ground black pepper,

2 Tbsp lemon juice,

1 tsp fresh thyme,

Add 1 qt vegetable broth, and 2 cups water. Give a good stir.

1 quart vegetable broth,

2 cups water

Place a lid on the pot and bring it up to a boil. Once boiling, turn the heat down to medium-low and allow the pot to simmer until the cabbage and carrots are tender (approximately 20 minutes). Turn off the heat and add salt to taste.
Nutrition
Calories:
116
kcal
|
Carbohydrates:
15
g
|
Protein:
3
g
|
Fat:
6
g
|
Saturated Fat:
1
g
|
Polyunsaturated Fat:
1
g
|
Monounsaturated Fat:
4
g
|
Sodium:
621
mg
|
Potassium:
511
mg
|
Fiber:
5
g
|
Sugar:
8
g
|
Vitamin A:
6261
IU
|
Vitamin C:
50
mg
|
Calcium:
83
mg
|
Iron:
2
mg