Made from delicious, juicy oranges, turmeric, ginger, and a generous helping of collagen, this energy-boosting smoothie is great for gut health! Start your morning off with a tall glass of healthy goodness that tastes yummy!
If you're looking for the perfect pick-me-up, this smoothie is it! It's packed with delicious flavors! It's perfectly spiced to wake you up in the morning. It's creamy, nutritious, and will do wonders for your health if you drink it regularly.
So What's The Deal With Collagen?
Grass-fed collagen is a protein that is naturally found in the human body. It plays a vital role in connective tissues.
Exogenous collagen is what we get from outside sources, like supplements. Here's what taking collagen can do for you:
Improve your skin's health. Collagen can help strengthen the skin, provide elasticity, and boost hydration. Collagen supplements can also help slow down the aging of your skin.
Helps with joint pain. Regularly taking collagen supplements can reduce overall joint pain as it helps retain cartilage health.
Adding collagen into your smoothies is a great way to reap its benefits. Take it with this spiced orange smoothie, and it's like you're treating yourself.
Why Spiced?
By spiced, I mean adding ginger, nutmeg, and turmeric. It gives this smoothie a "kick." These ingredients aid in boosting your immune system and also provide anti-inflammatory properties. Ginger and turmeric are also a great way to wake up in the morning for a more energized, and productive day.
This Spiced Orange Collagen Smoothie is a great addition to your healthy routine. It's a wonderful way to reap several health benefits and it just tastes so great!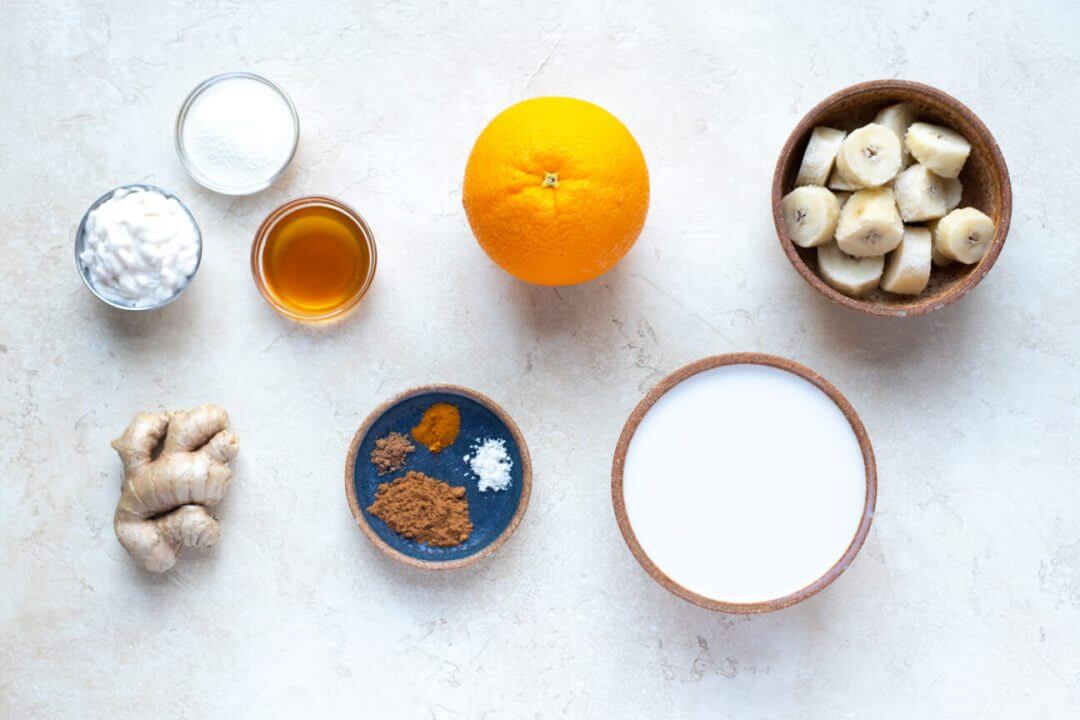 How to Make a Spiced Orange Collagen Smoothie
Steps
Place all ingredients in a blender and blend until smooth.

Spiced Orange Collagen Smoothie Yum
Ingredients
1

large

navel orange, peeled

¾

tsp

cinnamon

1

pinch

ground nutmeg

1

tsp

fresh ginger, minced

⅛

tsp

turmeric

1½

cups

almond milk, or milk of choice

1

large

frozen banana, or 2 small

1

scoop

grass-fed collagen

¼

cup

vanilla yogurt, coconut, almond, or dairy

1

Tbsp

honey, or more if you like it sweeter

1

pinch

sea salt
Instructions
1
Place all ingredients in a blender and blend until smooth.

Equipment Used
Blender
Nutrition Facts
Spiced Orange Collagen Smoothie
Amount Per Serving
Calories 179
Calories from Fat 27
% Daily Value*
Fat 3g5%
Cholesterol 2mg1%
Sodium 287mg12%
Potassium 412mg12%
Carbohydrates 37g12%
Protein 4g8%
Vitamin A 227IU5%
Vitamin C 47mg57%
Calcium 320mg32%
Iron 1mg6%
* Percent Daily Values are based on a 2000 calorie diet.
Write a review
Share with others of your opinion on this recipe so that we can make this recipe better for everyone.
How do you rate this recipe?
Here is how your review will look like:
Yes, I recommend this recipe.
No, I do not recommend this recipe.
Alice
June 25, 2022
This orange collagen smoothie recipe is my go-to breakfast! So easy to make and so delicious!
Yes, I recommend this recipe.