This cranberry sauce is quick, homemade, and you can make it ahead of time for the big day! Enjoy the sweet-tart cranberry and the warming spice of cinnamon spread over your food of choice. In just 15 minutes, you can have a Thanksgiving essential ready to go!
Sweet Cranberry Sauce is one of the best holiday treats! It's easy to make and complements a holiday meal. Thanksgiving dinner isn't complete without it!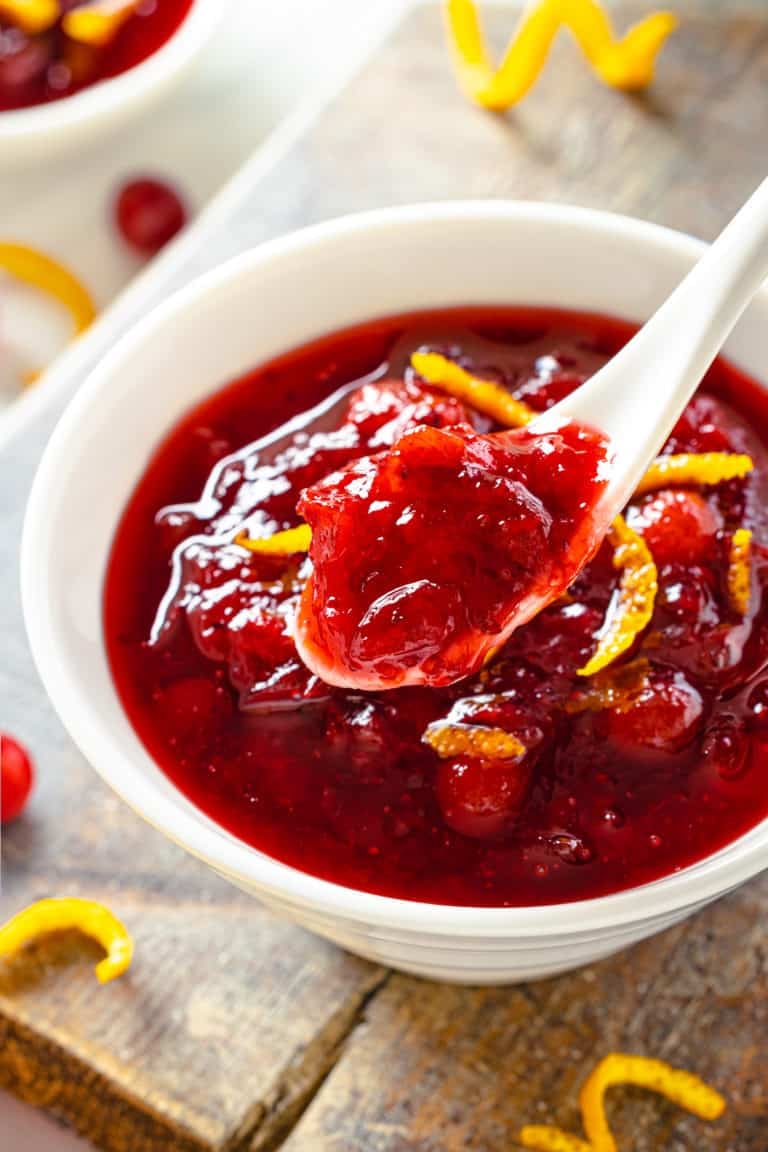 Why I Love This Recipe For Cranberry Sauce
Cranberries are delicious and nutritious, and since I've made my own Cranberry Jam and Cranberry Juice before, I figured it was time to dive into the fall classic: Cranberry Sauce.
Homemade cranberry sauce is an absolute must-have for Thanksgiving, and it's one of those rare recipes that tastes even better the day after. Slather some on a leftover turkey sandwich, maybe with some stuffing, and you'll never look back.
Of course, cranberry sauce can be enjoyed year-round in a variety of ways. You can use it as a spread for toast, a topping for ice cream, or a filling in french toast, among many other things. But one thing's for sure; the tartness of the cranberry balanced with a bit of sugar and citrus creates a combination everyone at the table will love!
I used to buy canned cranberry sauce for the holidays. It seemed like one less thing to cook or prepare. But one year, I got around to reading the ingredients on the cans. There's a huge list for a seemingly simple dish. Why is it so difficult to use just basic ingredients? So I set out to make the perfect cranberry sauce on my own.
This wasn't too easy at first.
There were so many recipes out on the Internet about how to make the "perfect cooked cranberry sauce" that gave a bad turnout. When I wanted stronger orange flavor, it was just always a little bit too much, overpowering the berries. I even tried maple syrup, orange liqueur, and Stevia! Less sugar meant more tartness, and the "perfect amount" never seemed to work out. I always ended up with leftover sauce and no one willing to eat it because it just wasn't right.
Key Ingredients to Make This Cranberry Recipe
Cranberries
You can use fresh or frozen; it doesn't matter! Its a natural base to cranberry sauce. They're perfectly tart.
Orange
Use both the orange zest of the orange juice AND the juice. After zesting it, you can juice it. Nothing goes to waste here! The citrus is necessary for stabilizing the sauce (and allowing it to keep for longer), and the zest adds lots more flavor.
Cinnamon
Use a whole stick of cinnamon. It'll simmer in the sauce so the heat allows the cinnamony flavor to disperse throughout the mixture. It adds the subtle holiday flavor that we all enjoy without overpowering the orange and sweet cranberry flavors.
Sugar and Water
Classic staples and to balance out the tartness of the cranberries.

Water makes the sauce smoother.
Finally, I found the perfect ratio of sugar-to-cranberries.
Cranberries generally come in a 12-ounce bag. One bag of cranberries plus one cup of sugar equals the perfect ratio of sugar to cranberries! One orange and one stick of cinnamon plus a half-cup of water, and you're ready to go. This is a super easy recipe to remember each year.
In that first year, I made this sauce 3 times: for the Thanksgiving table, Christmas dinner, and another family New Year's gathering. This homemade cranberry sauce recipe just flew off the table! It became a holiday classic in our family and since then, I've never had leftover cranberry sauce.
After one year, I started making a special batch to freeze it, for minimal prep time in the next year. Let me tell you, when frozen cranberry sauce is defrosted, it's just as tasty as when you make it the first time.
Frequently Asked Questions
What are the health benefits cranberry sauce healthy for you?
Cranberries are full of loads of vitamins, minerals, and fiber! The sauce itself includes added sugar, which is fine in moderation, so it really depends on your perspective.
Do you serve cranberry sauce hot or cold?
It's actually most commonly served at room temperature, but if you have a strong preference for hot or cold you can enjoy it whichever way you want.
What do you serve cranberry sauce with?
So many things! I suggest waffles and pancakes, on toast, on a scone, stirred into yogurt, blended in a smoothie, etc. At Thanksgiving, we generally put it on top of literally everything, especially leftover Thanksgiving sandwiches. There's something about the turkey and cranberry combo that can't be beat!
How should I store my cranberry sauce if I make it ahead?
– Make at least one day before bc it's best at room temp
– Let it cool before you store it
– Air tight container in fridge for about 10 days
– Freeze up to a year and let it defrost in the fridge the day before use
Variations:
Less sugar, add to taste

Stir in nuts at the end

Use more orange juice, less water

Add another cinnamon stick

Or pumpkin pie spices

More texture? Reserve some whole (fresh) cranberries to add towards the end so they don't completely break down
Steps
Mix Ingredients
In a small pan mix together all the ingredients.
Boil and Simmer
Over medium-high heat, bring it to a boil, then reduce the heat and simmer for about 10-15 minutes until most of the cranberries burst.

Allow to Cool and Thicken
Remove the cinnamon stick from the pan and let the sauce cool completely. The sauce will thicken when it cools.
Easy Cranberry Sauce with Citrus Yum
Ingredients
12

oz

fresh cranberries (or frozen)

1

cup

sugar

½

cup

water

1

large

orange, for zest

1

large

orange, juiced, about ½ cup

1

stick

cinnamon
Instructions
1
In a small pan mix together all the ingredients.
2
Over medium-high heat, bring it to a boil, then reduce the heat and simmer for about 10-15 minutes until most of the cranberries burst.

3
Remove the cinnamon stick from the pan and let the sauce cool completely. The sauce will thicken when it cools.
Nutrition Facts
Cranberry Sauce
Amount Per Serving
Calories 176
Calories from Fat 2
% Daily Value*
Fat 0.2g0%
Polyunsaturated Fat 0.04g
Monounsaturated Fat 0.02g
Sodium 3mg0%
Potassium 128mg4%
Carbohydrates 46g15%
Protein 1g2%
Vitamin A 134IU3%
Vitamin C 31mg38%
Calcium 29mg3%
Iron 0.2mg1%
* Percent Daily Values are based on a 2000 calorie diet.
Write a review
Share with others of your opinion on this recipe so that we can make this recipe better for everyone.
How do you rate this recipe?
Here is how your review will look like:
Yes, I recommend this recipe.
No, I do not recommend this recipe.