Easy and Kid-Friendly Back to School Recipes for 2022
When all (or most) of the kids are school age, sending them off for most of the day makes you think of preparing lunch, snacks, and more. Everything must be on time and well-planned! Good eating habits are important. All of these kid friendly recipes are easy and can be made together!
Kid friendly foods are always my favorite to make, so I can't resist sharing this Baked Chicken and Cheese Roulade! It's a great fill of protein and can be eaten as a snack or packed for a good lunch. Just two pieces are filling and delicious!
When the kids are home from school and want a snack, having this Cheesy Bruschetta Bake ready from the oven is a great idea! Just one or two bites, and you've curbed their appetite until dinner is ready.
Store bought Rice Crispy Treats may be filled with impossible-to-read ingredients, but this homemade version is healthy and you will know for sure what you are feeding your kids when they are hungry. It's great to pack to-go and is a snack that you can prepare ahead of time, too!
Breakfast is the most important meal of the day, so you can't go wrong with Breakfast Burritos, which fill you up and keep you full for a good while. They're great to make ahead and can be heated up so quick and devoured in no time!
If your kid(s) have a sweet tooth, these White Chocolate Rice Puffs Clusters recipe is for you! It's great to have on the go in a lunchbox for snacktime or the after-lunch treat.
These tasty meat pockets are a favorite traditional Russian and Ukrainian dish. Chebureki with Meat Filling contain protein and is a great way to include your culture at the lunch table.
A Grilled Chicken Avocado Wrap is a great and filling meal on the go. It's rich in protein and healthy fats, covering so many of the nutrition bases in a well rounded lunch.
Piroshki with Mashed Potato Filling are a home favorite year round, so I can't help but to pack them into my kids' lunches. When you're low on prep time in the morning, these piroshki help you out in a pinch.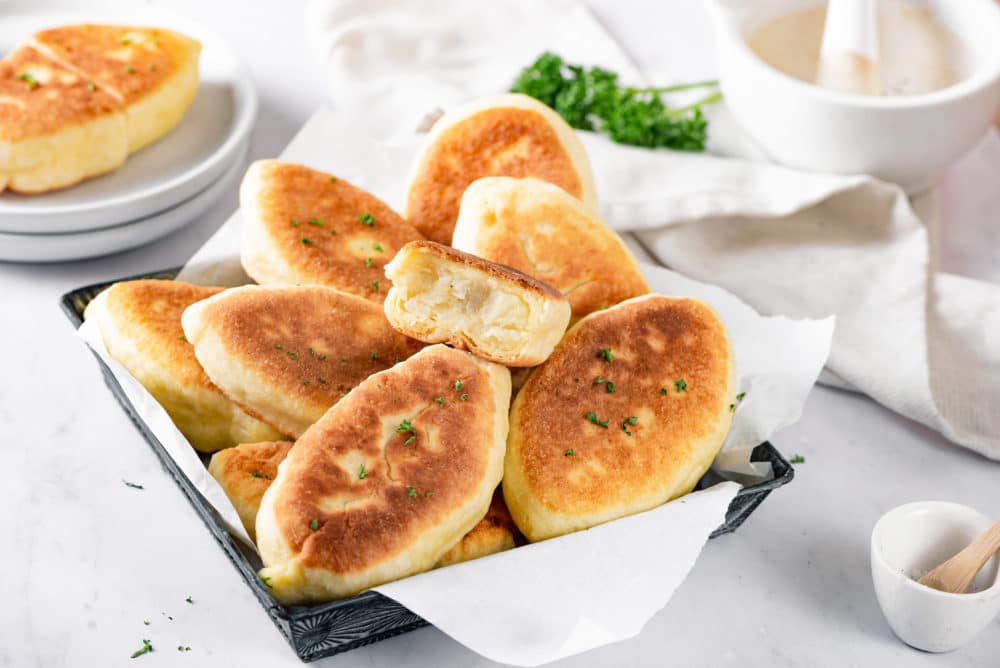 When the kids come home from school, I like to have this tasty Strawberry Mango Ginger Smoothie prepared for their arrival. It's a sweet treat that also fills them up with nutrients and is super duper easy to whip up!
Now that you've got lunch and snacks covered, why not explore some kid friendly breakfast ideas?